This past Saturday was my hen party, a Clueless-themed bash of epic proportions, expertly organised by Camilla and the other bridesmaids. It goes without saying that it was a day filled with lots of fun, laughter, good food and plenty of champagne. After 14 solid hours of heavy duty girl time, I was understandably exhausted the next morning when I awoke early to attend my niece's second birthday party. You can only imagine what state I was in when I stumbled out of the shower and prepared to make myself presentable, and quickly decided that I would need some industrial-strength face-freshening if I was going to avoid scaring the children.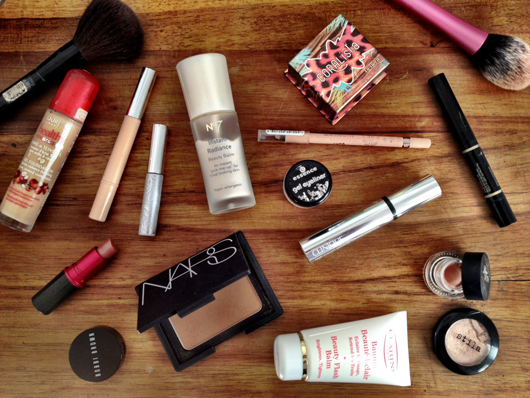 If there was ever a day for Clarins Beauty Flash Balm, then this was it. This cult classic illuminating primer brightens the face and tightens the features, just what the doctor ordered! I followed up with No. 7 Instant Radiance Beauty Balm (you could try Becca Shimmering Skin Perfector for a similar result) and Bourjois Healthy Mix Serum foundation. My considerable under-eye bags were concealed with a trusty combo of Bobbi Brown Corrector and Clinique Airbrush Concealer, while my eyebrows got some much-needed help from Smashbox Brow Tech to Go, giving me a small but instant facelift. I added a healthy glow to my complexion with a dusting of NARS Laguna bronzer (a local alternative might be Bourjois Délice de Poudre Bronzing Powder or The Body Shop Honey Bronze) and Benefit Coralista blush (try NYX powder blush in Pinched for a hit of pinky-coral on the cheeks).
For the eyes, light-reflective colours and subtle definition are the key to looking more awake than you feel, so I layered a MeMeMe Dew Pot in Coral Blossom underneath Stila Kitten eyeshadow. I blended a little bit of MAC Quarry, a matte plum-brown, into the crease and tight-lined with the Essence Gel Eyeliner in Midnight in Paris. To neutralise the redness in my eyes, I lined the lower water line with Rimmel Scandaleyes Waterproof Kohl Kajal in Nude. For lashes, I went with the failsafe combo of Clinique High Impact Extreme Volume Mascara and Clinique Bottom Lash Mascara which I knew would last all day without a smudge or a flake in sight. I finished off with MAC Viva Glam V on my lips, one of my favourite daytime Lustre-finish neutral lipsticks that looks polished and effortless all at once.
Having successfully applied my game face, I went on to survive a bunch of screaming kids followed by the day-long celebration of a dear friend's engagement with even MORE champagne. To say it was a weekend to remember is an understatement!
What are your tips for morning-after make-up?