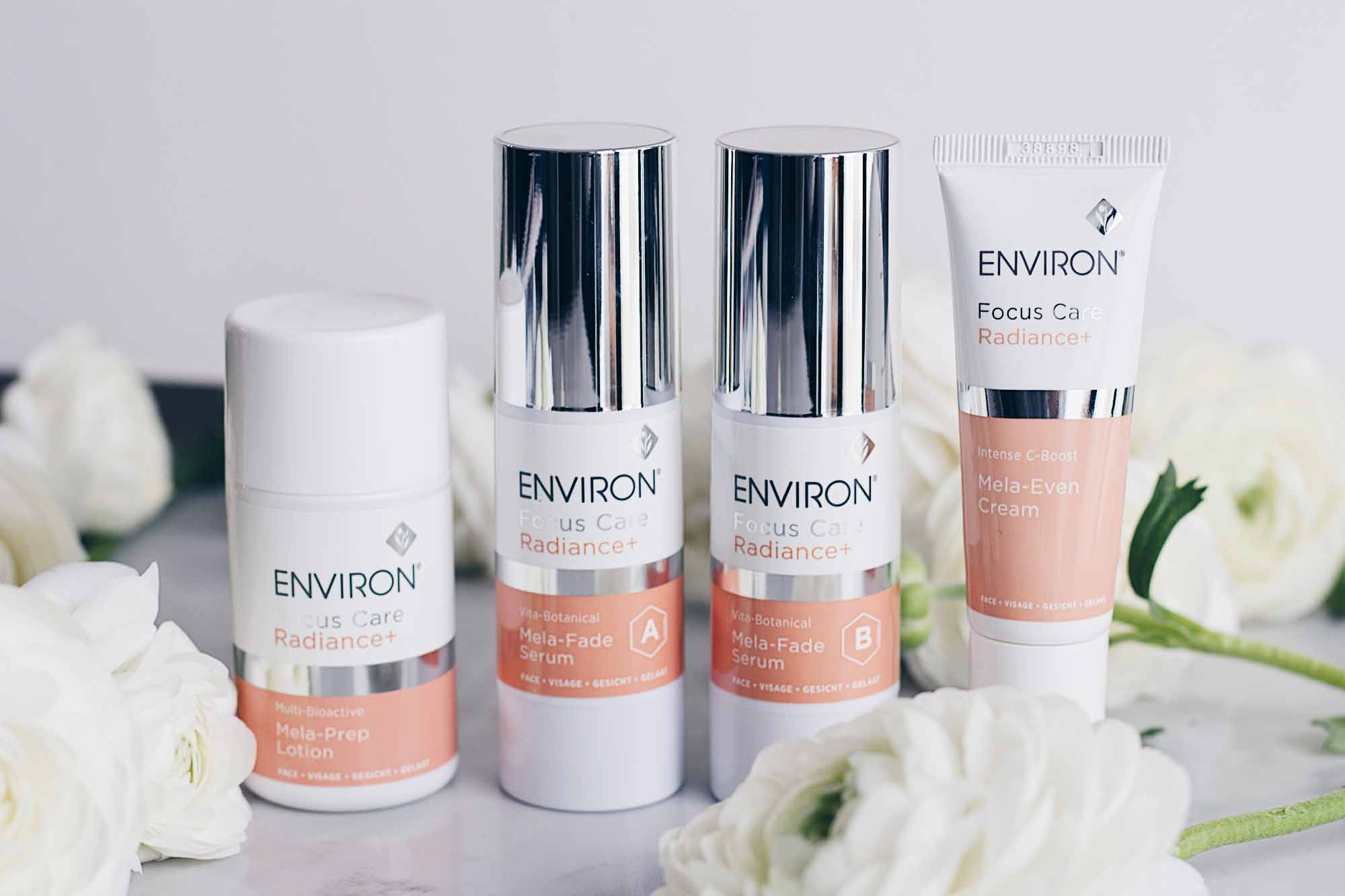 Hyperpigmentation is a common and cosmetically significant condition which can cause anxiety and distress for those suffering with it. If you've ever tried to treat your pigmentation, you will know how frustrating it can be – it is a difficult skin condition to target effectively, and it requires patience and diligence in order to get it right.  Proper at-home treatment plans require products with extremely sophisticated formulations in order to effectively address not only the creation of melanin, but also the treatment of existing discolouration of the skin.
Now that we've got the bad news out of the way, let's have some good news! We are delighted to introduce you to the brand new Environ Mela-Smart System: a new multi-phase home treatment system designed to assist in minimising the signs of pigmentation and sun damage. Environ have upped the ante on the home treatment of pigmentation by introducing a system which places a "block" into every one of the six complex steps involved in the formation of melanin. This is a game changer, as other brands only target two, maximum three, of the steps. Additionally, the Mela-Smart System gets to the root of pigmentation formation by inhibiting the hormones and active chemicals responsible for the formation and dispersion of melanin in pigment-containing skin cells.
Mela-Prep Lotion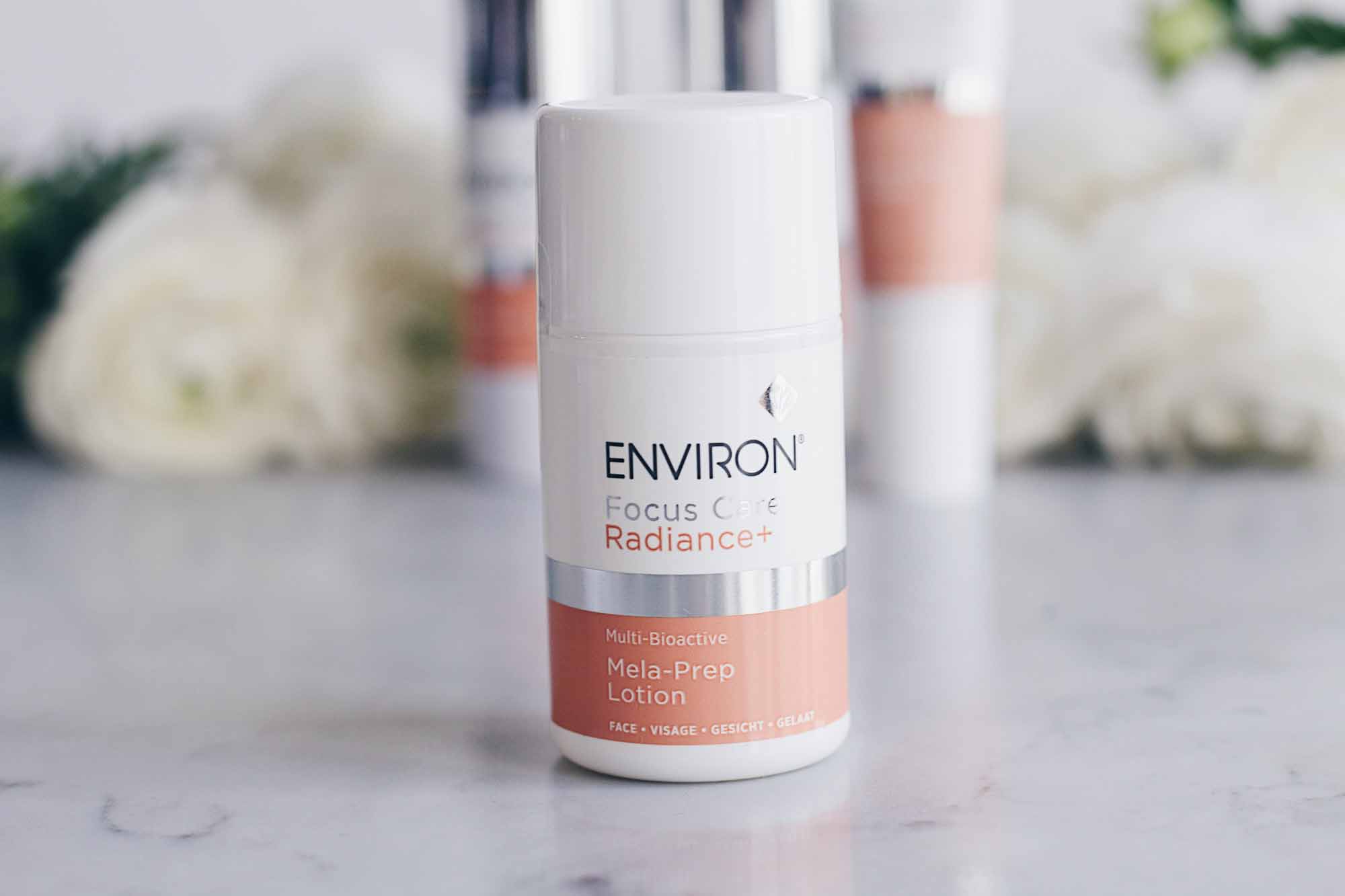 This lotion contains an expertly formulated combination of highly specialised ingredients such as SepiWhite MSH, which has been observed to reduce melanin production, as well as Niacinamide and Alpha-Arbutin, both of which have been found to inhibit the transfer of melanin to the epidermis. The combination of these ingredients may assist in improving the appearance of uneven skin tone and visible sun damage, leaving the skin looking brighter and more evenly toned.
Mela-Fade Serum A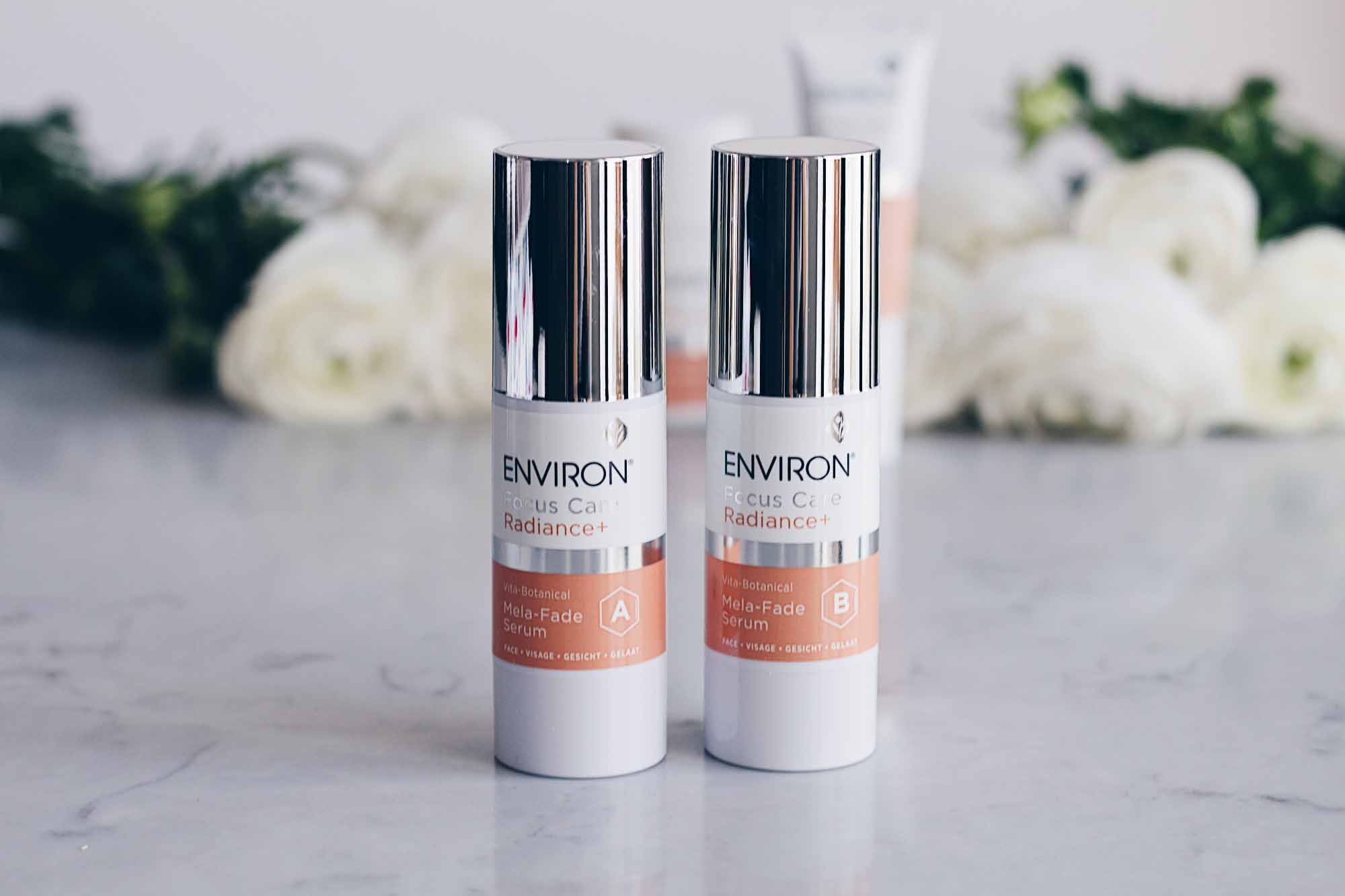 This serum contains a concentrated blend of vitamins and botanicals designed to improve the appearance of pigmentation and visible sun damage. Ingredients include Geranium Robertianum Extract, which acts against photoaging by improving the appearance of sun spots; Artichoke Leaf Extract, which may inhibit the functioning of the cells responsible for the production of melanin; and Lactic Acid, which has been found to be effective in treating melisma and post inflammatory hyperpigmentation.
Mela-Fade Serum B
This serum contains its own unique blend of vitamins and botanicals to assist in targeting and improving the appearance of discolourations.
Ingredients include Vitamin B5 to reduce transepidermal water loss and maintain skin softness and elasticity; Ginger Lillies Seed Extract to surpress the formation of melanin; Neem Leaf Liquid B, which is known for its ability to assist in the prevention of pigmentation, leaving the skin looking clearer and more radiant; and finally, various strains of Honeybush leaf/stem extract, a known antioxidant which may help to guard the skin against external stressors which stimulate the production of melanin.
Mela-Even Cream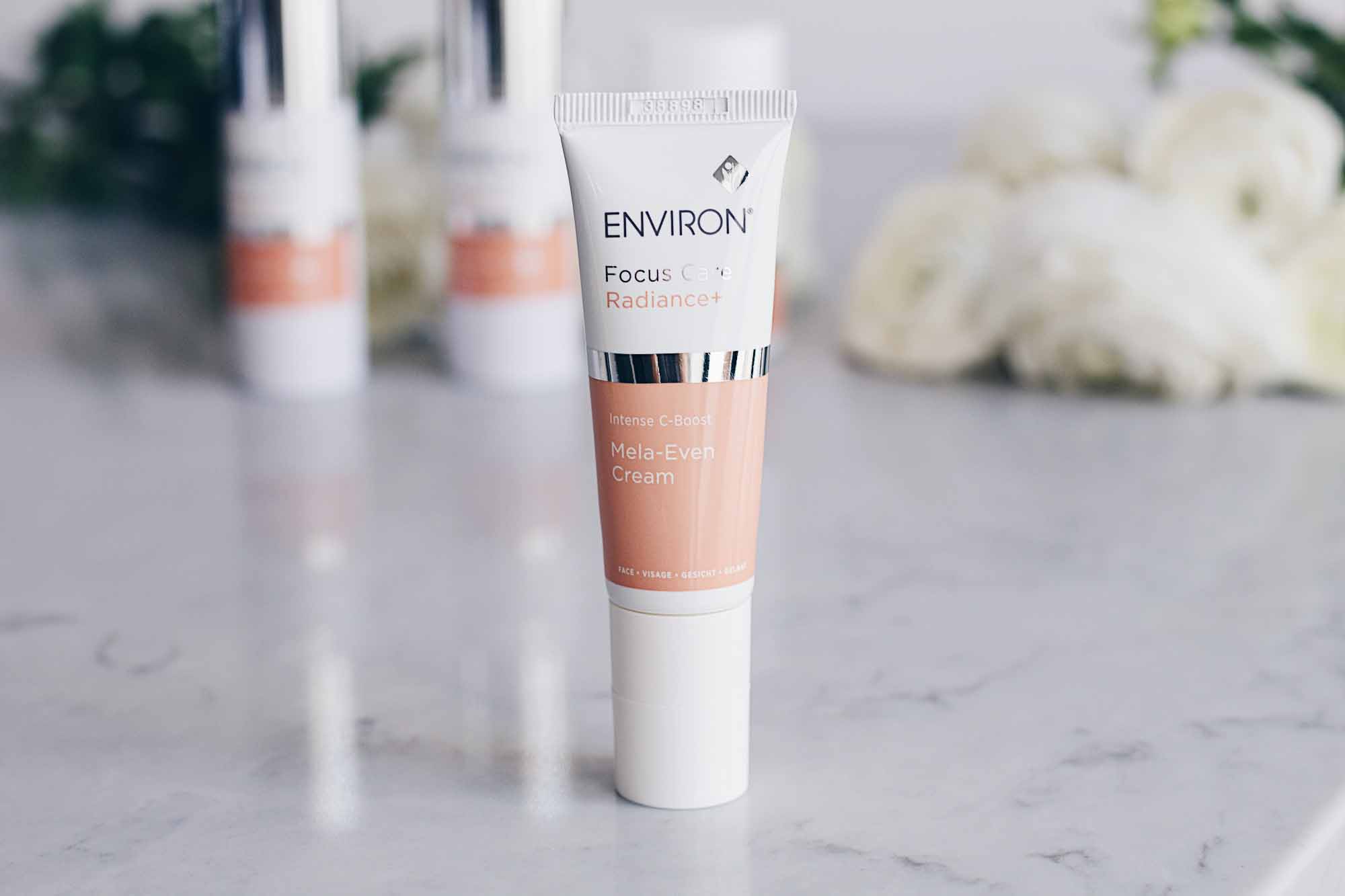 This oil-soluble cream contains an expertly blended combination of antioxidant vitamins C and E that may assist in shielding the skin from environmental stressors to help restore the appearance of younger, healthier looking skin. I'll assume that you're a skincare buff if you're reading this post, so you will know that Vitamin C is one of the most well-researched and beneficial vitamins you can apply topically. Ongoing use has been shown to improve signs of ageing and brighten an uneven skin tone, as well as providing potent antioxidant protection by shielding the skin from damaging environmental stressors. You will also know how sensitive Vitamin C is to light and air, which is why it's critical to house it in opaque, air-tight packaging.
Now that we've hit you with all of the information, here are the recommended usage instructions which need to be followed when incorporating the Mela-Smart System into your routine:
How to use the regime:
Cleanse your skin
Apply the Multi-Bioactive Mela-Prep Lotion to darkened areas of the skin, morning and evening. Cosmetic needling prior to application is recommended for advanced users (evening application only).
Mix equal amounts of Vita-Botanical Mela-Fade Serum A and Vita-Botanical Mela-Fade Serum B in the palm of the hand and gently massage into the pigmented areas of the skin, morning and evening.
Apply Intense C-Boost Mela-Even Cream to the full face or onto darkened areas of the skin.
Follow with your usual moisturiser.
Follow with your usual SPF.
WIN WITH ENVIRON & ALL DOLLED UP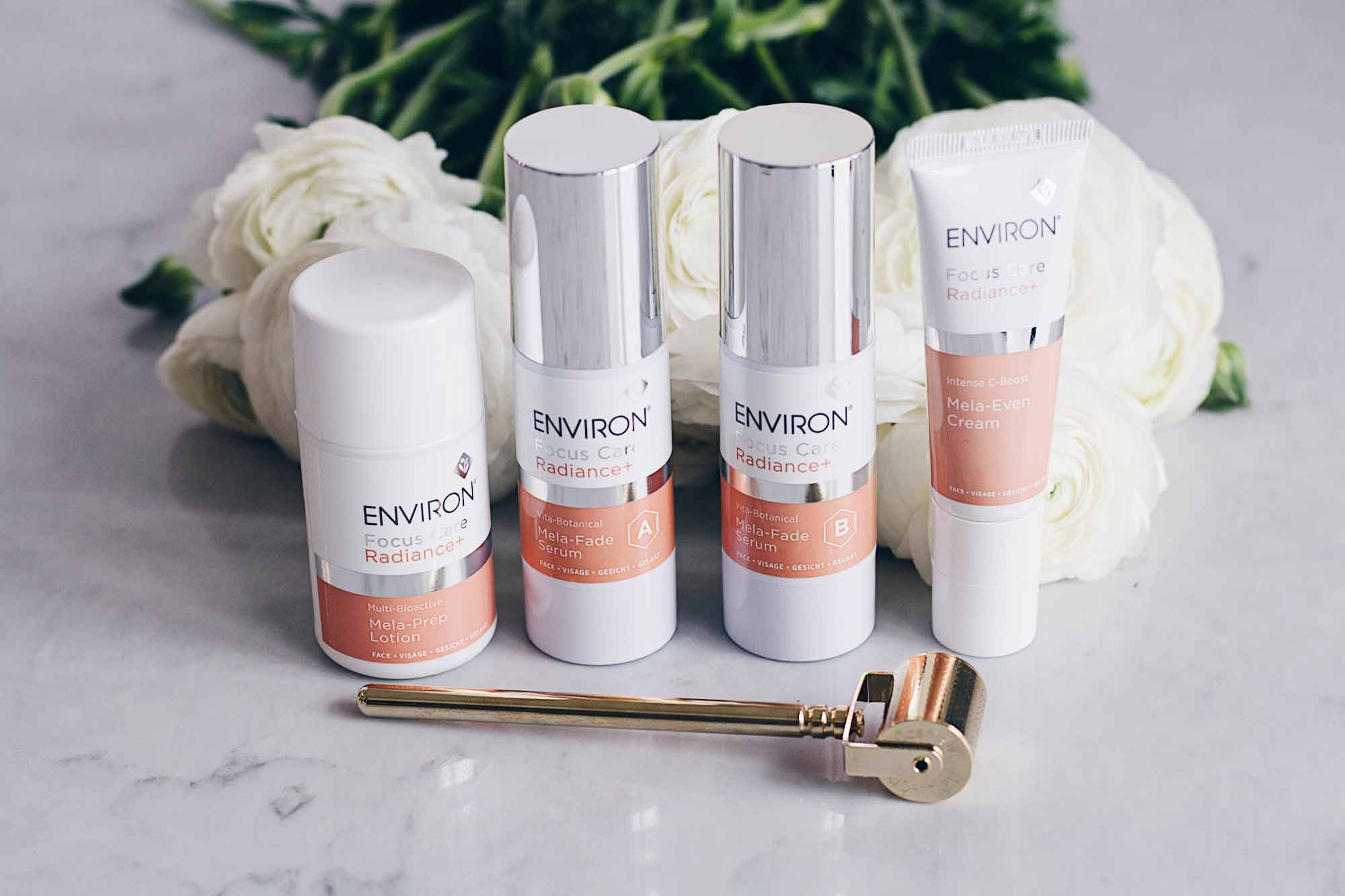 Environ have very kindly offered to supply one lucky reader with not only the Mela-Smart System, but a 24k Gold CIT roller too, a prize valued at almost R5,000! To enter, head on over to our Instagram account for more information: @alldolledup_sa.
This post is sponsored by Environ.