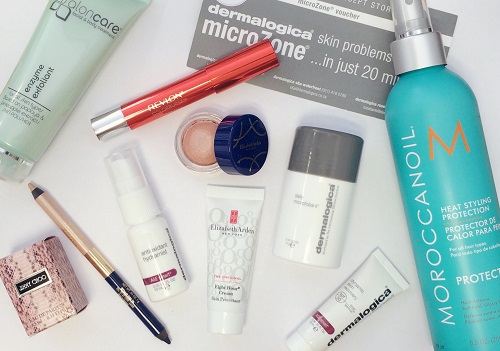 Being a beauty blog, fashion doesn't get much of a look-in over here at All Dolled Up. However, we were recently invited to the Nicci Boutiques Winter 2015 Launch and when we saw what was on offer in terms of the goodie bag, we knew we had to tell you all about it! On the 3rd of March 2015, the Hyde Park Corner (Johannesburg) store will be launching their 2015 Winter Collection, and if you spend over R950.00, you will receive the most fantastic goodie bag – seriously, it's incredible. We were kindly sent the goodie bag ahead of time so that we could play around with some of the products and provide you with a quick review of some of them. So without any further ado, let's get cracking!
Full size Morrocanoil Heat Styling Protection (valued at R320.00). We are huge fans of the Morroccanoil haircare range, as you are no doubt aware by now! This product combines heat protection and styling in one: it creates a thermal protective veil that lets hair withstand extreme heat, and provides soft hold and a glossy finish to extend the life of every style. The formula is infused with vitamins which nourish the hair shaft, and contains an innovative heat-protecting agent which prevents breakage and split ends.
Full size SalonCare Enzyme Exfoliant (valued at R105.00). This skin polisher contains pineapple and papaya enzymes to gently exfoliate the skin. It has a cream-gel texture (no horrible scrubby particles – wonderful) and can be massaged into the face for 1-2 minutes, or it can be left on for up to 15 minutes for a more intensive treatment.
dermalogica Dynamic Skin Recovery SPF 50 (10ml). This emollient daily moisturizer contains a broad spectrum SPF50, as well as Antioxidant White Tea which helps to neutralize free radicals, and a unique polypeptide to encourage the production of collagen. It is formulated without artificial fragrances, colours or parabens.
dermalogica Daily Microfoliant (13g sample). Jules is a massive fan of this exfoliating powder, and you can read her reviews here and here. The unique rice-based powder formula activates upon contact with water, releasing papain, salicylic acid and rice enzymes that micro-exfoliate dead cells, instantly leaving skin smoother and brighter. It is suitable for all skin types.
dermalogica Antioxidant Hydramist (10ml). Our darling friend Tori from Kiss, Blush & Tell raved about this product earlier this year (you can read her review here). This refreshing peptide toner creates a hydrating, antioxidant shield over skin to help reduce fine dryness lines and prevent the signs of aging. It can be used at any and every stage of your skincare and/or make-up routine and can also be used throughout the day as a refreshing spritz.
dermalogica Dermal Clay Cleanser (30ml). This product is aimed at those with oilier skins – the deep-cleansing clay formula purifies the skin, removes excess oils and refines the skin's texture.
dermalogica microZone voucher for the dermalogica V&A Waterfront, dermalogica on Wembley and the dermalogica Rosebank stores. For those not familiar with microZone, they are cost-effective, 20-minute treatments (as opposed to the full 60 minute treatments) which are ideal for targeting pressing skin issues such as breakouts, dull skin and tired eyes. This is a great option is you are pressed for time, or if you are a newcomer to Dermalogica.
Full size Revlon Colorburst Lacquer Balm in 'Tease'. This glossy, vibrant coral lip balm is an absolute must-have. Jules' did a video review last year when they were released:
Full size Stila Lip Glaze in 'Orchard' (valued at R225.00). A cult classic! This soft, copper-shimmer gloss will leave your lips looking peachy, and it has good staying power too.
Selection of Elizabeth Arden makeup from their 2014 Summer Escape collection, including the Beautiful Color Define and Highlight Eyeliner Duo in 'Midnight Sail' (a dual-ended navy blue/champagne shimmer eyeliner), the Beautiful Color Lash Enhancing Mascara in 'Ocean Blue', and the Pure Finish Cream Eye Shadows in 'Sand Dollar' (a soft, peachy shimmer)  and 'Overboard' (a powdery, baby blue). Also included is a mini Eight Hour Cream Skin Protectant – the perfect handbag size. The Summer Escape products are valued at over R1,000.00 and are exclusive to this goodie bag, so you won't be able to find them at the Elizabeth Arden counters.
There are also a selection of perfume samples from Jimmy Choo and Elizabeth Arden ('Untold Absolu' being one of them), a full size Tropitone Aftersun Cooling Gel, a Dessata Professional Detangling Brush, as well as a few other haircare and skincare samples.
The event will be taking place between 9am and 6pm on Tuesday 3 March 2015 at Hyde Park Corner. There will be make-overs courtesy of Elizabeth Arden, mini-manicures courtesy of Sorbet, and hand massages courtesy of Mangwanani Spa. Cape Town ladies, never fear, you are not being left out! The Cape Town event is being held on Wednesday 1 April 2015 at the V&A Waterfront and I will update this post with details closer to the time.
Happy shopping, ladies!