Ever since I was a little girl, I have always been excited to wake up the morning after the Oscars to see how beautiful all the actresses looked and drool over the dresses. I find the makeup and hair at the year's biggest awards show to be equally fascinating – sometimes it's really glamorous and over the top, and other times (like this year) it is much more elegant and subtle. To my great delight there were lots of natural features on display too – no Kim K contouring and Instagram brows here! Without further ado, here are my top ten picks of the beauty at the 87th Academy Awards:
This colour palette is just perfection: perfectly blended golden tones on the eye and a soft coral lip paired with a buttercup yellow dress and major emerald earrings. Swoon!
I would never think to pair a very warm orange eye with a 1960s pink lip but OBVIOUSLY J.LO pulls it off, and with a chic ponytail to boot!
The stunning redhead pairs statement eyeliner (in a very unusual shade) with subtle, neutral lips and very little else. The sleek hair is also a huge hit with me and the perfect foil to the heavily embellished neckline on her dress.
Loving the velvet skin on AK and the matchy-matchy lipstick and blush. The overall look is very soft and ethereal but pairing it with the smoky liner makes it sexy rather than girly.
Similar eye look to J.LO here with blown-out rusty orange eyeshadow, full, textured brows and a worn-in lip stain. The bedazzled ear cuff and relaxed blonde hair take it to the next level without being too dressy.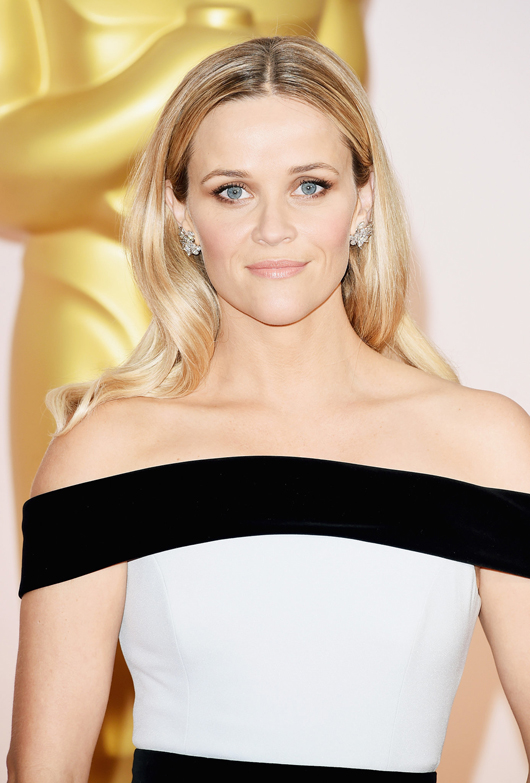 How gorgeous?! I love how delicate this look is but it still manages to accentuate Reese's best feature – her bright blue eyes. The blush and lipstick are super subtle and there are those beautiful natural brows again!
In a departure from the very natural makeup shown elsewhere in this list, Margot's look is much more sculptural. The slightly bushy brows save the look from becoming too perfect and balance out the strong tomato-red lipstick.
Loving this more glamorous look too, which pairs a super nude satin lip with classic black winged liner. The balance between the eyes and the face is perfect and the immaculate hairstyle beautifully compliments the neat makeup.
There is a lot going on between the dress and the jewellery so the makeup here is suitably simple and sophisticated. It has been applied with a very light hand and blended out so as to be almost imperceptible – you can barely even tell if she's wearing mascara! Love the restrained, modern hairstyle too.
Sienna is sporting the signature Charlotte Tilbury feline smoky eye here which looks very pretty but not overdone on her incredible bone structure. If you're interested to know which products she used, check out this Instagram – it includes the Sophisticate Eyeshadow Palette, Lip Cheat pencil in Pillow Talk and K.I.S.S.I.N.G. lipstick in Bitch Perfect.
What were your favourite beauty looks from the Oscars this year?