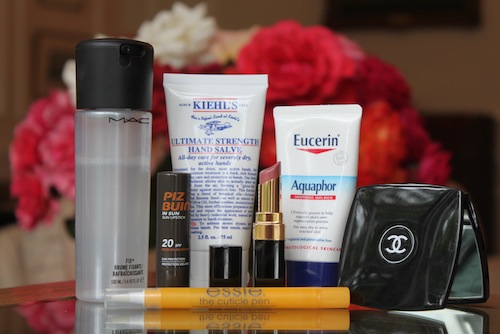 Now that summer is officially here, it means that so is the office air conditioning. I don't know about you, but my office subscribes to the more is more philosophy when it comes to air conditioning, so I feel perpetually parched and also, quite cold. Luckily I have a few bits and pieces on my desk which help keep the dryness at bay:
Eucerin Aquaphor
Jules introduced me to this and I've never looked back. Fantastic for dry lips and any other areas that need a shot of moisture, this ointment soothes irritation and hydrates dry patches in a flash. I use it on my lips daily. What I like most about it is that it doesn't just sit on the surface, it really sinks in and moisturises. Added bonus: it's fragrance-free and allergy tested so it won't cause any kind of reaction.
Chanel Rouge Coco Shine in Boy
If I feel like a pop of colour, I like to slick a little of this lippie on for a 'my lips but better' finish. This is a very hydrating lipstick, and whilst it's not the most long-lasting, it doesn't dry your lips out in the slightest and it won't flake or feather.
Kiehl's Ultimate Strength Hand Salve
Lately I've noticed that my hands are a lot drier than normal, so I decided to bring in the big guns: the Ultimate Strength Hand Salve from Kiehl's. I haven't used this hand cream since I lived in London because I haven't needed anything as intensive since I returned to Cape Town, but I am delighted to have it again because it's excellent. It works by allowing the skin to absorb water from the air, forming a "glove like" protective barrier against moisture loss.
Essie's The Cuticle Pen
In the words of Tori from Kiss, Blush & Tell, raggedy cuticles make my eyes bleed. I like to keep mine soft and moisturised by slicking on a bit of this cuticle oil twice a day. It is enriched with jojoba oil and shea butter, and I find this blend helps keep my cuticles looking neat and healthy.
Chanel compact mirror
Is there anything more chic than whipping out a Chanel compact mirror to top up your lippie? I think not. I am never without mine and have given it to numerous friends as gifts over the years. This is something that every woman should own.
Mac Fix+
My daily saving grace. I spritz this on multiple times a day and I always feel revitalised and refreshed afterwards – it really is fabulous. As mentioned before here, it is packed full of minerals and other hydrating ingredients, so it keeps your skin feeling fresh, moisturised and glowy. It also helps your make-up stay put for hours on end…I simply couldn't be without it.