NIP + FAB is a skincare and bodycare range created by Maria Hatzistefanis, the founder of Rodial. NIP + FAB is designed to be a bit more budget friendly than Rodial, but the brand does not compromise on the quality of the ingredients. Their product names (Viper Venom, Dragons Blood, Bee Sting) and sleek packaging always caught my eye, so I when a few of their products arrived on my desk I couldn't wait to start testing them. I also popped into Clicks and picked up their Glycolic Fix Exfoliating Facial Pads (one of their best-sellers) as it had been on my 'must try' list for a while.
Glycolic Fix Exfoliating Facial Pads
Each disk is soaked in a mixture of 2.8% glycolic acid, hyaluronic acid, witch hazel and blue daisy. The exfoliating glycolic acid helps to resurface the skin and refine it's texture and the witch hazel helps to tone. Hyaluronic acid ensures that the skin stays moisturised, whilst the blue daisy soothes and smooths the skin. I was a bit nervous to try these, as historically, exfoliating toners and I have not gotten along (Clarins Gentle Exfoliator Brightening Toner and Alpha-H Liquid Gold are both far too strong for me), but I had high hopes that this would be The One. Sadly, it was not meant to be: after maybe four/five uses (not consecutively – I was using the pads every third night), my skin flared up – the forehead, cheeks and nose were particularly aggravated, and it took about three days for the redness to subside entirely. However, if your skin can tolerate acid exfoliators, then I believe you could see great results with these –  my skin is just too sensitive and I should have known better (as my grandmother always used to say: as jy dom is, moet jy sukkel). I have read nothing but rave reviews online, so I am sure it's a fantastic product, but it's just not for me. I have passed my tub onto my friend Jes, who has far hardier skin than I, and I will do a follow-up post with her feedback in a couple of weeks.
Viper Venom Wrinkle Fix Skin Refining Serum
This skin refining serum contains a cocktail of ingredients which promise to visibly reduce the appearance of fine lines and wrinkles, as well as soften the appearance of imperfections. The 'Viper Venom' name comes from one of the ingredients, Syn®-ake, a topical anti-aging treatment which is marketed as an alternative to Botox and other types of synthetic treatments that are formulated to combat signs of aging. Syn®-ake is a synthetic form of the venom found in the Temple Viper, a poisonous snake native to southeast Asia (*shudders*), and is designed to work in the same way as Botox, namely by reducing muscular contractions in the face and reducing cell movement.
The serum itself is thick and almost tacky – it is not a very pleasant product to work with. Perhaps if your skin is oilier and has a bit more natural slip, it would be easier to apply, but my dry skin did not enjoy the application process. For this reason alone, I wouldn't use it – it may sound fickle but skincare is an indulgence for me, I enjoy taking the time to treat my skin and spoil it with good quality products, I'm not going to waste time on products that don't feel special or comforting. Coupled with that, I'm of the view that "drug store" topical treatments can't offer a legitimate long-term solution to fine lines and wrinkles as they're simply not potent enough.
Viper Venom Eye Fix
Another offering from the Viper Venom range, this time designed to minimise the appearance of fine lines and wrinkles around the eye area. Unlike the Viper Venom Wrinkle Fix, I really do like the Eye Fix – it has a cooling roller-ball which dispenses a light, cold gel all around the eye, which is so refreshing. It also contains red algae extract to reduce the appearance of dark circles – I don't suffer from dark circles so I can't say whether or not it delivers on that claim, but it certainly does wake-up the under-eye area. I use it in the mornings to get rid of that last bit of sleepiness after the shower and it works a treat. It absorbs into the skin almost immediately, and make-up sits well on top of it too.
Bee Sting Fix Lifting Mask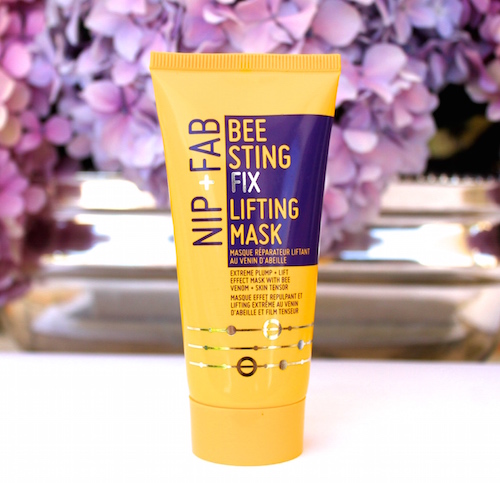 The Bee Sting range incorporates bee venom to help plump the skin by tricking it into thinking it has been lightly 'stung', meaning fine lines and wrinkles will look reduced. This mask contains (lifted from the Nip + Fab website):
Bee Venom: controls the facial muscles, increases blood circulation, gently plumping out and firming the skin. Also fills and smooths fine lines and wrinkles.
Propolis Extract: this is a resinous substance harvested by bees on flower buds and it is a great skin healer, anti-oxidant and antiseptic.
Gransil: spheres scatter incoming rays of light and diminish the reflected light, resulting in a matte look.
AC Moisture Plex: helps skin retain moisture and improves moisture balance in the skin.
Instensyl: immediate 3D lifting and the skin's surface will be immediately smoother. Clinical test showed lifting and smoothing effect within 30 minutes.
I'm sad to say that this mask did nothing. At all. Now, I know I don't exactly have a droopy face/jowls, but I expected some kind of tightening, brightening effect, given the bold claims made. Sadly it was bland and unexciting – there was no tingling, no tightening, nothing. Sorry, NIP + FAB, but this was the most disappointing of the lot.