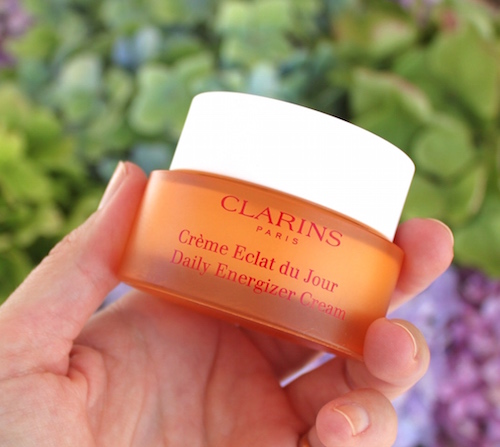 The Clarins Daily Energizer range is aimed at younger skin types and is designed to eliminate imperfections and promote healthy looking skin. There are two different moisturisers within the range: the Cream, for normal to dry skin and the Gel-Cream, for combination skins. Both of these moisturisers contain an innovative cocktail of four natural ingredients. The first is an energy boosting shot of Vitamin C that stimulates the skin's natural defences and keep it looking fresh all day. The second is Turmeric or Indian saffron, a powerful antioxidant. The third ingredient is purifying Alchemilla, an astringent plant extract that regulates sebum production to keep pores and the complexion clear. And finally, radiance-boosting Ginkgo Biloba, used to boost circulation and to improve the skin's uptake of oxygen so it looks brighter and healthier.
Even though I'm slightly out of the 20's age bracket, this moisturiser is still a pleasure to use and I am really enjoying it. Retails for R255.00 and is available in store or online.
Clarins Daily Energizer Lovely Lip Balm*
This is the latest addition to the Daily Energizer range and aims to provide instant and long-lasting comfort to dry lips. It's enriched with cocoa butter and shea oil to nourish the lips and encourage repair of the lip surface, and  is formulated to react with the pH of your lips to boost their natural colour. Clarins claims that this balm will provide up to 8 hours of moisturisation, which might be a tad ambitious –  I would say I get 2-3 hours of comfortable wear from one application (which I think it still quite impressive).
The texture is lovely and creamy and melts into the lips beautifully. I also really like the colour of my lips when I'm wearing this – nice and rosy. Retails for R165.00. Available from 9 March 2015.
When Jules and I saw that theBalm was available on Retailbox, we squealed long squeals of immense joy. I immediately placed an order for the two products I'd been hunkering after for forever: Frat Boy Blush and Mary Lou Manizer. Behold:
The blush is outstanding, truly. The colour is a coral pink with subtle gold micro-shimmer (see swatches below). It has a pearly sheen finish and gives a nice flushed look to the cheeks with one swipe – however it is pigmented so you can definitely build it up if you want something a bit punchier. The texture is incredible – soft, silky and smooth – and it has good staying power too (approximately 8 hours without fading). I am very impressed!
The highlighter…I'm still trying to get to grips with this. It is major. It's a shimmering champagne  colour with subtle gold tones (thankfully no glitter), and it has a nice, glowy sheen to it. It's very pigmented, so you have to use an incredibly light hand when you apply it – don't do what I did the first time I used it or you will run the risk of looking like an extra in Studio 54. This product also requires blending – if you just tap it on it will look way too obvious. You need to softly buff the edges if you want to look like a glowing goddess (who doesn't). I think I will be saving this for evenings out/special occasions only – it's definitely not a product I would wear every day.
If you're looking for a subtle highlighter and I've now put you off Mary Lou Manizer, I can highly recommend the MAC Mineralize Skinfinish in 'Soft & Gentle'. I find it to be a far more user-friendly highlighter – the effects are subtle but beautiful, and there's no danger of ever looking too shimmery.
*PR Sample