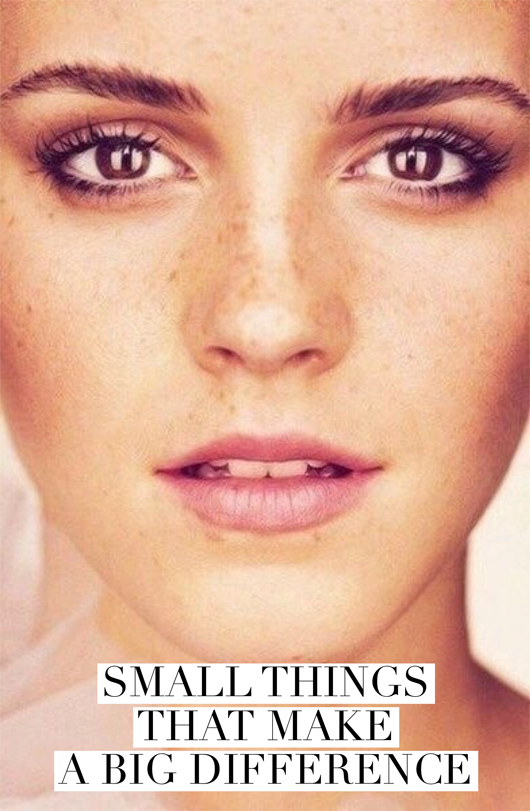 The subject of beauty can be a daunting topic for many – what makeup to wear, how to apply it, which skincare to use and how to style your hair. If you're one of those people who doesn't know where to start, here are a few quick tips that will get you going in the right direction. They are simple to do, requiring little to no skill, and don't take a lot of time. They also happen to make a big difference so you get plenty of bang for your buck:
Cleaning your face properly
The very least you can do for your skin is to clean it properly, morning and evening. This doesn't have to be a complex or costly exercise; all you need is a good cleanser, a make-up remover and a flannel. My favourite suits-all (or at least most) budget products are Cetaphil Gentle Cleansing Lotion, The Body Shop Camomile Silky Cleansing Oil and the microfibre face cloths from Pick 'n Pay. The Smitten is also a fantastic budget tool as it doesn't require any cleanser at all – read Camilla's review here. Also read Caroline Hirons' cleansing cheat sheet.
Filling in your eyebrows
Eyebrows, in my opinion (especially because I haven't got any), are the most important feature on the face. Learning how to shape and fill them in correctly will completely change your makeup routine and give you an instant facelift – let Lisa Eldridge show you how. I have mine tinted and shaped at Dani Beauty every three weeks and in between I use the Soap & Glory Archery pencil to keep them defined. Good, locally available alternatives to this include Smashbox Brow Tech To Go and the MAC retractable pencils.
Tightlining your upper lid
This is a subtle but effective trick for making your lashes look much thicker and it only takes about 10 seconds. All you need is a good waterproof eyeliner – black is best but any dark colour will do. My current favourite is the Essence Gel Pencil in Black Blaze or for more longevity you can try a gel liner (Bobbi Brown is the best) with a small brush. Simply work the eyeliner into the rim of your upper lid, between the base of your lashes and your eyeball. Just be warned: it's not very comfortable but if you struggle, look away from the pencil or brush as you move it along your lashline and you won't flinch as much. The Beauty Department has a good tutorial if you want to see the technique in action.
Curling your eyelashes
There is nothing like curling your lashes to open up tired eyes, even if you don't follow up with mascara. It makes you look more awake, it gives your lashes more oomph and enhances any eye look. The best ones I've tried are by Kevyn Aucoin and Shu Uemura, but MAC also makes a great pair that is available locally. Watch this quick video tutorial from Makeup Geek for the full how-to.
Looking after your lips
Chapped lips are not only annoying and uncomfortable but they can also be painful and unsightly. In my experience, prevention is better than cure so to avoid developing dry lips I use a heavy-duty lip balm every night before I go to sleep. Nuxe Rêve de Miel is the gold standard in lip balms but there are plenty of alternatives on the market that also work well, like Aquaphor, Elizabeth Arden Eight Hour Cream and Blistex DCT. Flaking skin can also be buffed away with a good lip scrub like LUSH Mint Julips which has the added bonus of smelling like mint-chip ice cream.
Do you have any quick and easy beauty tips that make a big difference?