You are probably already familiar with Mama Mio, the specialist skincare range for pregnant women and new moms that we have mentioned before on the blog. Their body oil is a huge favourite of ours, but most of the products, although excellent, don't really suit us because we're simply at a different (childless) stage of our lives.
The brand have realised that this is true for plenty of women and have branched out with a new, high performance bath and body range, targeted at active women who want their skin to be as fit as they are. The products from the new line, simply entitled Mio, address different concerns like muscle tension, cellulite and firming, hydration, strength and cleansing, and are all formulated with facial-quality active ingredients. They don't test on animals and have a strict "no nasties" policy, so all the products are created without parabens, petrolatum, mineral oil, synthetic fragrances, artificial colourants, SLS, xenoestrogens, phthalates, PEGs or glycols.
I got the chance to check out a few things at the launch and these were my favourites:
Workout Wonder Invigorating Muscle Gel
This instantly cooling and revitalising gel (it feels a bit like tiger balm or Deep Heat) uses a blend of natural essential oils to give instant and long-lasting relief and stimulation for tired muscles. Horse chestnut detoxifies while arnica and chamomile soothes, reducing pain, inflammation and bruising. It's the ultimate post-workout treat for sore muscles and it smells gorgeous too!
Price: R450 for 100ml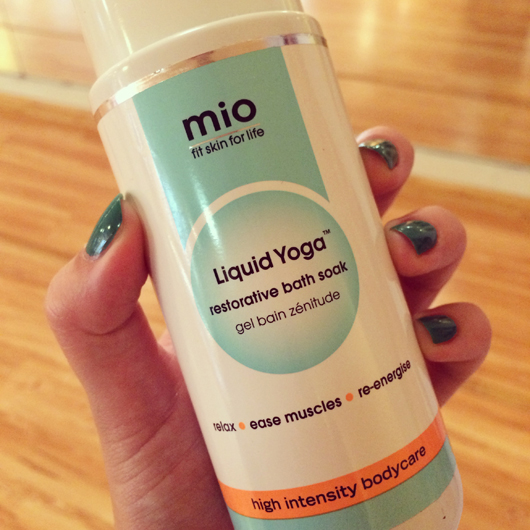 Liquid Yoga Restorative Bath Soak
I'm a big fan of a good bath product and I think this might be my favourite one yet. Formulated with magnesium-rich Epsom salts and arnica, this non-foaming, moisturising bath soak relieves aches and pains and helps eliminate toxins that slow down muscle recovery. Liquid Yoga is described as your personal masseuse in a bottle; helping with muscle fatigue, relaxing tight, stressed shoulders and soothing tired, achy bodies whilst detoxifying and re-energising.
Price: R550 for 200ml
Quick Start Exhilarating Shower Gel
Easily one of the most invigorating shower gels I've ever used, this stuff is the perfect early morning pick-me-up. The heady blend of spearmint oil, menthol and organic lemon extract kickstarts your senses, while coconut-derived cleansers clarify the skin without stripping out all its moisture. Witch hazel extract serves as a natural antibacterial and pH balancer to protect skin with strong antioxidant benefits for day-long skin fitness.
Price: R415 for 200ml
The range launches this month in spas and salons throughout SA – full list of stockists here.
Thanks to Janine from Poise Brands and Jo-Ann & co. from Positive Dialogue for inviting us along to the launch xx