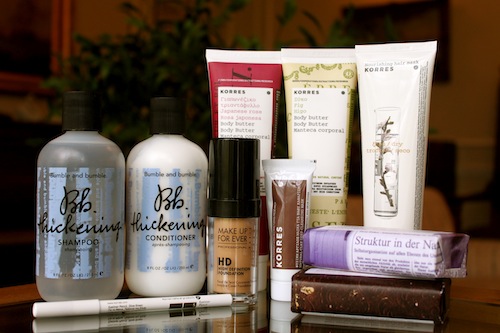 Aaaaand we're back! After three glorious weeks of sun, sea and of course, a wedding, we've found ourselves back in a very cold and gloomy Cape Town. In order to prevent the inevitable post-holiday/post-most-amazing-wedding-of-all-time comedown, I did some shopping in Athens so I would have some things to play with when I got home. On my final day I found myself on my own as my boyfriend jetted off to Italy for a further two weeks, and with all the sights already seen, I decided to visit the biggest mall in Athens, creatively named "The Mall Athens". I made a beeline for Sephora and Korres (obviously) and was in my element until I realised that I'd left my credit cards at the hotel (why, cruel world?) and that I only had €150 to spend. This was probably a blessing in disguise because I honestly would have lost control otherwise. Here's what made the cut…
Korres
The first thing I popped into my basket were two body butters: Japanese Rose and Fig, both of which smell delicious. They are thick and creamy and it takes a bit of elbow grease to get them properly rubbed in, but once that's done they leave the skin lovely and soft for hours. Sadly nothing can ever compare to the moisturising powers of my beloved Mama Mio Omega Body Oil, so although I am enjoying using these, I don't think I'll be repurchasing them.
I then picked up two masks: the Natural Clay Deep Cleansing Mask for my face and the Almond and Linseed Nourishing Hair Mask for my locks. Both are very pleasing – the face mask does an excellent job of drawing out impurities and the hair mask (which only needs to be left on for 3-5 minutes – score) left my hair feeling silky soft and healthy. Next up: two soaps – Saffron/Amber Cardamom and Vanilla Amber Pear. It goes without saying that they smell like heaven, but I haven't had an opportunity to use them yet so I will report back later. Lastly, an Eyeliner Pencil in Olive Green – my sister bought this last year and I have been coveting it ever since. The consistency of this pencil is lovely and soft so it blends well, and it has a subtle hint of shimmer so it looks beautiful on the bottom waterline. Definite repurchase.
Sephora
So. Much. Stuff. Everywhere. It was a little overwhelming at first to be honest, but I quickly found my feet. First stop: Bumble & bumble. I was so hoping they would have stock of Dryspun Finish (which has been getting rave review after rave review online) but sadly it was not to be. I toyed with getting the Surf Foam Wash shampoo and conditioner, but lets be honest, I'm not a beachy kinda gal, so instead I decided to get the Thickening shampoo and conditioner to compliment my Full Form Mousse and Crème Contour. Let me tell you, those four products used together: mega-volume! Full review coming soon.
My last item was a foundation (obviously – I mean, sure…I need 15 foundations): the Make Up Forever High Definition Foundation. This foundation was initially created in order to provide better coverage for women who were being filmed on HD cameras, as conventional formulations weren't cutting the mustard. It claims to cover skin imperfections while remaining invisible on-screen and in real life and I have to say, it delivers. It manages to provide full coverage whilst looking incredibly natural at the same time, and it leaves you with a soft, almost air-brushed finish. Full review coming soon.