Tomorrow I will be getting on a plane and heading back to Greece for a well-deserved three week holiday and I. CAN. NOT. WAIT. This time we are going to limit our luggage to carry-on only which seems wonderfully practical when you have to catch four flights and a ferry to get to your destination, but it also poses some packing problems in the beauty department.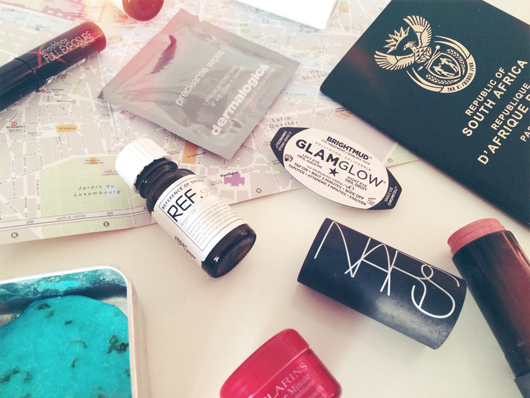 I've taken up the challenge though, and whittled down my toiletry bag to include only limited liquids and plenty of travel-size items to maximise space. Using up samples and testers is a great way to do this, so I'm taking some Dermalogica Precleanse Wipes, a mini Smashbox Full Exposure Mascara and a little pot of Clarins Instant Smooth Perfecting Touch. Baby-size bottles of my favourite multi-tasking oils also make a handy addition to the stash, like the REFerence of Sweden Argan Oil (for hair, cuticles, dry elbows, etc.) and Treemendus Organic Tea Tree Essential Oil (for its myriad anti-bacterial uses).
One of my travel beauty secret weapons is the Seanik solid shampoo from Lush – it cleans without stripping and adds some texture and volume, plus you don't need to decant your liquid shampoo into a little bottle that is likely to explode in your toiletry bag (review here). Rounding off the carry-on kit are a couple of Glamglow BrightMud Eye Treatment pods (perfect for de-puffing tired plane eyes), Clinique Even Better Dark Spot Defense SPF 45 (a powerful sunscreen with an added tint so you get protection and light coverage in one step) and NARS Multiple in Orgasm, a creamy blush stick that I can apply with fingers (so no need for a separate brush) and since it has a subtle sheen to it, I don't need to pack a separate highlighter either.
Do you have any tips for packing light and avoiding the dreaded 100ml rule?