I hope you enjoyed Part One. Let's get cracking with Part Two…
Sigma Make-up Brushes
A bit of a brush-buying frenzy over here, but actually I am blameless because Julia started it. You know how it goes: best friend buys something you don't think you want, but then you realise that you really really do, and then you end up going completely overboard and buy all. of. the. things.
Julia and I had both been desperate the try Sigma brushes after seeing all of our favourite overseas beauty bloggers raving about them, so when we found out there were available in South Africa, we lost our minds a little bit. Sigma make relatively affordable, yet high quality, make-up brushes, and I decided to treat myself to the following:
– F80 Flat Kabuki for buffed foundation application. This creates the most incredible, airbrushed finish – not dissimilar to the Real Techniques Expert Face Brush.
– F15 Duo Fibre Brush for soft application of powder and mineral products. I bought this to apply my Hourglass Ambient Lighting Powders (see below) but as it turns out it's a bit small for full-face application, so then I bought…
– F30 Large Powder Brush for even powder application. This huge great big fluffy brush picks up just the right amount of product and distributes it evenly all over the face. 10/10.
– E45 Small Tapered Blending Brush for precise colour application into the crease of the eye socket. My MAC 217's are all very old now and have lost their shape a bit, so they don't apply colour in the crease as precisely as I would like. This solves the problem as the tapered brush gets right in there. Nice.
Available from Turquoise Studio.
Soap & Glory Hand Food Hand Cream
I recently ran out of my Kiehl's Ultimate Strength Hand Salve, and decided to replace it with the much-hyped about Hand Food from Soap & Glory. I am a bit divided on this one because as much as I loathe the smell, I think it might be one of the most effective hand creams I have ever used. It should be noted at this point that I can't stand overly sweet smells (vanilla, you offend me deeply) and this one contains marshmallow, of all things. The scent lingers and is so potent that it  manages to fragrance my entire office! However, the non-greasy, moisturising formula has completely won me over any my little mits have never been softer or smoother. Available from Rubybox for R169.95 from 125ml.
NARS Radiant Creamy Concealer in 'Vanilla'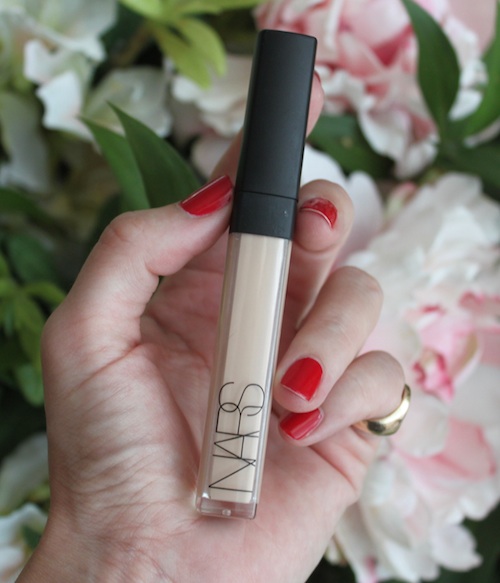 My number one beauty love is a radiant complexion and when I read about this concealer I knew I had to have it. This creamy formulation provides excellent coverage, ranging from medium to high, depending on how you choose to use it. I have been using it under my eyes and around my nose to even out my skin tone and conceal dark circles and redness. It is utterly incredible, honestly – I can't rave about it enough. It is incredibly creamy, yet it doesn't settle into fine lines at all, and banishes my dark circles without the need for my faithful Bobbi Brown Corrector first – I never thought that would be possible! It gives a lovely, glowy finish and it wears well throughout the day – I feel like I look much healthier and well-rested when I'm wearing it.
Bobbi Brown Pot Rouge for Lips and Cheeks in 'Calipso Coral'
I'm a huge fan of cream blushers, particularly the Bobbi Brown Pot Rouge blushers. These dual-purpose pots are intended to be used on both cheeks and lips, but I've always found them quite drying on the lips so I've stuck to only really using them on my cheeks. I was browsing in Edgars last week when I spotted this and I knew it had to be mine – I know we're coming to the end of summer but I couldn't help myself – the allure of coral was too powerful to resist. For the first time ever, I love the colour on the cheeks as much as I do on the lips – I have been prepping my lips with the Piz Buin In Sun Lipstick first to inject a bit of moisture, and then I press a little of this into my lips and the effect is gorgeous – subtle, but still summery and fresh. Love.
Hourglass Ambient Lighting Palettes in 'Dim Light' and 'Radiant Light'
Last but certainly not least: the much-coveted Ambient Lighting Powders from Hourglass. These finishing powders feature state-of-the-art technology to recreate flattering types of light with the aim being that, when you wear them, you look as though you have been lit with an incredibly flattering shade, almost as though you have your own personal lighting technician. These powders capture, diffuse, and soften the way light reflects on your skin – they filter out harsh light and refine the appearance of your complexion (you had me at 'complexion'). They don't contain any talc, so they don't leave that heavy, traditional powdery feel on the skin – instead they leave your skin looking luminescent, as though you have been lit from within. Dim Light is described as 'a neutral soft beige that provides a perfect balance of warm and cool tones to blur imperfections', whilst Radiant Light is described as 'a sun-kissed golden beige that enhances the overall complexion with believable, subtle warmth'. I am still playing with them and trying to figure out the best way to use them, but for now my preferred method is to use Dim Light on my t-zone and Radiant Light on my cheeks. The effect is absolutely gorgeous and my skin looks almost airbrushed – I couldn't be happier.
Sho! I feel like I need to have a lie-down now! Have you made any recent purchases that you'd like to share? I'd love to hear all about them…beauty enablers unite!