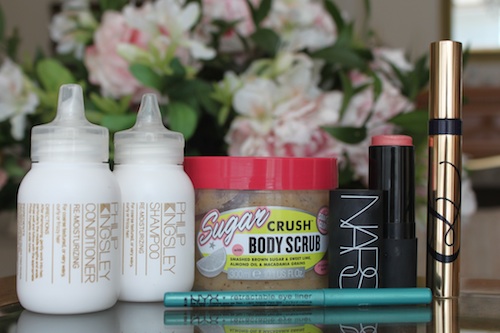 I've recently bought a couple (ahem…a lot) of new products and I wanted to do a little show and tell for you. Four of the most expensive products were actually bought for me by my boyfriend (so you can relax, Mom), but I wanted to include them in this post because they are life-changingly amazing. I've had to split this post into two parts because of the volume of products, so here we go with Part One…
NARS The Multiple in Orgasm
Ya'll know how much I love a cream blusher, so I couldn't pass up the opportunity to snap up one of my all-time favourite powder blushers in cream form (strictly speaking, this is a cream-to-powder formulation, but let's not split hairs). The Multiple is, as the name suggests, a multi-purpose make-up stick designed to be used on eyes, lips, cheeks and body. I like to pop it on my cheeks and either blend with my fingers or with my Real Techniques Stippling Brush (which is now available on www.all4women.co.za). I find the Stippling Brush gives a better effect as it really pushes the colour into the skin, whereas if I blend with my fingers I tend to disturb my carefully-applied foundation and it all looks a bit smear-y (a real word). You will all be familiar with the desired effect of the blush, so you can expect to be left looking flushed and healthy – as though you've just had a quick tumble in the sheets. Thumbs up. Available from Rubybox (VIP Insiders only) for R425.
Estee Lauder Sumptuous Extreme Lash Multiplying Volume Mascara
Regular readers will know how much Jules and I both adore the Clinique High Impact Extreme Volume Mascara, but I recently ran out and was in the mood to try something new. Moreover, I feel like I owe it to you guys to try out new products, otherwise things can get a little stale, don't you agree? Tori, from Kiss, Blush and Tell, recommended that I give this a go, so I did (obviously – her word is the gospel). I have to say I am really enjoying it – it doesn't give the same mega-lash effect that Clinique does, but it creates subtle volume and lengthens nicely. It wears well and doesn't smudge, flake or smear, not even in this heat we've been experiencing – and that's no mean feat! The formula isn't as wet as Clinique either, so I find I get less smudges along the lash line when I'm applying my mascara, and the tapered wand makes it easy to get to those little lashes on the inner corners. Another bonus: it's a breeze to remove. All in all, an excellent mascara – thanks for the recommendation Tori!
Soap & Glory Sugar Crush Body Scrub
Another much-hyped about product which lured me in was this body scrub from Soap & Glory. After everything I'd heard I expected this scrub to completely change my life…but it didn't. Not even a little. When used on dry skin, pre-shower, the thick, gloopy formula takes a serious amount of PT to work into the skin. It has no slip at all and it's very sticky – consequently, you have to use a lot of it to exfoliate your whole body. However, when used on wet skin, bizarrely there is too much slip and the formula doesn't adhere to the skin at all – it just slides off onto the shower floor. Now, I'm no simpleton, I know how to use a body scrub (or at least I think I do), and this one just baffles me – am I missing something? Why on earth do people love it so much? Maybe they don't know any better because they haven't tried The Body Shop body scrubs, perhaps? Must be.
Philip Kingsley Smooth & Shiny Travel Set
The main reason I bought this set was because it contained two very generous samples of the cult hair mask, the Elasticizer Pre-Shampoo Treatment. This treatment was formulated by Philip Kingsley as a pre-shampoo treatment to deliver a surge of moisture to the hair's cuticle, ensuring elasticity and bounce without coating the hair or weighing it down. For those that don't know, Philip Kingsley  is a world-renowned trichologist – his products are designed to target both the medical and cosmetic aspects of the hair and scalp, so I knew that the Moisture Balancing shampoo and conditioner which came with this set would be fabulous too. I haven't yet had the chance the use Elasticizer, but the shampoo and conditioner are both wonderful and leave my hair soft, shiny and manageable. Available from Rubybox for R229.95.
NYX Retractable Eyeliner in 'Aqua Green'
This is another product that I haven't gotten around to using yet, but I bought it because I saw a look that Pat McGrath did for Versace recently and I wanted to try and recreate it. I didn't want to spend a fortune on a pencil that I would only use a couple of times, so I decided to go for a more purse-friendly option. These liners are known for their intense pigmentation and long-wearing power so I'm looking forward to trying it when I summon up the courage to rock Pat's Versace look:
Phew! Time to take a little breather…
Part Two coming later this week!