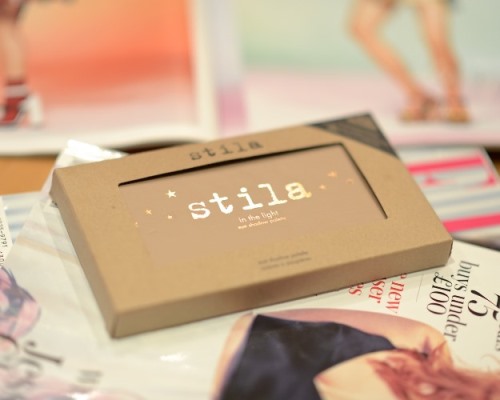 I am a big fan of warm, neutral eye shadows, and I had planned on treating myself to the Urban Decay Naked 2 Palette when I got to Greece in August. However, when Tori started raving about the Stila 'In The Light' palette, I knew my fate was sealed: ten glorious eye shadows and one eyeliner all encased in beautiful champagne-coloured packaging…sign me up!
The palette contains the following shades:
Bare – matte ivory shade
Kitten -shimmery champagne shade
Bliss – matte beige pink
Sunset – shimmery canyon pink
Sandstone – matte light coco
Bubbly – pale gold shimmer
Gilded Gold – golden brown with shimmer
Luster – dark aubergine with gold shimmer
Night Sky – blue with shimmer
Ebony – black
Smudge Stick eyeliner in Damsel, a matte brown
I've never been one to experiment with bold and outrageous colours – I like to stick to taupes, golds, and browns as I find they suit me best. This palette ticks all the boxes as far as my ideal colour selection is concerned – it is filled with the kinds of tones that I naturally gravitate towards. The colours are very flattering and will suit every skin tone, although I must be honest and say that I'm not a huge fan of Night Sky because, well, blue eyes + blue eye shadow = 1980's (and not in a good way). I am really enjoying the eyeliner too – the colour is similar to the MAC Eye Pencil in Coffee, but it is much creamier and easier to apply.
The palette also contains a good mix of matte and shimmer – four matte and six shimmer. The shimmer is very subtle and not overpowering at all so you won't look like a disco ball when you're wearing it (we've all been there, am I right?). The shadows are very pigmented so you really only need a small amount, but if you're after a stronger look, fear not –  they are buildable, so just keep packing it on until you're happy. What I really like about the powders though, is their consistency – they are very creamy and easy to blend, and they don't crease! The palette also comes with a handy little booklet which shows you how to create various looks using the shadows, which I think is a really nice touch – it also makes this palette the perfect gift for make-up novices as the the step-by-step guides are really helpful.
Please excuse the quality of the swatches, it was very late and the lighting was poor:
All in all, 'In The Light' gets two very enthusiastic thumbs up – great colour selection paired with exceptional quality, and value for money to boot – well done Stila *claps*! It retails for R395 and is available from Rubybox and selected Woolworths stores (or online here).