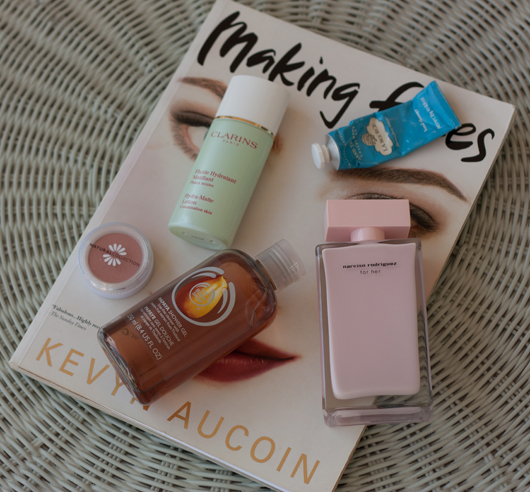 Clarins Hydra-Matte Lotion
As you may have gathered by now, I'm on a mission to control the facial oil slick that has become the bane of my life. I didn't used to have such oily skin, it was more normal-combination (and I'm sure it's linked to the number of different products I test for the blog) but these days my nose is like a beacon by lunchtime! I've tried powders, mattifying primers, setting sprays and blotting papers but none have been as effective as this light daily moisturiser. It hasn't resolved the issue completely but it has made the most noticeable difference and I'm thrilled with it!
Narcisco Rodriguez For Her Eau de Parfum
This perfume has been a favourite of mine for many years, and is Camilla's signature scent, which is probably one of the reasons why I love it so much. It had recently been relegated to the back of my stash in favour of Chanel Coco Mademoiselle but this month I decided to reinstate it as my daily perfume. It is described as "warm, sensual and feminine" with notes of "Honey Flower, Solar Musk, Orange Blossom, Osmanthus, Amberlyn, Vanilla, Tactile Musk, Tactile Woods and Vetiver." I don't know what most of those things are but the next time you're in a department store or killing time at duty free, I strongly recommend you give it a sniff!
Natural Collection Blushed Cheeks in Peach Melba
It seems I have a bit of an obsession with blush (see my June Favourites!). I found this one in the back of my make-up drawer and had completely forgotten that I bought it in London for the price of… wait for it… £1.99! I'm going through a natural blush phase which better suits my winter-pale skin, and this fitted the bill perfectly. The texture and pigmentation are perfect (infinitely better than the price tag would suggest) and it blends out to a lovely, natural finish that never looks too obvious. Unfortunately Natural Collection isn't available in SA, but plenty of local brands make similar shades – try Revlon, Rimmel, NYX, MAC or Bourjois.
The Body Shop Papaya Shower Gel
I had heard rave reviews about The Body Shop's Satsuma shower gel and was dying to try it when I heard that their big seasonal sale was on. So off I went to the V&A Waterfront store where I was sadly informed that none was in stock. Anywhere. I was determined to buy something though, since the 250ml shower gels were marked down by 50% to R40 each (!!), so I settled on the delicious Papaya fragrance instead. I love the smell of Lush's I Love Juicy shampoo, which is what this reminded me of but WAY cheaper! I've used it nearly every day since and I love how fresh and zingy it makes me and my shower smell in the morning. Yum.
Crabtree & Evelyn La Source Hand Therapy
One of the unfortunate side-effects of having a trainer (sorry Mandy, "biokineticist"!) who makes you do push-ups and leopard-crawls on the gym floor, is that you develop painful and unsightly callouses from time to time. My delicate lady-hands take a beating when I work out and until recently, it never occurred to me to remedy the problem with a good hand cream. Then I remembered that I had this 25ml travel size lotion in my toiletry bag and started applying it regularly throughout the day to help soften my hands. And what a difference it has made! My skin is smoother and more supple, and wonderfully moisturised, which also happens to fight the signs of ageing that show so easily on the hands. I'm hooked.