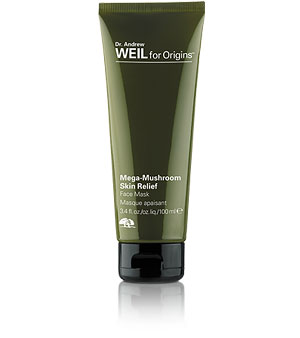 I asked Jules to bring this mask back from London for me because I had been dying to try something from the Origins range, and this product seemed the most suited to my skincare needs. This mask claims to rapidly reduce visible redness, blotchiness and reactivity – the perfect anecdote for my irritable, sensitive skin. The magic ingredient, allegedly, is mushrooms (which you will no doubt have gathered from the name), which Dr Weil maintains are essential for the well-being of your skin, and play a particularly crucial role in the reduction of inflammation.
Does it work? No. Or rather, not in the way I expected/wanted it to. The first time I used it I felt like I did see a slight improvement the next day, but I'm not sure if that was just me willing it to work, or if my spots were just on their way out and so were less red anyway. The subsequent times I used it I saw no reduction in redness, and whilst it didn't prevent me from getting more spots, my skin did feel soft and hydrated. However, this is probably because you don't wash the mask off, you tissue it off – so it leaves a film of product on your skin.
Because I was so disappointed, I decided to do some research and found that there seems to be a bit of a backlash against this product. Apparently there is no research substantiating any superior benefit derived from the inclusion of mushrooms (which isn't to say that there isn't any benefit whatsoever, it just means there isn't any concrete proof that their inclusion is effective). Now, add to that that the list of ingredients is about as long as my arm, and you quickly come to the conclusion that not only is this product NOT going to soothe sensitive skin, but it is in all likelihood going to have the opposite effect. The more ingredients there are in a product, the greater the chance that your skin will react to one of them. When it comes to choosing products for sensitive skin, fewer ingredients is best.
I am cross with myself for not researching this properly before I shelled out good money for it – had I known this before I would never have bought it. Lesson learned!
As a side note, Origins is part of the Estee Lauder portfolio, which means that their products are not cruelty free.
Image via