NYX Butter Gloss in 'Angel Food Cake' and 'Tiramisu'
I am so thrilled that these are finally available at Clicks! If the 'gloss' part deters you, please don't let it – this is not a traditional, sticky gloss. No, no. This is the perfect hybrid lip product: the subtle sheen of a gloss, the consistency of a cream, the hydration of a balm and the pigmentation of a traditional lipstick. They wear exceptionally well, and you can reapply all day without any gross build-up or worrying about the product sitting in dry patches or flakes. It's kind of perfecting in the way that it smooths over everything and leaves your pout looking juicy and plump (in a non-Kylie Jenner way).
Colour-wise, Tiramisu is a nudey, 'my lips but better' shade, whereas 'Angel Food Cake' is slightly rosier, but still very natural looking.  Considering that NYX is a "drug-store" brand and these Butter Glosses are cheap and chips (R124.95), I didn't expect to feel as polished as I do when I wear them – I seriously cannot recommend them highly enough. Once you've tried them for yourself, you'll never look back.
Aesop Resurrection Aromatique Hand Balm
Delicious. Utterly delicious.
This hand balm contains mandarin rind, rosemary leaf and cedarwood atlas, and the combination is intoxicatingly aromatic. The formulation is hydrating, but not greasy, so it sinks into your hands quickly and lets you go about your day without leaving oily fingerprints everywhere. I have been ploughing through it, I just can't stop myself – although, given how expensive it is,  I should probably curb my enthusiastic applications! This would make a lovely gift for a friend/mother/mother-in-law – make a note of this for their next birthday.
Exuviance Triple Microdermabrasion Face Polish*
I sang this face polish's praises last week, and my love for it continues to grow. It contains three exfoliators – professional grade crystals (physical), glycolic acid (chemical) and papaya (enzyme) –  the combination of which enhances and increases cellular turnover, giving the skin a healthy glow. To my knowledge, these three exfoliators have never been combined into a single product before (but please correct me if I'm wrong), so you're going to see results you haven't seen before – trust me. It gently lifts away dry, flaky skin and leaves the skin gleaming and healthy. Get. On. It.
BITE Beauty Butter Cream Lipstick in 'Pecan'
Disclaimer: not available in SA. I had been lusting after this lipstick from BITE Beauty for ages, and after finally deciding on the colour 'Pecan' (a warm, dusty pink), I dispatched my boyfriend to Sephora to get it for me (he was recently in Los Angeles). What makes this lipstick so special? I'm glad you asked. To achieve the creamiest lipstick, BITE developed a technique to hand cut each bullet, removing the outer waxy layer to expose each lipstick's creamy core. Each bullet is infused with five nourishing, aromatic butters, including lavender, shea, almond, pomegranate, and chamomile, and it leaves a rich, creamy slick of colour on the lips. The pigment and wear time are both very impressive for such a creamy formulation, and this colour looks fabulous with a little slick of Angel Food Cake on top.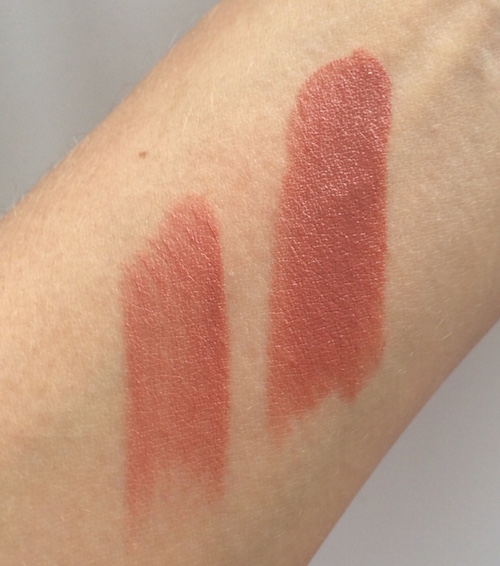 If you follow us on Instagram, you'll see that Jules recently went to the Bite Beauty Lip Lab in New York and created two of her own custom shades! Lucky fish.
MAC Extended Play Mascara
This mascara has the skinniest little wand that I ever did see. And I like it! I enjoy it on my top lashes, but I LOVE it on my bottom lashes – it coats every lash and doesn't budge until you take your makeup off. The pigment is jet black and glossy, which I don't traditionally like on the bottom lashes (I prefer a softer brown), but somehow this just works. I have been looking for a good bottom lash mascara since Clinique discontinued theirs (rude), and I'm so pleased that I've finally found it.
BeautyFix is a locally made, all natural, facial mist that is designed to be used as a hydrating spray, or as a makeup setting spray.  It contains rosewater, cucumber extract and aloe vera to nourish the skin and help impart that much-coveted 'lit from within' glow. I have been testing this for a couple of weeks now and I really really like it. These are the ways I like to use it (nothing particularly groundbreaking):
After moisturising but before makeup. The spray feels calming and nourishing and preps my skin nicely for foundation; or
Spritz some BeautyFix onto my beautyblender to dampen it, and then apply foundation and concealer as normal. This helps impart more of a glow, and helps set the makeup as you're applying it. This method works particularly well with under-eye concealer; or
After makeup to set (be sure to adhere to the 'spray 20cms away from your face' instruction, because one spritz deposits a lot of product and will drench your face if you hold it too close); or
Spritzed on throughout the day for a hydrating boost. I really feel the cold so I constantly have a heater going in my office, which unfortunately leads to dry, parched skin (yes Mom, I know I should get a humidifier). I keep a bottle of BeautyFix on my desk and apply it liberally every 2-3 hours and I find it helps keep the dryness at bay.
BeautyFix can also be used on sunburn to soothe the skin, as well as any rashes/lumps and bumps caused by waxing (yikes).
It is similar to MAC Fix+ in that it hydrates the skin and sets makeup beautifully,  but BeautyFix has the 'all natural' advantage (even the preservatives are natural), so it's safe to use during pregnancy and it can even be used on babies! Stockists can be found here.
 *PR Sample