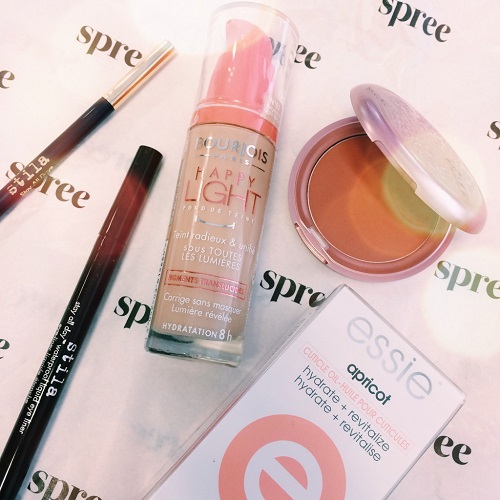 Spree is currently running an incredible beauty special on their site: buy any three beauty products and get the cheapest one for free. If you've never shopped online with Spree before, then I suggest you hop to it – they stock some of my all-time favourite brands, such as Stila, Bourjois and Max Factor, and their delivery is blisteringly fast so you get your goodies quick sticks! I love online shopping for many reasons but mainly because: a) I feel like I'm not really spending money because there's no receipt to stuff into my purse (danger), and b) opening those beautifully packaged boxes makes it feel like such a treat – almost like Christmas, and c) you don't have to battle the hordes of other people in the shopping centre to get what you need – you can do it from the comfort of your home, your office, your phone, wherever. It's just so convenient.
Spree kindly sent me a voucher to the value of R1,000 so that I could shop to my heart's content. Want to see what I ordered?
I have yet to try a Bourjois foundation that I didn't adore – Healthy Mix Gel Serum Foundation and the 123 Perfect CC Cream are both staples in my make-up collection and I love them so much I have repurchased them both (this rarely happens). I wanted to try Happy Light because Anna from Vivianna Does Makeup reviewed it ages ago and said it was even better than Healthy Mix (*sharp intake of breath*). This is something I have to see for myself.
I finished my Stila Covertible Color in 'Lilium' a few months ago (another first for me – I had never finished a blusher before) and had been wanting to get a replacement. I decided to try a different colour this time – Peony Pink is more of a rosy brown, whereas Lilium is more of a muted pink. This product has been featured multiple times of the blog, and in multiple tutorials. If you want to see it in action, have a look here:
This in a rogue product choice for me – I never usually wear liquid liner. However, I was in the mood to try something different and Stila is a brand I trust completely. I chose the dark brown version as I think it'll be more flattering that the traditional black liner.
I am OB.SESSED with trying to find good, locally available brow products. At the moment my eyebrow routine combines the Soap & Glory Archery Brow Tint & Precision Shaping Pencil and the Anastasia Brow Whiz and the MAC Brow Set (the ultimate trifecta) – I am interested to see how/if the Stila brow pencil compares.
I have always wanted to try this, but never got around to buying it. Now that winter is here, extra attention must be paid – raggedy cuticles simply will not do! This nourishing oil will ensure that my cuticles remain soft and supple during the drier, colder months.
I am thinking of filming a 'First Impressions' tutorial using these products – is this something you would like to see? Let me know!