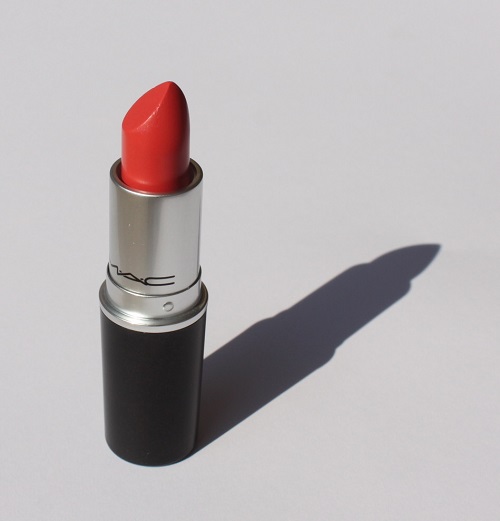 I'm sure that Jules and I have mentioned the Back to MAC Program before, but for those who don't know, it's an initiative by MAC  to encourage the recycling  of their empty products. So, if you take 6 empty MAC products to any MAC counter or MAC Cosmetics online, you'll receive a free MAC lipstick of your choice. Sweet deal or what?! 
I recently saved up enough empties to cash in and get a free lipstick, and I decided on 'Vegas Volt', a brightened orange-coral with a creamy, opaque finish (it's an amplified creme formulation). It immediately went onto my lust list after seeing it in Alix from I Covet Thee's June Favourites video: 
It's a very rich, intense color that definitely brightens the complexion. Although it can be worn opaque, I like to dial it down a notch my mixing it with some lip balm for more of a sheer finish, and it looks stunning. This is my new spring/summer lippie for sure (although as I type this, the sky is black and it's pouring with rain, so who knows when that'll be)!