I love a high-end purchase as much as the next girl, but there is something equally satisfying about finding something cheap and cheerful from the pharmacy that actually does a brilliant job. I stalk the isles of Clicks and Dischem on the regular, and I am pleased as punch with the items I've picked up lately. In no particular order:
Revlon Nail Enamel in 'Revlon Red'
I spoke about this formulation in our January Favourites video – I have been using 'Fearless', a bright orangey-coral, all summer long and I adore it. I decided to treat myself to another bottle and picked up 'Revlon Red', the ultimate pillar-box, screen-siren red. With the streak-free application, opaque colour and impressive wear, what's not to like?
Avène Micellar Lotion Cleanser and Make-up Remover
This French dermo-cosmetic brand is dedicated to alleviating a whole range of skin sensitivities from sensitive, intolerant to allergic.  Each product contains the Avène Thermal Spring Water, a unique ingredient whose properties have been endorsed by dermatologists over the years. This was my go-to brand when I lived in London many moons ago – I knew I could rely on it to calm my red, sensitive skin, and the products always felt so comforting and soothing to use. Avène is officially launching in South Africa today, although you might have already seen it in your local Clicks as some stores got their stock a few weeks ago. Jules and I are attending the official launch later this month so will do a full report back then, but in the meantime I just wanted to let you know about their micellar water, which I picked up a little while ago. This is utterly brilliant and, in my humble opinion, better than Bioderma (*sharp intake of breath*). It removes every last trace of makeup (and I mean everything) and leaves the skin feeling smooth and hydrated. This is my new skincare routine staple for sure.
Max Factor False Lash Effect Mascara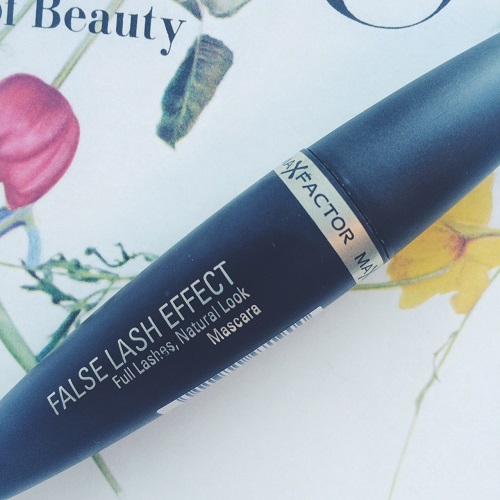 An oldie but a goodie. Jules mentioned this in her February Favourites last month, so I won't go into too much detail here, but man, it's good. I have used this off and on over the years and have always been impressed by it, and although my favourite mascara of all time will always be the Estee Lauder Sumptuous Extreme Lash Multiplying Volume Mascara, at R345 a tube it's a bit too pricey for every day use (unless you are a millionaire, in which case, carry on). This is a wonderful, more affordable, alternative and really does a fantastic job of creating volume and length without smudging or flaking.
NYX Cosmetics Slide On Pencils
This is another purchase inspired by Jules (as per her Beauty Haul video). After filming the video I promptly got myself to Clicks and picked up two colours – 'Jewel' and 'Golden Olive'. Golden Olive is honestly just the most gorgeous colour: a deep bronzey, khaki green that complements my eye colour perfectly. I have been wearing it every single day – it goes with anything and everything. The pencil is so soft and smooth, so it doesn't pull or drag at your eyelids at all – it just glides along gently. It also blends well and once it sets, it does not budge. Thank you for introducing me to this, Jules!
You can see swatches of all the colours here.
Revlon PhotoReady Skinlights Face Illuminator
Our good friend Shahnaz, from Shahnaz Loves Beauty, recommended this recently – she said mixing this in with your regular foundation will create supermodel skin. Where do I sign? I got the lightest shade (Bare Light) and I have been mixing it in with my MAC Mineralize Moisture SPF 15 Foundation and the effect is pretty spectacular, even if I do say so myself. It banishes dull skin and leaves you looking glowy and dewy – my personal favourite. You can mix it in with your foundation, as I have been doing, for a all-over glow, or use it as a highlighter on more specific areas, such as your cheekbones, bridge of your nose and cupids bow. My only complaint would be that it isn't the most long-lasting, but I am going to try using a primer first and hopefully that will help. I will keep you posted!
Cala Wet 'n Dry Detangling Brush
A few months back all of my favourite British beauty bloggers were raving about The Wet Brush (see here and here) – a detangling brush designed to prevent hair breakage when combing through wet hair (in a nutshell). Although my hair isn't particularly knotty or prone to tangling, I still find using a comb a bit 'meh'. I was recently pursuing the isles of Dischem when I spotted the Cala Wet 'n Dry Brush – it looks identical to The Wet Brush, so I figured I had to give it a go. The bristles are so soft and flexible, so they don't pull or tug at your hair in the slightest – they just glide through, gently detangling any knots you may have. I have been using it on both wet and dry hair and I love it so much that I am going to buy one of the travel size ones to keep in my handbag.
(Out of interest, I see The Wet Brush is available from Takealot.)