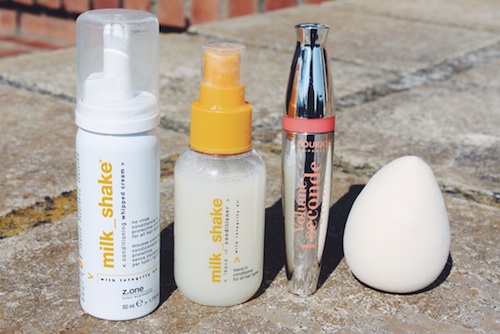 Milk_Shake Conditioning Whipped Cream and Leave In Conditioner
Milk_Shake uses milk proteins and various fruits to create a natural haircare range to suit every hair type. The range aims to restore the hair's natural components and nourish the hair fibre to ensure that the hair looks bright and soft.
The Conditioning Whipped Cream contains milk and wheat proteins to condition the hair, and special emollients provide deep and long-lasting hydration. I found this product a real pleasure to use – it has a mousse texture but absorbs into the hair quickly leaving no stickiness whatsoever. I was expecting it to weigh my hair down, but it didn't at all – instead my hair felt soft, smooth and bouncy (lightweight formula + intense hydration = might as well be a bullseye). The sweet-milk smell is also rather delicious – but if that isn't your flavour profile then don't let it deter you as it doesn't linger on the hair and after a little while you won't be able to smell it.
The Leave In Conditioner is aimed at those with normal to slightly dry hair. The milk proteins strengthen the structure of the hair, while the combination of fruit extracts, honey and silicon leave the hair looking shiny and healthy. This formula is lighter and not quite as intensive as the Conditioning Whipped Cream, but it still did a great job of injecting some moisture into my locks. If you colour your hair you will be pleased to know that both of these products contain ingredients which will extend the life of your colour – bonus!
The verdict: I'm not sure that I would forgo my beloved L'Oreal Pureology Hydrate conditioner permanently, but these Milk_Shake conditioners are a nice alternative for when I need to save a bit of time in the morning. They are easy to use, they smell great and they do a fantastic job. I would recommend the Leave-In Conditioner for those with slightly dry hair, and the Conditioning Whipped Cream for those with properly dry hair, like mine.
If you'd like to give Milk_Shake a try for yourself, you can call (021) 552 2369 to find your nearest stockist. 
QVS Deluxe Egg Sponge
Finally, a decent Beauty Blender dupe! I stumbled upon this sponge in Woolies the other day and knew I had to give it a try to see if it compared to the hallowed Beauty Blender. Whilst it's not as soft or bouncy as the Beauty Blender, it still creates a beautiful effect and gets into all the little nooks and crannies to ensure a completely seamless finish. As with a Beauty Blender, I dampen it before I use it – it helps to soften the sponge so you can really work your foundation into your skin (without that bit of moisture it's too compact and not as pleasant to use – plus it absorbs far more product). Given the choice between the two I have to say that I would choose my Beauty Blender, but if you're not able to get your hands on one then this Deluxe Egg Sponge is a great alternative.
Available from Woolworths for R130.00.
Bourjois Volume 1 Seconde Mascara
Jules and I were sent some Bourjois goodies recently and, never having tried a Bourjois mascara, I couldn't wait to give this one a try. The wand itself it quite fat and the bristles are very short, so you can really wriggle it into the base of the lashes to create the impression of a fuller lashline.
The wand is also rather flexible, which allows you to maneuver it around all the tricky spots to make sure that every single lash is properly coated. Handy. It adds a decent amount of length too, and the bristles do a great job of separating and defining each and every lash. Another thing I appreciate about this mascara is that it washes off easily – nothing aggravates me more than stubborn mascaras which require multiple dousings of Bioderma to remove. The only negative point would be that it does tend to smear a little bit after a couple of hours (by "a couple" I mean after 8-10 hours of wear) – so I sometimes see that annoying mascara stain just below my eyebrows (who know the one). But besides that one little gripe, I think this is a stellar offering from Bourjois – if you're in the market for a new drugstore mascara, I would highly recommend it.
Available from Clicks for R139.95 (also comes in a waterproof version).