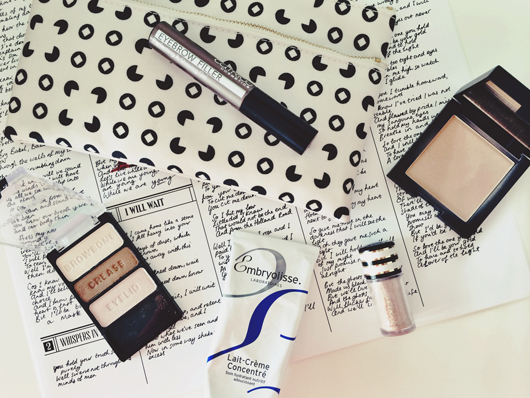 The problem with having too much make-up and a short attention span, is that lots of lovely products tend to get forgotten and start to gather dust in the shadow of the shiny and new. I'm making a huge effort to work through the stuff I have (hence all the recent empties posts!) instead of constantly buying new things, and part of that is "shopping the stash". I had a rummage around in my kit and brought out some goodies I know I love that I'm going to try and use more often:
I bought this nearly a year ago (review here) and have hardly used it, which is a shame because it's great. The quality is ridiculously good – especially for something under R100! – and the colours are really wearable and versatile. Wet 'n Wild recently rolled out to Clicks stores nationwide (previously it was only in selected stores) so it's much more easily available and super affordable. If you haven't tried anything from the brand yet, then do yourself a favour and pick up a couple of their signature products, like the Pearlescent Pink blush (NARS Orgasm dupe), Megalast nail polishes and fabulous semi-matte lipsticks.
I can't decide how I feel about this product – on the one hand, it's a lovely moisturiser that forms a beautiful, smooth base for make-up but on the other hand, it's quite a low-tech, mineral-oil-rich formula that doesn't really do enough for my dehydrated skin. Having used it a few times recently as a make-up base I can say that it's one of the better primers in my collection and I think that's probably the only role it will fulfil for me. Those with dry skin that isn't particularly demanding might love it though so worth a try if you fit the bill. I bought mine from Cult Beauty.
Ooooh I love Sleek, it's such a pity it's so hard to find. As far as I know, the only place you can find it in Cape Town is the Foschini in Golden Acre, which is utterly ridiculous. It's another affordable but high quality brand with an awesome product range and worthy of a lot more attention than it gets (certainly in this country). This powder is perfect – non-cakey, good neutral golden tone (I have Shade 02), offering light coverage that leaves skin with a healthy glow. Another one of their products that I don't use enough is the Natural eyeshadow palette – it's only R100! Highly recommended.
I picked this up as part of the MAC Nocturnals collection last year, knowing in my heart that while the set looked very pretty, I probably wouldn't get much use out of it. This turned out to be true but only because they hide in a part of my make-up drawer that is difficult to see so I basically keep forgetting about them. I decided to reacquaint myself with the most wearable shade, Naked (which is also sold individually as part of the permanent collection), and have been loving it. MAC pigments are gorgeous applied wet or dry and last for ages on the eyes with minimal creasing (zero if you use a primer). They're a bit fiddly to work with but the super-fine texture makes blending a dream. Nyx also do a very similar product called Loose Pearl Powders if you're looking for a cheaper alternative.
My fine, blonde eyebrows are my most frustrating feature by far – at least with my hair, I can curl it and load it up with styling products to make it look full and volumised. Try doing that with your eyebrows! There is only so much I can do to fake the Cara Delevingne look, including monthly eyebrow shaping and tinting (go to Danielle at Mooi – just trust me) and filling in my eyebrows every single day with a pencil and/or powder. I don't have the discipline or patience for hair growth serums so a tinted eyebrow gel is a great addition to my routine, as it gives my brows some much-needed but very natural-looking definition. This one from Catrice is cheap and cheerful, and does a great job of adding dimension and texture to my drawn-on face framers.
Have you rediscovered any old products recently?