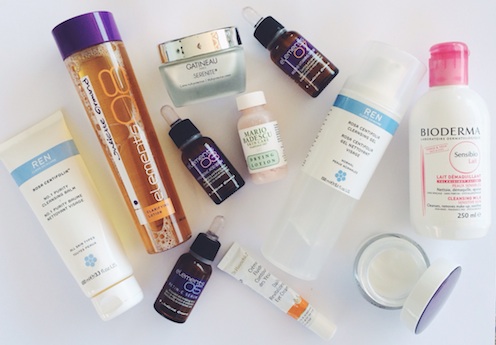 It's been a couple of months since I last gave you a run down of my skin care routine, so I thought it was high time to give you an update (I assume, of course, that you are interested…here's hoping). There are still some tried and tested favourites firmly in rotation, but there are also a few newcomers which have been really impressed me. I'm going to try and keep this as short and sweet as possible, so here we go…
Cleansers
REN Rosa Centifolia No. 1 Purity Cleansing Balm. This cleansing balm was featured in my April Favourites and the love has certainly not dissipated. About twice a week I make sure I spend a good 10-15 minutes really massaging this into my face. I try and follow Caroline Hiron's massage cheat sheet, and I must be honest with you, it's not a pleasant experience – it can be quite painful at times. After I've finished torturing my face, I take a nice warm washcloth and remove every last trace of the balm. Result: glowing skin.
REN Rose Centifolia Cleansing Gel. Also featured in my April Favourites, this cleanser is lovely and gentle and smells great. I use it once or twice a week with my Clarisonic.
Bioderma Sensibio H2O Cleanser. A product that needs no introduction. If you aren't already using it, why not?! And if you don't love it, I'm sorry but we can't be friends. I use this every day as my first cleanse and to swipe away all of my eye makeup. It's incredibly gentle, yet incredibly effective – my kinda product.
Bioderma Sensibio Cleansing Milk. I use this as my daily cleanser. I first started using this in December last year and I saw a big difference almost immediately. I had been faithful to Cetaphil for about 15 years until my new dermatologist informed me that it was actually quite drying. This cleanser is specifically designed to keep redness at bay (my biggest concern) and it does so very well. It cleans my skin without stripping out the moisture and it feels really calming and comforting.
Toner
Juliette Armand Elements 08 Clarifying Lotion*. I use this on my 'muzzle' area only – so, on my chin and around my mouth. I love using it because it feels really refreshing and my skin feels cool and tingly afterwards – a sensation I adore. I don"t use it every day, but instead only use it when I feel like something evil is brewing – it's incredibly effective at clearing any congestion which might be working its way to the surface. Maybe if I wasn't such a plank I would remember to use it every day and then  nothing evil would ever get the chance to brew. Note to self: use this more.
Mario Badescu Facial Spray with Aloe, Herbs and Rosewater. I picked up three bottles of facial spray while I was in America earlier this year and I have been happily ploughing through it ever since. I like to spritz it on before I use my serums (morning and evening) and also sometimes during the day as a pick-me-up. I must be honest, I don't know if it actually does anything, but I love using it so much that I don't care. (not pictured because I forgot to bring it home to photograph…whoops)
Serums
Juliette Armand Elements 07 Multi B Vitamins Serum. Regular readers will be properly bored of hearing about this product by now (sorry). I've said it before and I'll say it again: this serum changed my skin. It calms any redness/inflammation almost instantly and it has improved the general appearance of my complexion. I don't really know how or why it works, but what I do know if that I will never be without it. You can read more about it here, here and here.
Juliette Armand Elements 03 Hyaluronic Acid Serum. This is another product I will never be without – for someone with dry and dehydrated skin, this serum is an absolute essential. You know the drill regarding hyaluronic acid by now, and if you don't, you can read up here.
Juliette Armand Elements 05 Retin C Serum*. A new addition to my routine, and a much-loved one at that. I was always reticent to dive into the world of retinol because I was convinced it would be too harsh for my skin. As it turns out, it's actually not. This serum contains retinol (vitamin A) and vitamin C for an intensive anti-ageing and anti-oxidant treatment. It stimulates the cellular regeneration of the skin and the anti-oxidant properties neutralize the action of free radicals (sounds intense). I use this every other night and I have noticed an improvement in the texture of my skin (particularly around my nose), and it also helped fade my blemish scars a lot quicker than normal.
Moisturisers
Juliette Armand Elements 03 Hydra Active Cream*. Another newbie to tell you about. This moisturiser is packed with hyaluronic acid so it replenishes your moisture reserves and (apparently) prevents moisture loss between your dermal layers (fancy). Although the texture is lightweight, don't let that fool you – it is an intensive moisturiser. My skin looks instantly better after I apply it – plumped up, dewy and moisturised. Ding, ding, ding, jackpot!
Gatineau Serenite Multi Protective Comfort Cream*. This night cream found its way into my routine kind of by accident. I had just finished my REN V-Sence Revitalising Night Cream and I thought I would use the opportunity to try something new in my stash. This offering from Gatineau protects and rebuilds the skin's protective shield, and it nourishes, softens and soothes the skin. It feels really rich and comforting to use, smells expensive (my favourite smell) and it leaves my skin feeling soft, supple and well cared for.
Spot Treatment
Mario Badescu Drying Lotion. The combination of calamine lotion and salycilic acid makes for an unparalleled spot-fighting dream team. It obliterates spots overnight like you slumber – and whilst it's not not pretty to look at (I wait for my boyfriend to fall asleep before putting this on), it really does work. Unfortunately this was a State-side purchase, but you can read my full review here.
Eye cream
Disclaimer: I don't believe that eye creams are essential – you can just as well use your regular serum/moisturiser and you will be no worse off. However, these were sent to Jules and I for review, and I wasn't about to leave them languishing in the 'throw away' drawer. 
Dr Hauschka Daily Hydrating Eye Cream*.  A lovely eye cream. I can't say that it minimises the appearance of fine lines and wrinkles (I don't believe that any cream can do that, sorry), but it definitely does a great job of moisturising the under-eye area without causing any under-eye breakouts (yes, I get those). It absorbs quickly and keeps the under-eye area hydrated all day so my concealer doesn't look all caked up and dry by 4pm.
Juliette Armand Opsis Therapy Eye Brightening Gel*.  Despite my aforementioned disclaimer, I really do think this eye cream is excellent. The texture is unlike anything I've ever tried before – the thick balm/gel texture won me over straight away. It melts into the skin and feels incredibly soothing and comforting. It also smooths out my under-eye area to create a flawless canvas for my make-up and it seems to prevent concealer from settling into fine lines. I think we have a winner! 
Suncreen
Juliette Armand SPF30 Sun Film. This is another product that I've yapped on and on about over the past couple of months. This sunscreen contains six broad spectrum  filters which protect against UVA and UVB rays, as well as a patented anti-oxidant complex called Antitox: a powerful, self-renewing anti-oxidant. I have used this almost every single day for the past 10 months and I can't recommend it highly enough – it doesn't clog your pores, it smells great and it lasts forever (I am about to finish my first bottle – the second bottle is on my bathroom shelf, ready to go). 
*PR samples