We recently attended the launch of Moroccanoil's latest product line that promises to inject fine hair with lots of body and volume. Those are the magic words as far as we're concerned so we were very excited to give the range a whirl – here's the lowdown:
If there's a choice between the effectiveness of cleansing vs styling products in creating volume in my hair, styling products will win every time. I just have a much more successful track record with them than shampoo and conditioner. I've been using this combination almost every single time I wash my hair for the past three weeks and I can't say I've seen a massive difference, further reinforcing my theory. Having said that, they are beautiful products that leave my hair soft and clean with zero residue build-up. My locks smell gorgeous afterwards plus the formulae are free of sulfates, phosphates and parabens, so they're safer for the environment and won't dry, fade or strip hair of colour.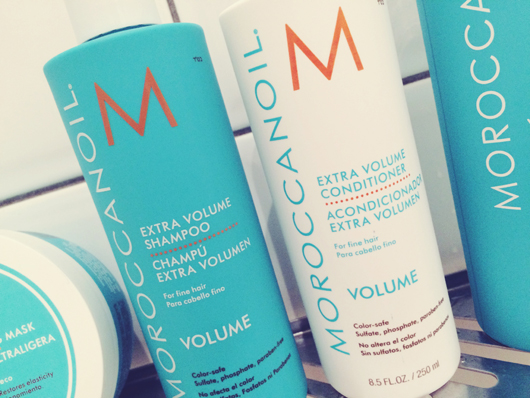 I've had lots of friends who say they "can't use" Moroccanoil because it weighs down their hair but I think most of them probably don't know that there is a Light variant that is specifically for those of us with fine hair. I've been using it for years and I love it to bits. When I can remember, I run it through the ends while my hair is wet but most often I use it after curling my hair to make it look glossy and smooth.
Think Elnett but without the bit where you smell like your granny! This hairspray is awesome – super fine, lightweight, non-sticky, long-lasting and offering flexible hold, and all with the delicious signature Moroccanoil scent. It's hairspray perfection, really. The only drawback is it costs R320 and at the rate that I go through the stuff, it's a bit too rich for my blood.
The star of the show for me is the Weightless Hydrating Mask (although it's technically part of the Hydration collection, it was also included in our very generous goodie bags). When it comes to hair masks, I have simple needs: it must work quickly, it must leave my hair feeling soft and healthy and it mustn't leave behind a residue or be difficult to rinse out. This product hits the ball out of the park on all of those counts plus it smells like HEAVEN.
I haven't given this much of a try yet, but Camilla has been using it regularly and is a fan. It's designed to build weightless body and flexible hold in fine-to-medium hair and for creating "natural styles with lift and movement, without leaving residue". Modern mousses are a far cry from the crunchy, crispy 1980s variety so if you spent the past two decades being terrified of these great styling products, then it's time to get back in the game.
Moroccanoil Tutorial: How to Get Big Volume
You can buy the Moroccanoil range at selected salons and online at Retail Box.
SNEAKY GIVEAWAY: Do you want to win a bottle of the original Moroccanoil Oil Treatment? Then follow us on Instagram and follow the instructions there!