A few months ago the lovely people at Metropolitan Cosmetics sent Jules and I a few GLAMGLOW face masks to try. For those of you not already familiar for GLAMGLOW, it was founded in 2010 for backstage and professional use in Hollywood's entertainment industry. The masks were made available for retail a year later and proceeded to take the world by storm, picking up awards left, right and centre. The masks are loved the world over due to their ability to help the skin appear instantly camera-ready, refine pores, diminish visible imperfections, and produce a noticeable glow (hence the name). Given their cult status, we absolutely thrilled when YOUTHMUD, BRIGHTMUD, SUPERMUD AND THIRSTYMUD landed on our desks. Here's what we thought…
Designed as a 10-minute professional 'facial in a jar', this mask's gentle resurfacing exfoliation helps to leave skin smoother, brighter, and softer. It contains, amongst other things:
Green tea leaf, which releases anti-oxidants directly into the mask, helping to minimise the appearance of fine lines and wrinkles; and
French sea clay, which absorbs impurities and toxic substances without stripping your skins essential natural oils; and
Volanic pumice rock, which clears dead skin cells and softens the skins texture, leaving you with smoother and softer-looking skin.
This mask really does deliver on its claims: skin is left feeling soft, smooth and impossibly radiant. For those of you with sensitive skin, don't worry, the 'tingle' is totally manageable – sometimes I can barely even feel it. You leave it on for a couple of minutes, let it slough away all your dead skin cells, and then gently remove with a warm face cloth – no mess, no fuss, and the results are very impressive. As you can see from the picture above, this mask is Jules' favourite!
The verdict: This mask is sensational and appears to be suitable for all skin types, even sensitive. A definite must-have.
Retails for R880.00.
This mask hydrates, moisturizes, restores, replenishes and calms the skin. It contains, amongst other things:
Hyaluronic and citric acid, for intense hydration; and
Raw honey and ginger root, to detoxify the skin and boost radiance; and
Coconut, for immediate skin conditioning; and
A micro-clay which traps and retains moisture in the skin.
As much as I love YOUTHMUD, THIRSTYMUD has to be my favourite GLAMGLOW mask. As someone who suffers with chronically dry skin, this is an absolute godsend. It can be used as a targeted 20-minute treatment, or as a more intensive overnight treatment – the consistency is thick and rich, so you really feel like you a treating your skin when you apply it.  I prefer to leave it on overnight to get the full benefit, so I leave it to sink in for 20 minutes, blot away the residue using a tissue, then sleep – it doesn't leave any marks on my linen and in the morning my skin looks pretty fantastic. The smell of this mask is rather dreamy too, like coconut and melted caramel and holidays – delicious.
The verdict: I can highly, highly recommend this for those of you with dry skin. However, as someone with slightly oilier skin, Jules wasn't bowled over by this one. She said the mask didn't really sink in and just sat on the surface of her skin, so she had to wipe it all off before she went to bed and didn't get the benefit of an overnight treatment.
Retails for R880.00.
This mask is designed the fight all common skin concerns. It contains, amongst other things:
A blend of 6 AHA and BHA acids to improve the texture of the skin, helping to minimise the appearance of scarring and prevent breakouts; and
Activated-X Charcoal, which attracts toxic substances within the deepest and toughest areas of the skin; and
K17 Clay to extract excess sebum oils, bacteria and toxins; and
Numerous plant extracts such as Eucalyptus Leaf and Licorice Root, to alleviate problem skin and fight inflammation.
I had a monster spot brewing on my forehead last night, so I popped this mask on for 20 minutes, and this morning: no spot. You do the math. The effect is very similar to our beloved Origins Clear Improvement Mask, in that the clay and the charcoal extract all the toxins and bacteria in your face, clearing your pores and leaving your skin looking healthier and less inflamed. The benefit of SUPERMUD is that it is much easier to remove than its Origins counterpart (you basically need to pot scourer to get that stuff off) – simply press a warm, damp face cloth onto your face and it starts to soften. Trust me, when your skin is already inflamed and angry, the last thing you want to do is tug at it to remove a face mask.This can be used as an all-over treatment, as per the incredibly flattering picture above, or as a more targeted treatment if you're experiencing a breakout (I very rarely apply a clay mask all over my face – I usually only apply around my mouth and chin).
The verdict: Jules and I both enjoyed using this mask, we didn't find that it targeted blemishes any more effectively than the Origins mask. It is also quite pricey, considering you only get 34g of product.
Retails for R880.00
This 'tap on and wipe off' eye mask has been formulated to brighten and tighten the under-eye area in just three minutes. It contains, amongst other things:
Peppermint to alleviate puffiness;
Botanical Mint with Vitamin C & A, to help skin look smoother and brighter; and
Caffeine to reduce the appearance of fatigue;
Active 5% Juvelane, a molecule designed to active retinol-like activity.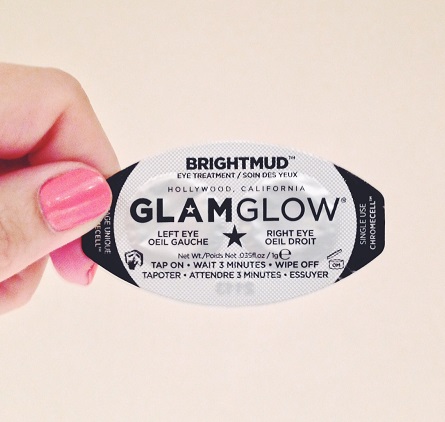 This is the first eye mask I have ever tried – you open up the sachet and tap the product onto your orbital area, wait three minutes, and then wipe it off. It has a nice cooling sensation to begin with, but as I approached the three-minute mark it started to sting a little bit. Bear in mind though, my under-eye area is very temperamental – I can't even wear eye cream on a regular basis because that area is too sensitive. Once I removed the mask, my skin did look a bit smoother and brighter, but not by much.
The verdict: Neither Jules nor I really suffer from under-eye darkness or puffiness, so although this is lovely to use, it's not a necessity for either of us. A nice 'add-on' to our skincare routines, but by no means essential.
Retails for R880.00 (12 sachets).
*PR Sample