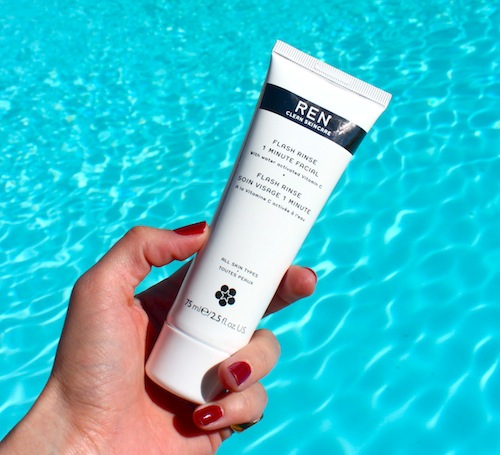 We love a good face mask over at All Dolled Up, so when this landed on my desk I had to resist the urge to go home immediately so I could try it. It's no secret that REN's Glycolcatic Radiance Renewal Mask will go down in history as one of both mine and Jules' all-time favourite face masks, so I knew this latest offering from REN wouldn't disappoint. Let me talk you through what it does and how it works.
This mask promises to transform your complexion in 60 seconds – which a definite upside for us time-pressed gals, especially considering that most masks require between 10 to 20 minutes of face-time in order to be effective. Now, I love lounging around with a face mask on as much as the next girl, but sometimes you want a nice quick boost, and this mask does just that. It revitalizes and visibly rejuvenates the skin using Vitamin C – an ingredient which is known to brighten the complexion, even out skin tone and has an instant firming, toning and lifting effect.
It works like this: the mask takes the form of a gel that contains boswellic acid (to diminish the appearance of fine lines and wrinkles), magnesium (to energise and boost radiance) and stabilized 10% Vitamin C. Something to note about Vitamin C: although it has numerous skin benefits, it oxidizes very quickly (especially when exposed to air), and this makes it unstable. Once it becomes unstable, it can no longer perform optimally, meaning that you get the full benefit of what it has to offer. So when Vitamin C is 'stablized', it means that it oxidizes less quickly, meaning it packs more of a skincare punch, so to speak. REN have stablized the Vitamin C by suspending it in a silica/glyceride matrix (fancy) which avoids activation and oxidation before use. You apply the gel onto your face and massage it in for a few seconds before adding water (damp fingertips are best). The water then activates the gel to deliver an intense shot of fresh, active and potent Vitamin C to the skin. After about a minute, simply rinse of as usual and you will be left with a fresh, glowing complexion.
I am thoroughly enjoying using this mask, I have to say – and it arrived just in the nick of time! I hadn't gotten around to replacing my Glycolcatic Radiance Renewal Mask and had been noticing how the lack of exfoliation was effecting my skin. I conned myself into thinking that using a face cloth to wash my face every night was doing a good enough job, but after using this mask I realised just how wrong I was! It really does slough away any dull, grey skin, leaving you looking immeasurably better – and my skin feels so soft after I use it. Honestly, so soft. The instructions say that the mask is suitable for all skin types except those prone to sensitivity, but my skin is very sensitive and I haven't had any kind of reaction, so don't let that put you off. REN recommends using this mask every three days to see optimal results, and because it's so quick and easy to use, slotting into your current skincare routine couldn't be simpler. So if you're hunkering after healthy, radiant-looking skin, I suggest you treat yourself to Flash Rinse 1 Minute Facial – I know you'll be as thrilled with the results as I am.
This mask retails for R470 and is available from selected Woolworths stores from 1 September 2014, and from selected Foschini stores from 1 October 2014.
*PR sample.