Full credit for inspiring this post must go to Luzanne from Pink Peonies who published a haul on her blog this morning that had me salivating! BIOVEA is an online store that stocks a number of hard-to-find-in-SA international brands. The real clincher is that they have a local warehouse so delivery is fast, cheap and the package doesn't have to cross borders so NO CUSTOMS! Every order comes via courier and they currently have a side-wide sale running so you can get 14% off for the next couple of days.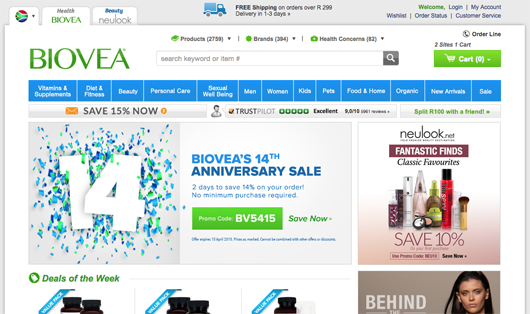 I'm trying to save up for my trip to the US so I decided to do some window shopping on the site instead of placing an order. Here's what I would consider buying if I wasn't trying to be well behaved (don't worry, it won't last long!):
You guys know how I feel about sweet almond oil, right? So when I read that this multipurpose product contained my favourite ingredient PLUS lemon and vitamin E, I was sold! Described by the brand as "sunshine in a bottle", it's made from a handful of 100% natural ingredients and I would imagine that it smells absolutely heavenly. Gimme.
This is one of those random products that has become a cult classic all over the world. I've seen it in Liberty before (they have an amazing beauty hall with all sorts of interesting items) and was always intrigued. It's an all-natural nourishing moisturiser made with only six ingredients: olive oil, bees wax, honey, bee pollen, royal jelly and bee propolis. It claims to be anti-ageing (although I can't really see how) but I think where it would really come in handy is as one of those do-it-all balms that can moisturise the skin, soothe inflammation and help to heal skin ailments like eczema and psoriasis.
There's nothing better than a good conditioning mask to soften and hydrate frazzled hair and this one has been on my radar for years. It's known as being a nourishing but weightless "hair reconstructor" that improves the health, shine and elasticity of dry, damaged or colour-treated hair. I've also heard great things about the Flawless Cleansing Conditioner, although I suspect it's better for thicker/coarser hair than mine.
Just look at the swatches and you'll know why I want one (or five) of these "liquified lipsticks". But which one to choose?! Melted Berry is rich and wintery, while Melted Violet is vibrant and zingy, and Melted Fuschia is just Barbie pink on crack. They've also brought out a shimmery update to the range called Melted Metal which makes me equally light-headed (not available on Biovea yet). I can see a major Sephora swatch-fest in my future.
Other gems from Too Faced include the Shadow Insurance eyeshadow primer, Chocolate Soleil Matte Bronzer, and Primed & Poreless Powder.
A bit less exciting but very practical is this makeup remover from Neutrogena that is apparently just as good (if not better) than the famous Clarins Instant Eye Makeup Remover. I never really liked it anyway (review here) so I'd be interested to see if this (much cheaper) "dupe" does the job. Bi-phase removers are particularly effective at dissolving stubborn mascara and eyeliner so it would be an interesting one to put to the test.
I can't remember how this made it's way onto my list of "beauty products I want to try" but it's probably because I love the idea of using such a gentle, natural product to break down product build-up in my hair. This one in particular uses plant-derived cleansers enriched but lemon (obvs), chamomile extract, aloe, vitamin E and wheat protein to clarify, brighten and remove excess oils and dulling build-up. I use a LOT of hair products (check out my "How to Style Fine, Thin Hair" video) so a clarifying shampoo is an essential part of my weekly haircare routine. Until now I've been using LUSH I Love Juicy but I think I'll be giving this one a try in the future.
Incidentally, Biovea also stock the Crest 3D White Whitestrips I mentioned in this post so now I don't have to lug them back from America – yay!
Read Luzanne's post to see what she bought and for all the details on shipping, returns, etc.