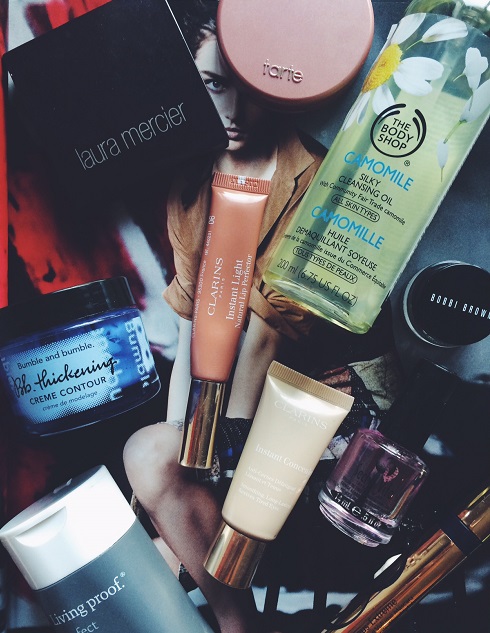 I feel like I am living out of Country Road tog bag at the moment – between my flat, my boyfriend's house and weekends away, I feel like I am constantly packing and unpacking. Thankfully, putting together my makeup/hair/toiletry bags for the next morning/weekend are often the easiest part because the basics are always the same. These basics are my Holy Grail items – the ones I never leave behind and the ones I always repurchase. It was actually surprisingly difficult to narrow it down to 10, so I have included 5 honourary mentions too – although not the loves of my life, they almost always come along for the ride.
I know what you're thinking: how can she possibly still be talking about this? I am sorry for the repetition, but when something is this good, I feel like I have to tell as many people as possible, as often as possible! Not only is it the most effective brightening concealer I've ever used, but you get a whopping 15ml of product (most concealers contain about half that amount) so it lasts an absolute age (with almost daily use: 18 months and counting). The consistency is quite fluid so you only need a tiny amount, and I like to apply it with a damp beautyblender for maximum dewiness. It really does brighten the face and helps you cheat your way to looking well-rested!
While the Clarins Instant Concealer takes care of the eyes, Secret Camouflage takes care of everything else. I have never known a more effective blemish concealer, and if applied properly, it will conceal blemishes/redness for hours on end. My preferred method of application is to mix the two shades together and apply it onto my blemishes with a Sigma P84 Precision Angled Brush. I then dust over the top with a light layer of translucent powder (currently using the Estee Lauder Lucidity Translucent Pressed Powder) and then reapply another layer of concealer and powder if needs be. I find that this sets really well and won't budge until you want it to. The formulation is quite dry and waxy but once you've warmed it up a bit it does blend well and it easy to work with.
I've got Tori from Kiss, Blush and Tell to thank for this one. Although eye-wateringly expensive (R345), I swear by it. Not only does it build volume and length better than any other mascara I've ever tried, but it doesn't smear, smudge or flake, even when the formula has dried out. I know some people (my mom) don't like this when they first buy it because the formula is very wet, but give it time – it will dry out a little and then you will be as smitten as I am.
Of all the lip products I have ever used, this one comes up trumps. My favourite shade is 06, an apricot nude that looks natural and sophisticated. The formula is hydrating, long-lasting and extremely comfortable to wear – a combination that is very hard to come by, let me tell you! It's such an easy option too because you don't need to worry about a separate lip balm – this one does the job of a balm and a colour brilliantly. What I love most about it is that you can still get away with wearing it even if your lips are a bit dry/chapped – it just seems to gloss over the flaky bits whereas other products tend to settle into lines/flakes and end up making your lips look worse.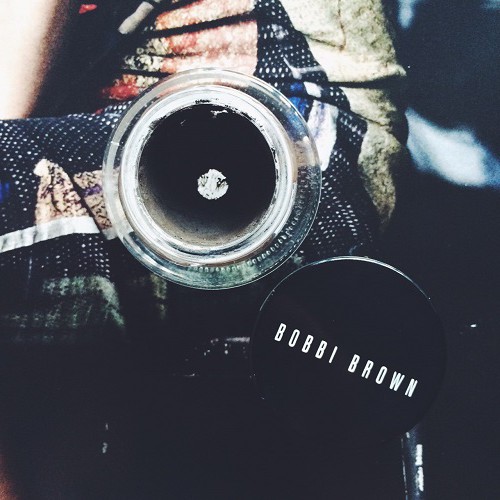 Others may come close (a special mention goes out to the Maybelline Eye Studio Lasting Drama Gel Eyeliner and MAC Fluidline), but no other product truly matches up to the brilliance that is the Bobbi Brown Long-Wear Gel Eyeliner. There are many reasons for my love of this formulation, including: it glides on like a dream, it does not fade or flake, it actually stays put in the waterline (no mean feat), it doesn't dry out, the shade range is excellent, it doesn't irritate my eyes…what's not to love? A truly fantastic product that's worth every penny.
As much as I love cream blushers, their lack of longevity means that I tend to gravitate towards powder blushers when I need my makeup to last. My fail safe powder blusher is the Tarte Amazonian Clay blush in the colour 'Exposed', a universally flattering, muted pink. The formulation is incredibly long-lasting (the 12 hour claim is legit) and the colour payoff is fantastic – it is the only blush I have ever used that does not fade on me. I have also used it religiously over the past year and I am nowhere close to hitting pan so you know you're getting a lot of bag for your buck! I have already instructed Jules to pick up two more shades ('Tipsy' and 'Blissful') for me when she heads off to the States in May.
This stuff is legendary. It really does do all of the things that it promises to do: smoothes the hair, creates volume, and conditions, strengthens and polishes the hair follicle. It's very rare to find a product that is both conditioning and volumising, but this treatment somehow manages to pull it off. I apply it to damp hair and then blow-dry, and by the time I'm done I have 'Rich Girl Hair' – textured and volumised, yet glossy and frizz-free at the same time. I am almost finished my current bottle and have anxiety about not having more until Jules gets back from America.
Another styling legend. This is the only finishing product I have ever truly loved (and I have tried to love many). Oils and silicones don't agree with my freshly blow-dried hair – they zap put all the bounce and leave me with limp, pathetic-looking locks. This paste from Bumble and bumble is texturizing but quite moisturising at the same time – I warm some up between my hands and massage it into my dry roots and run what's left through the lengths of my hair – the result is long-lasting volume with a glossy, yet textured finish. This, combined with the Living Proof styling treatment = hair nirvana.
I've lost count of how many of these I have gone through. This oil is gentle yet effective, and although I don't enjoy how it smells, I very much enjoy how well it works. It lifts away all make-up and grime without any aggravation or irritation whatsoever. It's the only cleansing oil I have been able to use without any drama, so I can vouch for the fact that it's suitable for even the most sensitive of skins. Everyone I know who uses this, absolutely swears by it – I have yet to find a single person who didn't love it.
I probably should, but the truth is I don't even care that this top coat contains 'nasties' – no other top coat comes close to the fast-drying powers of Seche Vite. I have been using this for years and years and I just love the glossy, long-wearing finish it creates. It intensifies the colour of my polish and extends the life of my manicure by a couple of days at least.
Honourable mentions:
MAC Paint Pot in 'Groundwork': My absolute favourite cream eyeshadow. Muted, sophisticated colour with a long-wearing formula. Works well as a base shadow for powders too.
Max Factor False Lash Effect Mascara: Excellent "drug-store" mascara – it's separating, volumising and lengthening.
Bobbi Brown Corrector: This peach-toned corrector cancels out any blue/purple tones in the under-eye area and creates the perfect base for a brightening concealer. Does not crease.
theBalm Frat Boy Blush: A beautiful coral powder blush without chunks of glitter/shimmer. Wears well and makes the complexion look fresh and healthy.
Mac Fix+: If you want your make-up to last longer, you need to start incorporating Fix+ into your routine. Prolongs the wear of your makeup and serves as a delightful refreshing spritz throughout the day.
*Sadly not available in South Africa