I was feeling inspired by the Estee Lauder Mad Men Collection, so I decided to do a Sixties-esque look today: gentle kitten flick eyeliner and a soft red lip.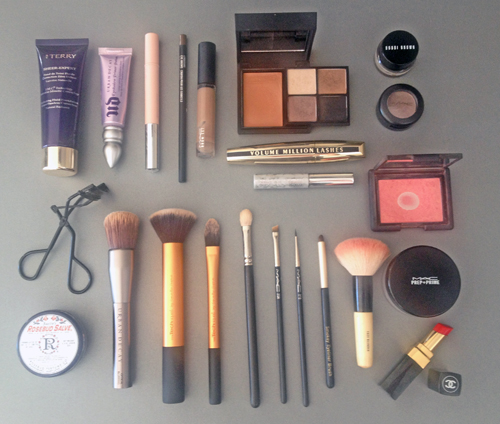 THE FACE
I wanted to look expensive, so I decided to use my By Terry Sheer Expert Foundation (separate post about this product coming soon). This foundation looks and smells so gorgeous, and it leaves my skin looking soft and dewy.
Next up, under-eye concealing: for this I used my trusty Clinique Airbrush Concealer.
I then powdered my t-zone with MAC Prep + Prime Transparent Finishing Powder.
Popped a bit of my new favourite product, Smith's Rosebud Salve, onto my lips so that they will be nice and moisturised by the time I do my lippie.
THE EYES
Penciled in my brows with a MAC Eyebrow Pencil in Lingering and set them with MAC Brow Set Gel.
I primed my eyelids using Urban Decay Eyeshadow Primer Potion – see Jules' post about Urban Decay for more information on this product, it's a game-changer.
I then took the lightest shade from my MAC Corine Roitfeld palette, Sahara, and applied it all over my lid.
I ran a bit of MAC Satin Taupe through the crease, and along the bottom lashline as well.
I took the darkest shade in the palette, Carbon, and traced it along my top lashline, gently winging it out at the outer corners. I then blended and softened the line slightly.
I decided to tightline my eyes today for a bit of added definition ("tightlining" this is when you apply eyeliner onto the top waterline – it makes your lashes look thicker and fuller). I used Bobbi Brown Long-Wear Gel Eyeliner in Sepia Ink because it stays put all day long.
I curled my lashes and applied two coats of L'Oreal Volume Million Lashes Mascara on the top, and Clinique Bottom Lash Mascara on the bottom.
THE CHEEKS AND LIPS
I lightly contoured my cheeks using the bronzer in the MAC Corine Roitfeld palette.
I followed this with a light dusting of NARS Blusher in Orgasm.
On the lips I applied Chanel Rouge Coco Shine in Rebelle, the most beautiful red. It is buildable so you can wear it quite sheer, which is how I wear it, or you can apply a few more coats to make it a little bolder.
So there you have it! This look took me approximately 15 minutes. Give it a bash and let me know how you get on.
Brushes:
Urban Decay Optical Blurring Brush
Real Techniques Pointed Foundation Brush
Real Techniques Buffing Brush
MAC 217 Blending Brush
MAC 208 Angled Brow Brush
No. 7 Smokey Eyeliner Brush
MAC 210 Precise Eyeliner Brush
MAC Eyelash Curler
Real Techniques Contouring Brush
Bobbi Brown Mini Face Blending Brush