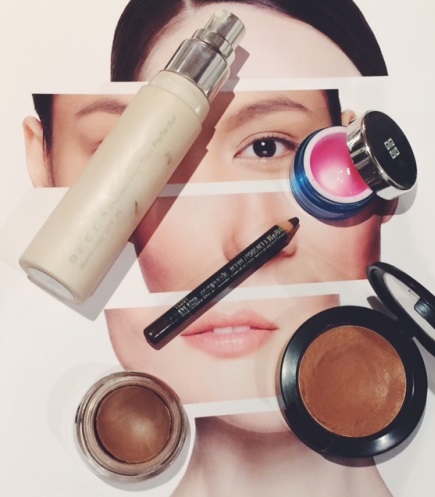 Anna from Vivianna Does Makeup inspires me more than any other blogger – that girl just has so many good ideas. After reading one of her recent posts about "shopping the stash", ie rummaging through your makeup to find hidden treasures, I decided to do just that. I love trying new products as much as the next girl, but there is something deeply satisfying about rediscovering an old favourite too – particularly if, like me, you hoard so many bits and bobs that you frequently forget what you actually have. So I unpacked my various boxes (of which there are many) and got to work. Here's what I found…
Givenchy Hydra Sparkling Magic Lip & Cheek Balm
REJOICE! I honestly thought I had lost this so I was beside myself when I found it hidden at the very bottom of one of my boxes. How on earth did it get there?! This tinted balm is thick and moisturising and makes your lips super pink and delicious-looking. My joy at finding it was, however, met with a crushing disappointment as it is almost finished…looks like another trip to the Givenchy counter is on the cards for me.
MAC Paint Pot in 'Groundwork'
Groundwork is ideal "weekend" make-up: great for those days where you want to look good, but not "done". This looks lovely on its own as it cancels out any red/yellow tones on the eyelid, but it also works as an excellent eyeshadow primer if you're looking to ramp up your look a bit. I like to pair this with a little brown liner along the lash line, pop on some mascara, and call it a day. Easy, pretty make-up – perfect for lazy days spent watching tennis in front of the fire.
BECCA Shimmering Skin Perfector in 'Pearl'
Hubba hubba! How did I forget about this?! This cream highlighter is utterly dreamy – it creates a subtle shimmer without any of the usual tell-tale glitter chunks, and leaves the cheeks looking plumped up and dewy. Plus you only need the tiniest amount – I use half a pump for my cheeks and brow bone and I always have some left over. BECCA is available in South Africa – you can check out their Facebook page or Twitter account for more information.
MAC Eye Kohl in 'Teddy'
I've gone through countless Teddy's in my time, I just love the colour of this pencil – a soft golden brown. It's not had a lot of love recently for the simple reason that it's quite short and stubby now and as a result I couldn't see it hidden amongst my other eyeliners (I have a lot of liners). It looks fantastic smudged into the lash line, and it also works well on the waterline as it's nice and subtle (it won't stay put for long though as it's not waterproof, so be sure it to keep it in your bag for top ups).
MAC Pro Sculpting Cream in 'Pure Sculpture'
This got shunted to the bottom of the pile when I discovered the joys of NARS Laguna. Silly me, because this really is a fantastic product. I take a little on my index finger and swipe it underneath the hollow of my cheekbone, and blend like my life depends on it (I like using the Real Techniques Contour Brush from their Core Collection for this). Before you know it, you've got a beautiful, natural-looking contour that stays in place all day.
Have you got any old favourites that you've rediscovered lately?