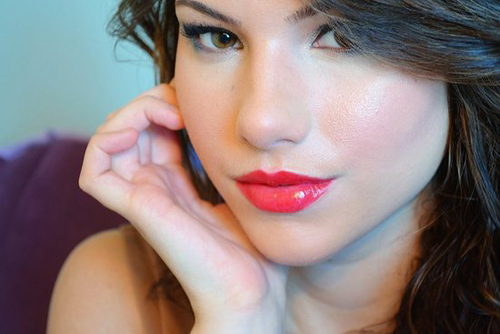 Happy Valentine's Day, darlings! We hope you have a love-themed evening planned, whether you're going all out with your other half or eating pizza on the couch with friends, make sure you give them an extra special squeeze and tell them you love them. That's what it's all about, after all – not overpriced roses and factory-made stuffed toys!
For those of you headed out on the town, you've probably got your outfit all planned already but what about your make-up? Camilla and I are big fans of a classic red lip, especially on Valentine's Day, although it's not always easy to wear. You have to know what shade suits you and find a good quality formula that won't fade or feather, then apply it carefully for extra longevity and make sure it doesn't land up all over your teeth. A full-on ruby pout really isn't the most practical make-up look, especially when you're planning to end the evening with your lips firmly planted on someone else (don't pretend you haven't thought about it!).
With that in mind, we've put together a brief selection of more wearable red lip products in more forgiving shades that will still add colour to your look but won't be a mission to wear. Most importantly, they're sheer and lightweight so they won't get in the way when you're smooching your honey!
Chanel Rouge Coco Shine lipstick in Rebelle
Beautifully sheer, glossy coral-red which leaves the lips looking luscious and plump. It is buildable, so if you want a deeper red, just keep applying until you reach your desired shade.
Price: R340
Availability: Edgars, Edgars Red Square, Stuttafords
Clinique Chubby Stick in Chunky Cherry
Easily one of my favourite formulas ever, this lip crayon is a cross between a lipstick and a gloss, feels creamy and moisturising and gives the perfect amount of colour to the lips. They have loads of different colours but our favourite pinky-red is Chunky Cherry.
Price: R205
Availability: Edgars, Edgars Red Square, Stuttafords, Foschini, Truworths
Bourjois Effet 3D Max Gloss in 18 Rouge Sunny
This shimmery, brick red gloss gives you luscious, long-lasting shine without weighing down your lips, plus it gets bonus points for not being sticky. The gloss is pigmented enough to wear on its own or layer it over a stain or lipstick for mega-watt shine.
Price: R116
Availability: Edgars, 36Boutiques
Stila Long-Wear Lip Colour in Flushed
Another lipstick-and-gloss combo product, Stila's version is bold and creamy with a highly pigmented, long-wearing formula that offers near-solid coverage without drying out your lips. The tip of the pen is contoured to provide easy, precise application so it's great for gals who struggle with getting the perfect, smooth lip-line.
Price: R180
Availability: Woolworths, Truworths, rubybox, 36Boutiques