French pharmacy fans will already be familiar with the brand Avène, a drugstore skincare range designed specifically for sensitive and intolerant skin. We were so excited to get the call telling us they were finally launching in SA and we went along to the launch to find out more.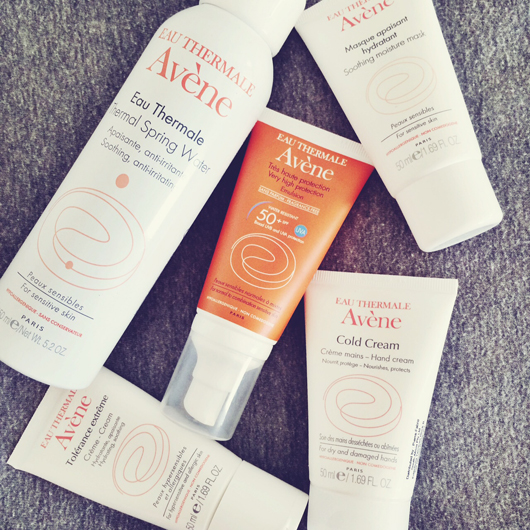 As the name would suggest, Eau Thermale Avène is a dermo-cosmetic brand built around the skin-soothing properties of the water that flows out of the Sainte-Odile d'Avène spring in France. The water is scientifically proven* (and constantly tested) to be remarkably anti-irritating and is contained in every product in the range, 41 of which are now available in SA. Avène is an extremely high quality brand with a strong focus on efficacy and certainly everything we've tried so far as been brilliant. Here's the low-down:
Bottled at the source (in fact all the products are manufactured at the source), this cooling facial spritz is not only lovely to use but helps to soothe redness, sunburn, inflammation and skin irritation. I use it every morning straight after I cleanse, before I apply my serum, and it definitely helped to get a recent dehydration flare-up under control. If you're not sure what the point is of just spraying "water" on your face, read this.
The Tolerance range is designed for dry, hypersensitive skin, with zero parabens, preservatives or fragrance. The texture is relatively light but still rich (too rich for my combo skin but Camilla loves it) so it keeps the skin supple and hydrated all day long. There is a complementary Cleansing Lotion in the Tolérance range, which is also created with no potentially irritating additives.
Hallelujah! A high SPF face cream that doesn't feel or look greasy! You wouldn't BELIEVE how hard it is to find a good sunscreen for combination/oily skin that you can actually wear under makeup. This lightweight formula dries down completely and leaves no residue or white streaks behind, plus it contains a powerful antioxidant. It's also fragrance-, silicone- and paraben-free, and water-resistant, so perfect for daily use or a long afternoon on the beach.
If you've always wanted to try the Origins Drink Up Intensive Overnight Mask, then give this a whirl instead. This moisture mask is particularly indicated for sunburns, flushes, tight, irritated, dehydrated, dull or sensitive skin but I use it whenever my skin is feeling a little bit parched. You can smooth it on like a moisturiser or slather on a thick layer overnight for an intensive treatment – either way, it will leave your skin feeling seriously soft and plumped-up. It does contain mineral oil though so if that's not your thing, steer clear (although it personally doesn't bother me).
Going into winter, my hands seem to start cracking almost overnight. And even though I put hand cream on multiple times a day and overnight, I can never seem to lose that "wrinkly" feeling on my palms. The Avène Cold Cream Hand Cream does the trick though! It'ss formulated to restore the hydrolipidic film (i.e. skin's natural barrier) in super dry skin, and leaves hands feeling instantly more comfortable. It's very nourishing and non-greasy so my fingers don't go sliding all over the keyboard after I use it.
Camilla has also tried the Micellar Lotion and loves it – check it out in this post.
Eau Thermale Avène is available exclusively in selected Clicks stores nationwide.
You can visit their (really good) local website and follow them on Facebook.
*I was slightly skeptical about the scientific element (I mean, it's just water!) but having learned more about the research and seen the results of Avène's hydrotherapy treatment on children with extreme eczema, I am now a believer. Essentially, the unique mineral composition of the water is what makes it so soothing – you can read more about the Hydrotherapy Center here if you're interested.