Greek beauty brands really are some of the best in the world. There is an astonishing array of natural and organic ranges, many of which use amazing local ingredients like honey, yoghurt, chamomile and pomegranate to treat various skin and hair concerns. Two of the most well-known pharmacy brands are Korres (now available at selected Edgars) and Apivita, which specialises in using bee products and Greek herbs to create effective skincare and cosmetics. Both brands are easily available throughout Greece, so one quick trip to a nearby "pharmakeia" resulted in the following purchases: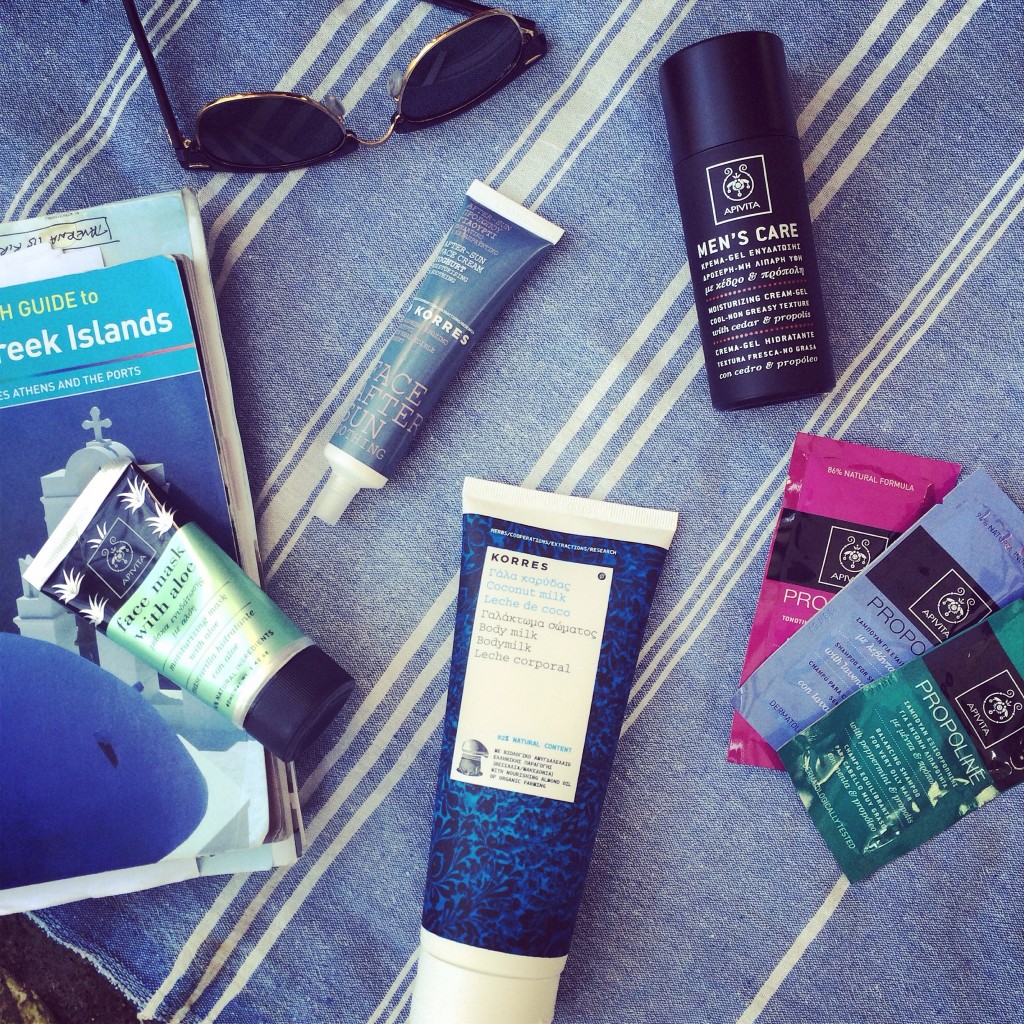 I bought the bodycare version of this last year when I was here and loved it, so when I spotted this little tube it was an easy decision to add it to my shopping basket. Yoghurt is an age-old cure for sunburn, as it increases the water content of the top layers of the skin, instantly relieving UV-induced redness. I keep it in the fridge for an extra boost of coolness and slather it on every evening after cleansing. It sinks in quickly, leaving no residue behind, and is extremely soothing after a long day in the sun.
Beach holidays should only smell like one thing, and that's coconut. This moisturiser does the trick with a little added floral by the way of a vanilla hit that adds warmth but isn't too sickly. It makes for a light but effective body lotion that offers long-lasting hydration and skin suppleness. Ingredients like almond oil, aloe, provitamin B5 and shea butter nourish the skin while the scent will make me think of being on a hot, sunny island long after I'm back in rainy Cape Town.
It turns out that the apple doesn't fall far from the tree – but not in the way you might expect! Apparently my dad is secretly a beauty product junkie (and avid reader of ADU!) and practically cleaned out the men's care section of the pharmacy. He's a big fan of this light but moisturising face cream, made with cedar and propolis for their toning and antibacterial properties. He also picked up the Chamomile and Olive Body Milk, with almond and olive oils that hydrate, nourish and help preserve the skins elasticity. I could quite happily own the whole range from this brand, including all the Men's Care!
I'm a total sucker for a hydrating face mask and this one is no exception. Aloe is a real power ingredient – it has rich moisturising and healing qualities, as well as anti-inflammatory properties that sooth and prevent irritations. This mask is a great alternative to after sun and a green tea infusion rather than water to enhance the antioxidant action of the products. Next on my dehydrated skin hit list is their Natural Serum with aloe and hyaluronic acid which I'm hoping to get before I leave the country… Any excuse to visit another Greek pharmacy!
P.S. They also kindly gave me some samples of the Apivita Propolis and Suncare ranges, further fuelling my love for these gorgeous beauty products.