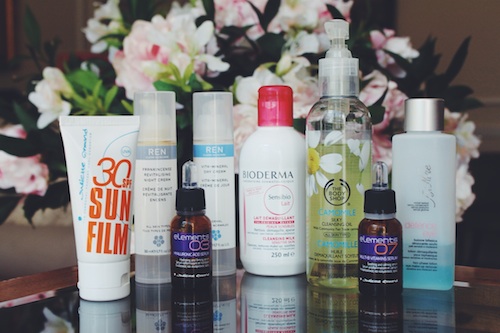 As mentioned in our Best of 2013 video series, I have completely changed my skincare routine over the past couple of months – I've even binned my good old Cetaphil cleanser after fifteen years of faithful service! I wanted to run you through what I'm using at the moment because I have seen such great results, and I thought it might be helpful if any of you are looking to switch things up a bit.
The first thing I do in the evenings is take my make-up off using a cleansing oil. Cleansing oils have been somewhat of a revelation for me because I totally expected them to be too heavy for my skin, but to the contrary, things have actually been going rather well! I recently finished my Dermalogica Pre-Cleanse and decided that, although I loved it and thought it was fantastic, a cheaper alternative might be a a nice thing for me to do for my purse. I picked up the Body Shop Camomile Silky Cleansing Oil and honestly, I think it does as good a job as Dermalogica. I don't love the smell, but the texture is lovely and it really does remove every last trace of foundation – and at a fraction of the price (R150 vs R415), I would definitely encourage you to give it a go.
I then follow up with a second cleanse using the Bioderma Sensibio Cleansing Milk for Sensitive Skins, which I apply onto my damp skin and then massage it in for a little while. I tried to follow the Caroline Hirons massage routine but it was too painful for me so I just kind of prod my face a bit and hope for the best. I then rinse off with a warm face cloth.  I use this cleanser both morning and night.
To remove any last traces of eyeliner/mascara, I reach for my BioNike Defence Eye Two-Phase Lotion Eye Makeup Remover. I mentioned this in our Best of 2013 series because it's excellent – it's the only make-up remover that will remove Clinique High Impact Extreme Volume Mascara (yes, I know you're supposed to remove it with warm water, but I don't always do that) without ripping my eyelashes out.
Next up: serums! In the mornings I use the Elements 03 Hyaluronic Acid serum from Juliette Armand which is packed full of (you guessed it) hyaluronic acid. I have been using this for about two months now and I am almost finished the bottle – I go to town with this stuff. It absorbs quickly and leaves my face feeling moisturised, plumped up and ready to absorb all of my moisturiser. We've spoken about hyaluronic acid on the blog quite a bit, so if you want to learn more, you can have a read of this.
In the evenings, it's another serum from Juliette Armand. This time it's the Elements 07 Multi-B Vitamins Serum to calm redness and irritation. This serum is like liquid gold – I have adored using it and can hand-on-heart say that I believe it has improved the condition of my skin. It's a lot more affordable than most, if not all, of the serums that I've tried, and, in my humble opinion, works better than all of them put together.
 I have recently fallen head over heels in love with REN Skincare moisturisers. In the mornings I use their Vita-Mineral Day Cream, which is packed full of anti-oxidants and fatty acids to plump up your skin and protect it from aging. As I've said before, it's not designed for those with drier skins, but I've found that if I layer it on top of my hyaluronic acid serum, my skin feels comfortable and hydrated all day long. REN recently sent me two products which are actually designed for dry skin: the Ultra Moisture Day Cream and the Rose 012 Moisture Defence Serum. I can't wait to give these a try and will be reporting back soon!
In the evenings I use their Frankincense Revitalising Night Cream, which was also bought off the back of trying a sample for a couple of days (REN give very generous samples, so pop in and use the opportunity to try before you buy, ladies!). This moisturiser is loaded with vitamin C and frankincense (amongst other ingredients) to boost collagen formation and help smooth lines and winkles. This is designed for all skin types, and it has suited me perfectly – not too rich, but still nicely hydrating.
Last but not least: sunscreen. For this I use none other than my trusty Juliette Armand Sun Film SPF 30, which I reviewed in detail here. I don't use this every day anymore, mainly because I have been chained to the confines of my desk during the daylight hours and it seems a shame to waste it. But if ever I know I'm going to be outdoors, I slather this on and I know I'm covered.
So that's it: my skincare from start to finish. As I mentioned earlier on in the week, I did recently limit my dairy intake and I do think it's had a rather dramatic impact on my skin, so I can't pinpoint which product in particular works the best, I just know that the combination is working really well for me at the moment.
Have you got any great products to share? Please do get in touch – I'd love to know.