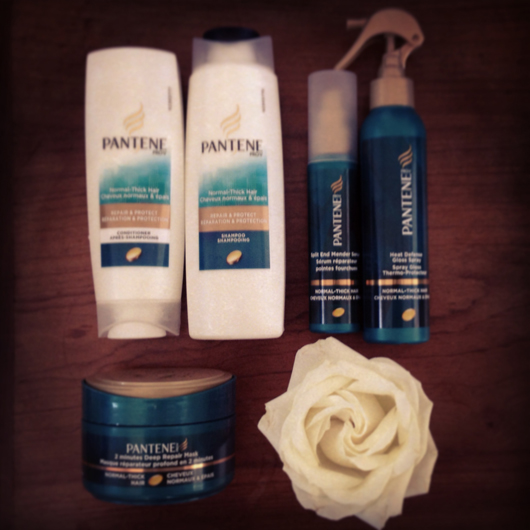 I was kindly sent this range to try but I found it a bit heavy for my very fine, thin hair (to be fair it's made for thicker hair types) so I passed in on to my friend Dee to trial. She has the kind of long, gorgeous locks that make me weak in the knees, so she seemed the perfect candidate for this range, which aims to repair and provide your hair with protection, smoothness and fullness. Here's what she had to say:
"Firstly a secret; what Jules didn't know when asking me to try the Pantene products is that I already have the big daddy of the Repair & Protect Shampoo and Conditioner in my shower. All I want from a shampoo and conditioner is something that cleans my roots, conditions my ends and keeps everything in-between happy, shiny and healthy. I do mix it up as I think it's good to keep your hair on its toes. Buying micro-sized salon shampoos only for my mop would break the bank so I do choose from the "bulk" options at Clicks and through a long process of trial and error this is actually my product of choice. The cleansing system does what I need it too (clean roots, healthy ends & healthy hair with body in-between) it gives me bang for my buck and gets me from one hair appointment to the next.
As for the 2 Minutes Deep Repair Masque… just buy it! Everyone's hair can do with a boost and since we all spend two minutes shaving our legs in the shower, what's the harm in applying this beforehand. It's not expensive and genuinely leaves your hair with extra softness, sheen and the general feeling of wanting to twirl your hair through your fingers all day. [Jules: Love this!]
Split Ends Mender Serum and Heat Defense Gloss Spray: Now this is where I get fussy, as I think it's worth spending money on finishing products. Personally I use a salon grade serum and I'm not likely to convert, probably because I'm stubborn and loyal. I took note of my hair before and after use and it looks like it works, I cant deny it does feel good, and its good price compared to what I use. So, you be the judge and once you've tried it let us know?"
Dee's Tips & Tricks:
Shampoo is a great substitute for shaving cream
After a swim at the beach, work a leave-in conditioner through your hair and continue to work hard on that leisurely relaxation (a tip from Camilla when I went to Zanzibar two years ago!)
For super soft hair, apply a leave-in treatment and then wrap a towel around your head and blitz it with the dryer for two minutes – it really works.
Always ensure that your hair is bone dry before using a flat iron. Water in your hair follicle literally will boil which obviously is damaging, causing dry hair – yuk!
You can check out the full Pantene Pro-V Normal-Thick Hair Range here.