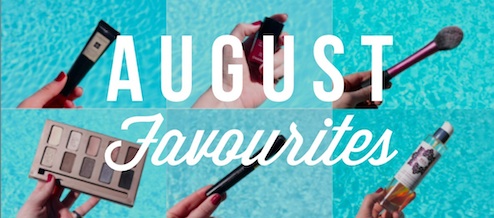 You guys. It's September. I can't even.
August was a really great beauty month for me – I rediscovered some old favourites, did a bit of shopping (as always…) and was given a lip balm that is so good, I fear it's ruined me for life. Let's get started, shall we?
Stila 'In The Light' Palette
I first reviewed this palette in July last year (you can read the review here) and gave it two very enthusiastic thumbs up. I used it exclusively for a couple of weeks and then, as tends to happen, something shiny and new came along and I kind of forgot all about it. Recently my friend Emma mentioned it and I suddenly remembered that I actually owned it and so promptly yanked it out of retirement. Man, it's good. It's so so good! The shadows are like butter and they blend beautifully, they don't crease or fade and they're incredibly pigmented (all boxes firmly ticked). I recently filmed a tutorial using this palette so you can see it in action here.
Available from Spree for R435.00 (was R375 when I bought it…yikes)
REN Moroccan Rose Otto Ultra-Moisture Body Oil
In case you didn't already know, I am BIG on body oils – I absolutely love using them and I think they do a far better job of moisturising your skin than any body lotion ever will. I reviewed this offering from REN last year (you can read the review here) and it rocked my world. It's actually one of those products that I found myself not wanting to use because I really didn't want to finish it, but then I decided to get over myself and I started using it every day. I like to use it in the mornings whilst my skin is still damp from the shower – I find this method really locks in the moisture and it also gives the product a little bit more slip. This oil is incredibly nourishing and hydrating and although I don't need to use it every day, I want to – it smells sublime and my skin has never felt as soft and supple as it does right now. I am going to  be gutted when I finish this, truly.
Available from REN and Woolworths for R525.00
Chanel Le Vernis Nail Color in 'April'
Jules bought this for me as part of my birthday present last year (my birthday is in April – isn't she the sweetest). On the whole I don't love Chanel nail polishes because they usually chip on me and I find them to be prohibitively expensive. However, this nail polish, together with 'Taboo', are exceptions to the rule. The formulation of 'April' is really creamy and luxe – it applies evenly and doesn't streak at all. Whilst there is a little bit of tip-wear after 3-4 days, I don't find that it actually chips, which is nothing short of a miracle. I would describe the shade as a muted red wine/berry colour, which a high-shine finish. It's a very understated and elegant colour, and if you're getting a bit bored of a standard red nail (as I was), then I suggest you give this a try.
Available from Edgars. The last time I bought a Chanel polish it cost R290 – I couldn't bring myself to do a price check, sorry.
Max Factor Masterpiece Max High Volume & Definition Mascara
This mascara featured in a recent 'Quick Reviews' piece, and I haven't stopped using it since – it's in.cred.i.ble. The brush has really short little plastic bristles you can nestle them right into the base of your lashes to create the impression of a seriously full lash line. It adds terrific length too, and it doesn't clump – it defines every lash so it looks like you have lots of really long lashes. Who doesn't want that? The pigment is intensely black and glossy, and the formula is buildable, so you can go for something quite natural, or you can really build it up for more impact (I, obviously, always go for impact). It doesn't flake, smear or smudge, and it comes off easily with a bit of Bioderma – no tugging or pulling required. A truly excellent mascara.
Jo Malone Vitamin E Lip Conditioner
Brace yourselves: rave review coming up. I was recently given this lip balm by a colleague and I was pretty much beside myself when I opened it – I mean, who doesn't love Jo Malone? Nobody, that's who. This balm is enriched with Vitamin E and honey (both known for their restorative properties), so it does a fantastic job of softening and smoothing your lips. It's also very emollient so it feels lovely – really rich and comforting, but without feeling thick or gloopy. My lips feel really nourished and comfortable when I'm wearing this – the balm sinks in quickly to leave them looking plumped up and hydrated. I also adore the Jo Malone packaging – chic and understated.
Available from Jo Malone stores.
Real Techniques Blush Brush
It really is as good as they say. The synthetic bristles pick up just the right amount of product so you'll never be left looking like Aunt Sally, and they are also super-soft, so applying your blush feels like stroking your face with a fluffy bunny. It can be used for any and all powders, not just blush – the brush itself is big and fluffy which makes it perfect for bronzers and other face powders as well.
Available from Feel Unique and Look Fantastic.