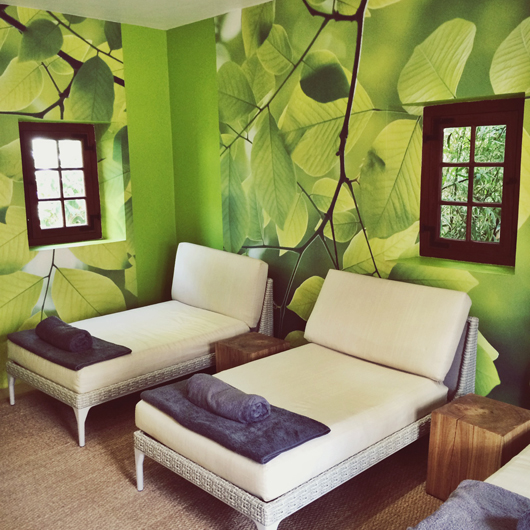 A couple of Sundays ago, I visited the Garden Spa at Babylonstoren for the first time, for a few hours of blissful relaxation in the heart of the Drakenstein Valley with some girlfriends. Located between Franschhoek and Paarl, Babylonstoren is a beautiful 200-hectare Cape Dutch farm on which you will find vineyards, orchards and one of the country's best restaurants.
The spa's signature treatment is the Private Hammam Water Ritual in the stunning marble hammam, but I chose to try a classic hot stone massage (R650 for 60 min). It was one of the best massages I have ever had (my friend D who was with me and had the same treatment, described it as "epic") and I loved the tranquil environment of the spa, surrounded by a luscious bamboo garden. The staff are polite and soft-spoken, while still being friendly and welcoming. As prices go, I think it's pretty much on par with what you would expect from an upmarket establishment; it's certainly not outrageous and you can spend all day using the facilities if you want to.
I spent an hour or so chilling out in the steam room, sauna, heated jet pool and cold plunge pool, which was a really nice way to extend the feeling of relaxation. We followed up our treatments with a delicious lunch at the Green House, which is conveniently located right next door to the spa. We enjoyed their take on a gourmet boerewors roll with hand cut chips and homemade tomato relish, and washed it down with a glass of the farm's delicious chenin blanc.
I can highly recommend a trip out to Babylonstoren for a treatment (I'm definitely going back for the Turkish Bath!), a light lunch and a delightful stroll around the gardens. You are guaranteed to leave with your mind, body and soul feeling refreshed.
Spa menu
Website
Opening hours: Monday to Sunday 09:00 – 17:00
Contact number: +27 (0) 21 863 3852
Email: spa@babylonstoren.com