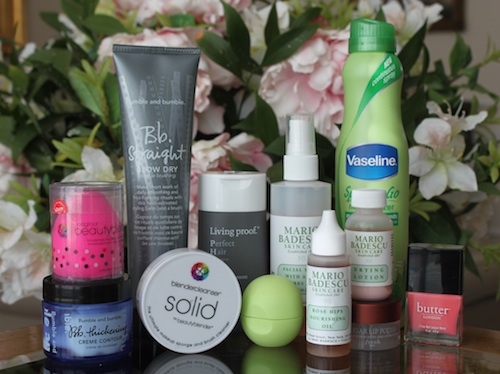 Aaaand, GO (get a cup of tea first though)!
Mario Badescu Facial Spray, Drying Lotion and Rose Hips Nourishing Oil
Mario Badescu is a brand that I have been wanting to try for absolute ages. This skincare line is all botanically-based and is renowned for being incredibly effective, and with a very reasonable price tag to boot (my favourite combination). I decided to get three products, and I am absolutely smitten with all of them.
Facial Spray with Aloe, Herbs and Rosewater: I initially only bought one of these, but loved it so much that I went back and bought two more (at $7 a pop, it was a no-brainer). This facial mist contains herbal extracts and rosewater, and serves as a delightful pick-me-up for dehydrated, tight and uncomfortable skin. I spritz some on after my serum, and sometimes over my moisturiser as well. When I'm feeling extra parched, I spritz after cleansing, then again after serum, then again after moisturiser (to create, as Caroline Hirons would say, a "sandwich" of moisture). The smell is delicious and it really does work – I can see that this is going to be a staple in my skincare collection from now on.
Drying Lotion: Cult product, alert! I have read about this spot-obliterating potion for years and have always wondered if it lived up to the hype. I can officially confirm that it does indeed live up to the hype – in fact, it exceeded my expectations and I am now rather obsessed with it. The two main ingredients are salicylic acid and calamine, and together they work overnight to shrink whiteheads while you sleep. When I get whiteheads, they tend the hang around for several days…usually because I can't stop squeezing them (lock me up, skincare police), but also, to leave a whitehead on your face is just bad manners, they must (in my humble opinion) be squeezed. I had a fairly impressive one recently and popped some of this on after my first squeeze, and by the time the morning came, it had eliminated everything and I was left with a neat little scab. No more squeezing necessary! I also tried it out on a couple of general around-the-mouth red spots and it definitely shrunk those too – and doing it with a single application is fantastic because it doesn't dry your skin out, and you can still apply foundation without being left with an unsightly flaky mess.
Rose Hips Nourishing Oil:  This lightweight facial oil is designed to reduce flakiness and surface dehydration. It contains high doses in antioxidant Vitamin C and a few drops used twice daily under your moisturizer should improve the texture and hydration of the skin. I have admittedly only been using this once a day, and I use it over my Juliette Armand Serum, so I'm not sure I am doing my best to allow it to really work, but so far, I really like it. No reactions, keeps my skin hydrated, smells nice, absorbs quickly – very pleasant indeed.
Bumble & bumble Straight Blow Dry, Living Proof Perfect Hair Day 5-in-1 Styling Treatment and Bumble & bumble Thickening Crème Contour
Bumble and bumble Straight Blow Dry: This was on my Sephora Hit-List and I wrote about it here. First impressions? Supremely underwhelming –  it doesn't have any noticeable straightening effect on my hair, nor does it appear to reduce frizz. Meh. Major buyer's remorse on this one.
Living Proof Perfect Hair Day 5-in-1 Styling Treatment: This was also on my Sephora Hit List, and unlike Bumble & bumble Straight Blow Dry, this stuff actually does work! To recap: it promises to not only condition and smooth the hair, but to create body and texture too – I had never found a product that had been able to do both, so I was interested to see if Living Proof could deliver. Well, it does! I have found that when I use this, my hair looks smoother and sleeker, but it still has volume and the texture is evident (aka "Rich Girl Hair") – usually products that promise "sleek and smooth" tend to zap all my texture/volume and I am left with a bit of a limp mess (minds out of the gutter, please). So all in all, yes, I am very pleased with this one.
Bumble and bumble Thickening Crème Contour: A repurchase. Original review here.
Fresh Sugar Lip Polish and EOS Lip Balm
Fresh Sugar Lip Polish: Not dissimilar to the Lush Lip Scrub – the only discernible difference being that the granules are much finer and more compact, so they adhere to the lip better and don't fall off into the basin. Can I, hand-on-heart, say that it does a better job than the Lush equivalent? No. A lip exfoliator is a lip exfoliator, whichever way you slice it and, quite honestly, you could just as well use a damp flannel. I did read an article recently about how you shouldn't really exfoliate your lips because lips don't have oil glands, so bear that in mind and go easy (I only exfoliate my lips once a week).
EOS Lip Balm: I hate myself for buying a product once endorsed by a Kardashian, but I couldn't help myself. I got the honeysuckle flavour, which is, admittedly, quite delicious. But is it any good? It's fine – a perfectly adequate lip balm, but it certainly isn't anything to write home about. I would far sooner recommend either Elizabeth Arden Eight Hour Cream or Nuxe Rêve de Miel if you wanted a lip balm that actually performs.
UPDATE [07.08.14]: EOS lip balms are available in South Africa at SugaCube in a multipack of six.
Beauty Blender and Solid Blender Cleanser
It was bound to happen eventually – I couldn't suppress my curiosity forever. So I caved, and I bought a Beauty Blender. And I bought the cleanser too for good measure (Vivianna raved about it, so it was always going to happen).
The Beauty Blender is a game-changer, ladies, albeit a rather labour intensive one (anyone else get tired half way through?). You run the sponge under the tap, squeeze out the excess water, and get to work. The application takes a bit of practice, especially if, like me, you've only ever used brushes: you kind of "bounce" the foundation onto the skin, and the results are rather breathtaking. Regular readers will know that I am all about the complexion, so this is kind of a dream come true for me. My only gripe: it looks like a germ pit after one use. Look at this:
Luckily, I can confirm that the Solid Blender Cleanser is excellent – definitely the best brush/sponge cleaner I have ever tried. What makes it so good is the fact that it washes out really easily and leaves no residue whatsoever. It leaves my dirty Beauty Blender looking like this, good as new:
Butter London Nail Lacquer in 'Trout Pout'
Not my most seasonally savvy purchase, but do I care when it's this pretty? No. This bright, juicy pink is the quintessential spring/summer colour, but I am going to rock it in the winter regardless. The formulation is good – the first coat goes on a bit streaky, but the second coat yields an impossibly glossy, opaque finish. It wears well too, and I get between 5 and 7 days' wear without chipping. Love love.
Vaseline Spray & Go Moisturiser
Love this stuff. I reviewed it in my April Favourites, which you can read here.
So that's it – that's my lot! I hope you enjoyed this post, and do let me know if you have tried any of these products – I would love to compare notes.