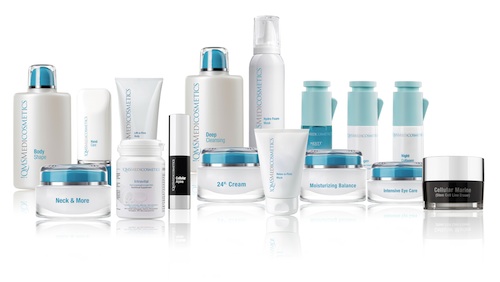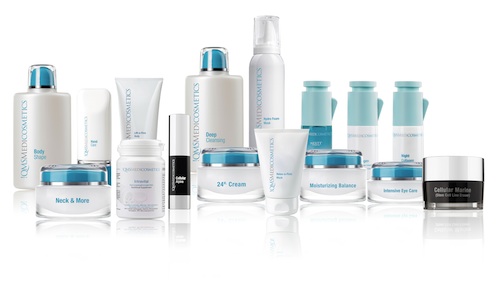 A couple of weeks ago the lovely ladies at Little Black Book PR got in touch with me to see if I would be interested in going to meet with their local !QMS Medicosmetics expert, Anel Engelke, to find out a little more about the brand and learn about how the products work. I had been wanting to try QMS for a while now as a couple of my friends use it and absolutely rave about it (you can read our friend Natalie's post on QMS here), so I happily accepted and booked Anel's first available appointment.
A brief history lesson before I go any further: QMS was founded by Dr Erich Schulte, an aesthetic surgeon, lecturer and international authority on skin and aging regeneration. Dr Schulte worked at the Maxillo Facial Department for reconstructive surgery in Germany, and the majority of his patients were severe accident and burn wound victims. His research into wound healing found that collagen was the most important component in accelerating skin regeneration, and this led him to develop a unique method of conditioning natural soluble collagens so that they could penetrate into the epidermis when applied topically, thereby allowing the skin to regenerate.
So off I went to the QMS Spa in Woodstock to meet with Anel, owner of the most flawless skin I have ever seen in my life. She welcomed me into the Spa and let me snoop around and play with the products for a bit before she took me into the treatment room for a facial. She talked me through every step of what she was doing and why, which was absolutely fascinating. As I mentioned earlier, the crux of QMS and how it works is the patented delivery system – by making collagens more soluble and therefore capable of penetrating the epidermis, the products boost regeneration and healing far more than any other topical treatment could ever dream of doing. I have never met anyone more passionate or enthusiastic about a brand than Anel – she lives and breathes QMS – there is nothing she does not know. She also didn't try and bamboozle me with technical terms and marketing fluff, she gave it to me straight, which I found incredibly refreshing. My favourite part of the facial was a mask that she applied which dried into a sort of plastic mould – once you remove the mask, you can see impressions from your face which indicate any underlying conditions you may be suffering from, like dryness or dehydration (no prizes for guessing that I suffer from both).
Once she was finished working her magic, my skin was glowing. GLOWING. Unfortunately the results were short-term, as with any facial, and to see the full benefit of QMS you need to commit to a host of products that promise to transform your skin within a matter of weeks. I chose not to buy anything on the day because I had recently committed to the Kiehl's Change Your Skin Challenge and I didn't want to start introducing more products, but Anel very generously gave me a whole host of samples which I am planning on diving into as soon as the Challenge is over.
I'm going to level with you: QMS is on the higher end of the price bracket – the starter set that Anel recommended for me came in at approximately R2,860 (the Deep Cleanser, the Med Set and the 24 Hour Cream). However I do think that in terms of value for money, you'd struggle to find anything that beats QMS. If all goes well with the samples, I will just have to brace myself for the financial hit, because if you saw how glorious Anel's skin is, you'd do the same! A big thank you to Anel for having me and also to Renee Schonborn from Little Black Book for making it possible.
For more information, visit www.qmsmedicosmetics.co.za. You can follow them on Twitter here, and like them on Facebook here.
This is a sponsored post.