Honey is having a real moment as a star ingredient in skincare and beauty products. It has long been acknowledged as having healing superpowers thanks to its natural anti-inflammatory and anti-bacterial properties, making it perfect for treating skin conditions like acne and eczema. As well as being a powerful antioxidant, it's also extremely nourishing and moisturising, plumping up skin and improving elasticity.
Ok, I'm sold! Here's my pick of the yummiest honey-based beauty products around (full listing after the jump):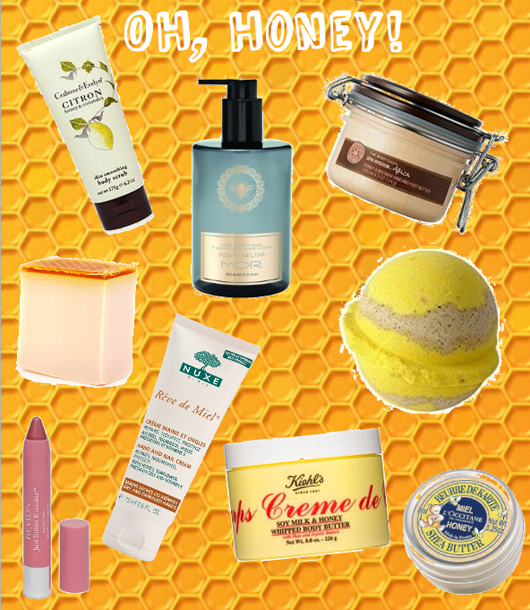 Crabtree & Evelyn Citron, Honey & Coriander Skin Smoothing Body Scrub – Sunflower and jojoba wax beads gently exfoliate, polish and buff the skin, leaving it smoother and more refined. Honey glycerine, pumpkins and peach oils soften and condition the skin.
The Body Shop Spa Wisdom Africa Honey & Beeswax Hand and Foot Butter – An intensive moisturising treatment that leaves the skin feeling soft, smooth and supple. Particularly effective on hardworking hands and feet and dry areas such as elbows and knees.
Mor Cosmetics Honey Nectar Hand & Body Wash – The scent of this refreshing body wash is described as "sweet brown sugar melts into golden honey nectar on a base of candied almonds & warm vanilla milk". Drool!
LUSH Honey I Washed the Kids Soap – You can wash the kids in this if you want, but make sure you get your share of this honey toffee-scented addictive soap!
NUXE Rêve de Miel Hand and Nail Cream – This repairing, non-greasy, nourishing hand cream repairs and relieves dry or damaged hands while protecting them from the visible signs of skin aging.
Kiehl's Creme de Corps Soy Milk & Honey Whipped Body Butter – Inspired by the classic and original Creme de Corps body cream, this luxurious air-whipped body butter delivers rich hydration for up to 24 hours for a wonderfully indulgent experience.
LUSH Honey Bee Bath Bomb – Take the sting out of sore, troubled skin. Soak in soothing honey, aloe and rhassoul mud. This shares the same fragrance as It's Raining Men shower gel, Ma Bar bubble bar and Honey I Washed the Kids soap.
Revlon Just Bitten Kissable Balm Stain in Honey – Ok, it doesn't actually CONTAIN honey, but it's called Honey so that's close enough! It's a pampering balm fused with a lightweight lipstain in an adorable chubby crayon.
L'Occitane Shea Honey Butter – Magical and multi-use, this travel-friendly beauty balm nurtures and protects lips, face, hands and hair. Its formula nourishes and regenerates upon application.
P.S. Here's a great article from Elle USA about the benefits of bee products.