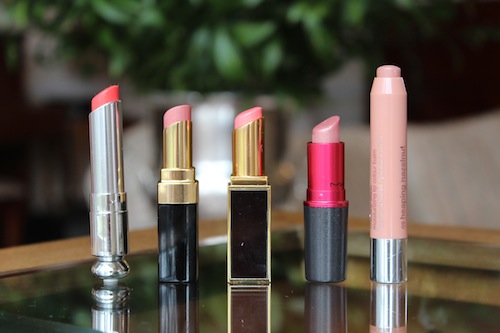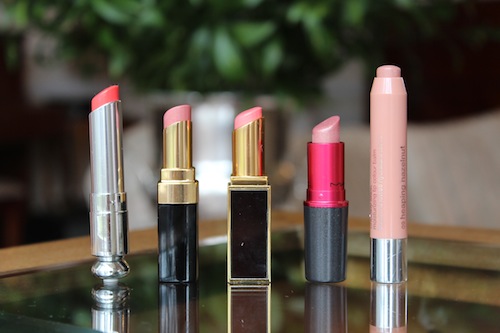 In my opinion, the defining moment for when a girl becomes a woman is when she chooses lipstick over gloss (you can quote me on that). Don't get me wrong, gloss has its place, but I find lipstick much more sophisticated and ladylike, and I find the act of applying it incredibly comforting – it somehow makes me feel more prepared to face any challenges that may come my way. I'm not a huge fan of bright, bold colours as they rarely suit me, so the colours in my top 5 are more pink-toned and neutral. So without further ado, here are my favourite five…
Chanel Rouge Coco Shine in Boy
I've proclaimed my love for Boy numerous times – it's my favourite lipstick of all time (I am currently working my way through my fifth tube). It's the ultimate 'my lips but better' shade – a soft beige-pink that suits every skin tone. It is very sheer so you won't notice a huge whack of colour on your lips, but that is exactly what I like about it – it's understated and very pretty. Classic Chanel.
MAC Lustre in Viva Glam V
Another soft, neutral pink, this time with some added gold shimmer (don't worry, it's very subtle – you won't be left looking like a glitter-ball). The finish of this lipstick is sheer perfection, and whilst I love the way it makes my lips look, the formulation is not moisturising at all – I would recommend that you pop some balm on top to keep your lips hydrated.
Tom Ford Lip Color Shine in Frolic
A beautiful, soft coral with a hint of shimmer – this is more of a tinted lip balm than a lipstick, strictly speaking, but it's so beautiful that I couldn't leave it out. The consistency is creamy and balm-like, and leaves the lips with a sheer, glossy finish. It is very hydrating and applies smoothly and evenly, keeping the lips soft and moisturised. I have been using it very sparingly because a) you can't get it here and b) it's prohibitively expensive.
Dior Addict Extreme in Riviera
The only bright lipstick to make the cut! I am besotted with this colour – a bold orangey, coral pink that goes on quite sheer, but can be built up to a punchier intensity if you so desire. This lipstick contains no shimmer or sparkle, yet it delivers a wonderfully dewy finish. I applied a few layers for the swatch below so you can see how juicy and beautiful it really is – the perfect summer shade.
Clinique Chubby Stick in Heaping Hazelnut
Regular readers will be sick of hearing about this by now, but this little beauty goes into my Hall of Fame for sure – I am onto my sixth or seventh tube now! A great everyday shade – a lovely soft beige-brown. It's incredibly moisturising and hydrating, so it's perfect for the winter months. It also looks fabulous in summer when you've got a bit of a tan – everyone will want to kiss you when you're wearing this.
So tell me, what are your favourite lipsticks?