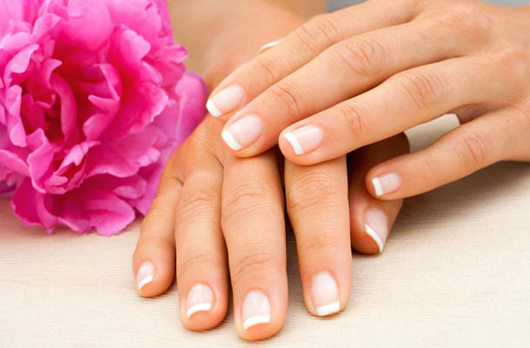 Doing my nails is one of my great joys in life – I love nothing more than sitting down with my nail file, buffing tool, cuticle pusher-backer and polish remover and giving myself a mini manicure. I usually manage to do this about once a week and then top it off with a quick paint job thats last me until the next time because I generally take care of my nails. Even so, I've found recently that they're starting to peel really badly and it's driving me nuts.
I asked my nail guru Charlotte for advice and she suggested I look into Sally Hansen's range of nail strengtheners. So off I tootled to Clicks where I checked out the SH stand and happened upon this little blue and gold bottle of joy, called Miracle Cure. Further investigation of the packaging revealed that it's main aim in life was to stop nails from peeling (bingo!) and reveal "50% stronger nails in 3 days!". Well I was sold.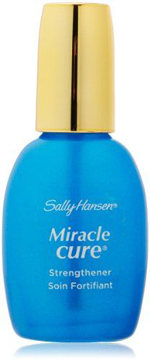 How It Works
"Powerful 'moisture magnets' target severely dry and brittle problem nails. Exclusive Micro-Mineral formula fills in cracks to instantly top nails from peeling. Natural protein and super anti-oxidant formula strengthens nails." I can't speak to the science of the stuff, but basically you paint a thin coat onto bare nails every other day and it says you can use it alone or under nail colour. Be warned however that it makes for a pretty useless base coat (the colour starts to chip off after one day) so I would use it alone if I was you.
The Result
"Nails are strong and healthy-looking enough to stand up to everyday wear and tear." I used this for about 10 days non-stop (you have no idea how hard it is for me to not have a colour on my nails for that long!) and definitely found that my nails stopped peeling. Weirdly, I noticed that they didn't grow as quickly as usual although I may have been imagining things – maybe I'm just not used to be able to see the free edge all the time!
The Verdict
I think this stuff is great and I can see myself having it in my manicure kit forever because it really does what it says on the tin.
Have any of you tried this or any of Sally Hansen's other nail strengtheners? What did you think?
Image via.