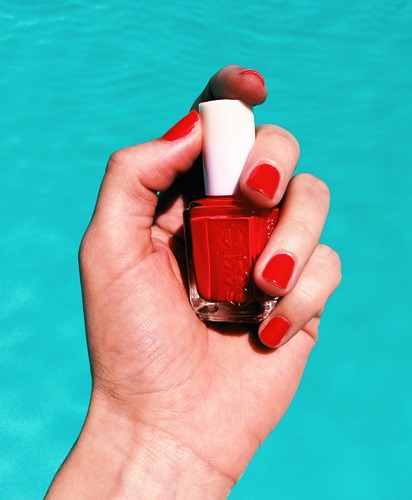 I decided to treat myself to a pedicure last week at my beloved Dante Wellness Spa (Lizelle for nails, Nicole for waxes – trust me) because my poor, tired hooves were in desperate need of some TLC. As a surveyed the Essie rack of polishes, trying to decide which shade of red to choose, this little beauty caught my eye. 'Too Too Hot' is from the 2011 Braziliant Collection, and I can't believe I didn't spot it sooner – I loved it so much that I promptly bought a bottle and went home to paint my fingernails! As you can see, it's the perfect juicy summer shade – a little bit red, a little bit orange…a little bit perfect! I also like that it's bright and vibrant without being neon (a big no-no for me).
It has a cream finish, and although the first coat went on a bit streaky, after the second coat I was left with the glossy gorgeousness you see above. I popped a bit of my Seche Vite Fast Drying Top Coat on the top and I have since enjoyed six full days of chip-free wear! There is a bit of tip wear, granted, but not a single chip – which is very impressive, considering the recent state of my nails (more on that in January Favourites next week)!
So tell me, will you be buying 'Too Too Hot' too?