Summer can wreak havoc on your hair: chlorine, sunshine, sea salt and heat styling can make your locks dry and stressed rather than sexy and sunkissed. These products will help to fight frizz caused by humidity, inject moisture back into your strands and produce the perfectly tousled beach hair: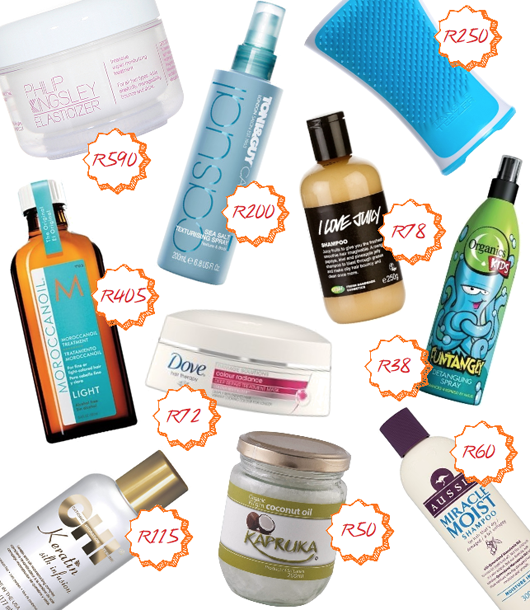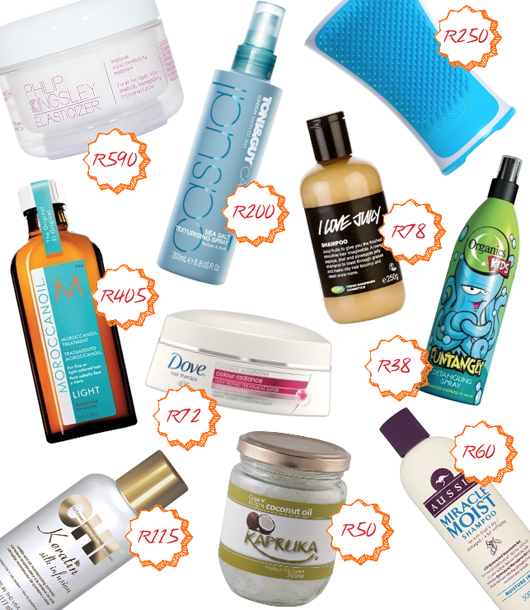 Philip Kingsley Elasticizer: This world-famous pre-shampoo conditioning treatment delivers a rush of moisture to the hair's cuticle. Plus you get quick results; suppleness, elasticity and bounce appear instantly without weighing down or coating the hair.
Tangle Teezer Aqua Splash: Perfect for taking to the pool or the beach, the hollow, non-slip design makes brushing out tangles and knots from wet hair a breeze. Also great for working shampoo or conditioner evenly through the hair without causing breakage, damage or splitting.
Toni&Guy Casual Sea Salt Texturising Spray: This cracked the nod in the list of my Favourite Hair Products of 2013 and I still love it for creating effortless texture and soft, be achy waves. All you do it spray it on wet hair and leave it to air dry and hey presto, Gisele Bündchen hair! (Well, sort of.)
Lush I Love Juicy Shampoo: Loading up on styling products to manage unruly summer hair can leave it loaded down with build-up so a good clarifying shampoo is your best friend. This zingy number from Lush is packed with pineapple, mango and kiwi juice that breaks down grime, plus sea salt for volume and seaweed extract to soften.
Organics Kids Funtangly Detangling Spray: Knotty hair can be very painful and frustrating, especially in summer when you're in and out of the sea or the pool. Investing in a Tangle Teezer will go a long way to solving this problem but another solution is to spray on a detangler to loosen the knots before you brush them through. This one from Dischem might technically be for kids but it's cheap as chips and smells delicious so definitely adult-friendly too!
Aussie Miracle Moist Shampoo: Dried-out lengths are an unfortunate by-product of long days spent in the sun, so it's important keep moisture levels up. The equivalent of a long, tall drink of water for your hair, the formula helps to top up moisture levels and bring back your shine, while Australian Macadamia Nut Oil conditions and smooths.
Dove Colour Radiance Deep Replenishing Mask: Colour-treated hair can take a real battering during the hotter months, as high temperatures and UV exposure can leave your colour dull and lifeless. Nourishing masks like this one help to replenish lost nutrients and reduce hair breakage and split ends, keeping hair healthy and shiny and colour vibrant for longer.
Kapruka Organic Virgin Coconut Oil: One of nature's greatest multi-taskers, coconut oil is the perfect conditioner for your hair because it's lightweight and easily absorbed. Just smooth it onto your lengths and ends, and either leave in as a treatment for 30 minutes or overnight for super soft locks. As a bonus, coconut oil can also be used to remove makeup, soften cuticles and tame frizz.
CHI Keratin Silk Infusion: The CHI haircare line is one of the best-kept secrets at Dischem. This product in particular is a powerful reconstructing complex that heals and hydrates dry, damaged hair. It dramatically improves elasticity and prevents future breakage, while adding intense hydration that restores softness and shine.
Moroccan Oil Light: This product isn't on bestseller lists all over the world for nothing. I use the Light formulation because my hair is fine, and it doesn't weigh it down or make it look greasy at all. It smells heavenly and absorbs instantly, delivering proteins for strength, fatty acids, omega-3 oils and vitamins for shine, and antioxidants for protection.