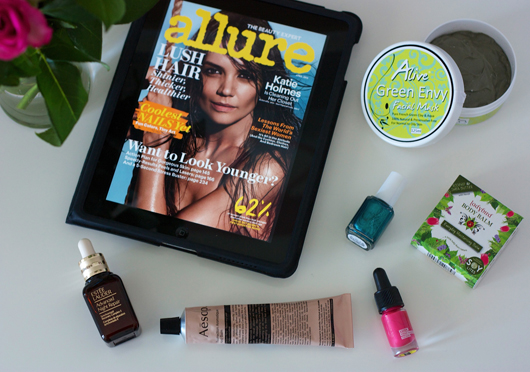 I turned 30 this past weekend and although the number means very little to me, my friends took it upon themselves to spoil me rotten with all manner of extravagant gifts. I now have more Le Creuset in my life than I ever though possible but I also scored some gorgeous beauty-related bounty. Here's the haul:
Essie Trophy Wife
This nail colour from Hannah is so "me" – a deep, teal blue pearl that makes me feel like a mermaid. I think it's the perfect toenail colour for summer, and would also make a fantastic base for metallic nail art or a sparkly topcoat. It gets rave reviews for application online and how can we ignore the name?! Too good.
Estée Lauder Advanced Night Repair
There is absolutely no logical reason why I haven't own this cult beauty classic until now. I've lusted after it repeatedly but never felt able to take the plunge which is why this makes for such a special gift. My girlfriends clubbed together and bought me a gorgeous Missibaba handbag (!!) and inside was a bottle of this newly reformulated super-serum. I used it last night and I swear my skin is smoother today – I'm hooked already!
Allure Magazine subscription
It would have been very easy for Camilla to buy me something from my never-ending wishlist, but instead she and Tamsin found me something with much more longevity: a digital subscription to Allure magazine. If you don't already know, this American publication is the beauty-lovers Bible. Packed with product reviews, themed editorial features, beauty news, photoshoots, and hair, skin and make-up tips, it's iPad paradise as far as I'm concerned. Even the Allure.com website is a treat – check it out.
Lush Liquid Lipstick in Believe
Highly pigmented, long-lasting colour in a gentle, moisturising base – what's not to love? This liquid lipstick has a jojoba oil, rose wax and candellila wax base to soften dry lips, and is supposed to be extremely long-wearing. I haven't tried it yet but I love the vibrant fuchsia colour that Raph and Ernst chose for me – beautiful, bright and bold; what every lipstick should be!
Ladybird Everyday Moisturising Balm
Apart from the Essie nail polish, Hannah also treated me to this rosehip, shea butter and neroli body balm from organic, natural brand Soy Lites. A refreshing, soothing and nourishing balm suitable for everyday use on the face, hands or feet, cracked heels, cuticles or any area that needs moisturising. As you will know by now, I LOVE products like this and I look forward to testing it out.
Alive Green Envy Facial Mask
This was ANOTHER gift from Hannah, who knows I am obsessed with face masks and clay-based ones in particular. Made simply of French green clay (known for it's deep cleansing and healing properties) and water, this preservative-free formula for normal/oily skin like mine, draws out impurities, excess oils and toxins, leaving you with a clean and revitalised complexion.