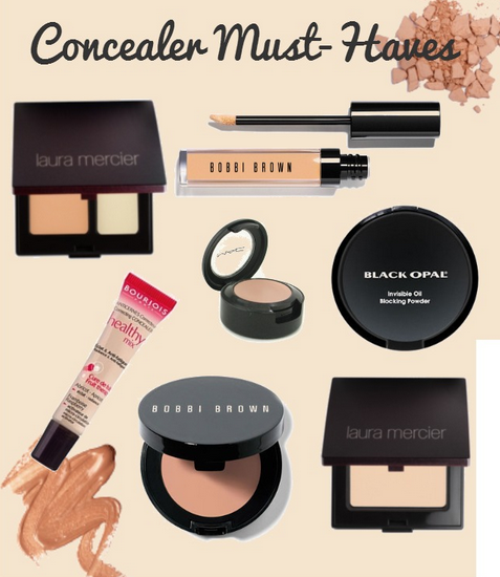 Concealer helps to even out your skin tone, cover blemishes and disguise dark circles. It comes in various forms – pens, creams, sticks – you will need to play around a little and see which formulation you like best.  I like to separate concealers into two categories: those for the under-eye area, and those for blemishes/the rest of the face. I always use two different concealers for these areas and I don't like to interchange them. I like to use stick or a cream concealer for blemishes, and a light reflective concealer for under the eyes – the reason being that I find blemish concealers to be a bit heavy for the under-eye area, and under-eye light reflecting concealers highlight the blemish instead of hiding it.
Under-Eye Concealer
You will need something quite creamy or fluid, as the under eye area doesn't produce oil. You will also want to make sure that the shade of this concealer is slightly lighter than your skin – but not too light. If you, like most women, suffer with darkness under your eyes, I would recommend using a colour corrector to neutralise the blue/purple undertones before applying the light reflecting concealer. My personal favourite is the Bobbi Brown Corrector – if I were to urge you to spend money on one product, it would be this one (you can read our reviews here and here). For a demonstration on how to apply it, have a look at this video from Jessica from Beautezine:
Once I've applied my corrector, I then move on to the light reflector (if you don't suffer with darkness, you can skip the corrector and go straight in with the light reflector). You will of course have heard of the iconic YSL Touche Eclat, which led the way on this front, but I have always found it a bit too chalky for my skin. I far prefer the Bobbi Brown Tinted Eye Brightener or the Clinique Airbush Concealer – they are both very thin and won't sit in any fine lines. Gently pat the concealer into the skin and then blend the edges – you can use either your fingers or a flat brush for this. You can also set the concealer with a powder if you wish, but this is by no means essential.
Light reflecting concealers are also great for other areas of the face that need a bit of brightening up – for example around the mouth, nose, and brow-bone.
Blemish Concealer
Cream or stick concealers work best for blemishes, scars and other minor imperfections. You can also use stick foundations as a concealer because they are highly pigmented and so work well to cover imperfections. The colour match here is crucial – if your concealer is darker or lighter than your foundation if will only emphasize the flaw, instead of covering it. You can use a large brush or fingers if you are covering larger areas which are affected by pigmentation or redness, or you can use a thinner brush for pinpoint concealing of blemishes or smaller marks. My ultimate favourite concealer is Laura Mercier Secret Camouflage Concealer, but alas, it is not available in SA. My local favourites are MAC Studio Finish Concealer and Bourjois Healthy Mix Concealer.  It also helps to set your concealer with powder to make sure it stays put for as long as you need it to – I find translucent powders are best for this. My top picks include Laura Mercier Mineral Pressed Powder, Black Opal Invisible Oil Blocking Pressed Powder and MAC Prep + Prime Translucent Finishing Powder.
If you want to learn more about my technique for concealing blemishes, you can read my post here. Alternatively you can watch Sali Hughes' video below for a more comprehensive tutorial.
So tell us, what are your favourite concealers? Do you have any handy tips or tricks to share?
Image by me.