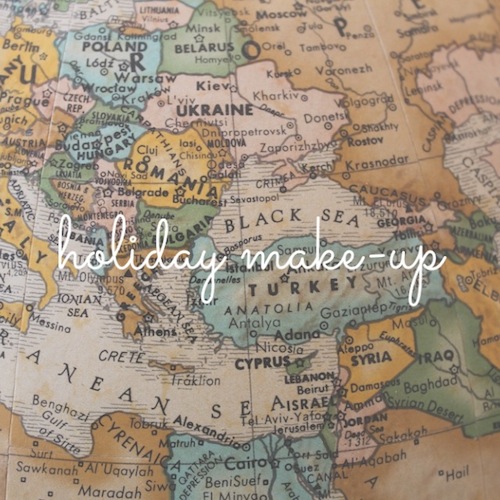 I am taking a lot of make-up with me on this holiday, but I would like to place on record that the reason for this is because I am in charge of doing Jules' make-up on her wedding day and I would rather be over-prepared than under-prepared. Under normal circumstances I would hardly take anything – tinted moistuirser, mascara, blush and a lipstick, max. I never wear make-up on the beach and I can't stand traipsing around a scorching hot city with a full face on – it makes me feel claustrophobic. But, be that as it may, these are the products what are making the trip to Greece and Turkey…
Face
No real surprises here – the usual suspects are all present and accounted for. Primers to make sure the make-up stays put in the heat – Smashbox Photo Finish Color Correcting Primer for the face and Urban Decay Eyeshadow Primer Potion (pictured below) for the eyelids. Coverage wise, I've got both bases covered: Laura Mercier Oil-Free Tinted Moisturiser for light, sheer coverage and Estee Lauder Double Wear Light Stay in Place Make-Up for something a bit more substantial. I've also thrown in the Estee Lauder Lucidity Translucent Pressed Powder to help mattify shiny faces if needs be. For under the eyes, it's a no-brainer: Bobbi Brown Corrector and Tinted Eye Brightener, and for blemishes, my trusty Laura Mercier Secret Camouflage Concealer. I decided on Stila Convertible Color for my blush and NARS Laguna for my bronzer – both tried and tested favourites.
Eyes
My MAC palette and Stila 'In The Light' Palette are both coming along because I am using shades from both on Jules. I have also thrown in my Burberry Complete Eye Palette in Plum Pink mainly because I am obsessed with it, and also because I think purple eyeshadow looks lush when paired with a tan. MAC Paintpot in Groundwork also made the cut because it is probably what I will end up wearing most days – a lovely neutral, long-wearing cream shadow that doesn't require a primer. When I've got Groundwork on I like to tightline my eyes with Bobbi Brown Long-Wear Gel Eyeliner as it gives fantastic definition and allows me to forgo eyeliner along the lashline and proceed straight to mascara. On that note, I have chosen Clinique High Impact Extreme Volume Mascara and Clinique Bottom Lash Mascara – neither of which are waterproof, but since I don't wear make-up on the beach I don't forsee it being an issue (casually ignoring the fact that I am going to cry like a tiny baby at Jules' wedding). For eyebrows I am taking Smashbox Brow Tech To Go and as far as eyeliners are concerned, I am taking my Laura Mercier Caviar Stick Eye Colour in Plum and an assortment of black and brown Stila Smudgesticks (Stargazer, Damsel and Lionfish). I am also bringing a nude eyeliner from 3 Custom Color which I apply to my bottom waterline to brighten my eyes.
Lips
Jules has chosen to wear Chanel Rouge Coco Shine in Boy on the big day, but even if she hadn't, I'd still have packed it – it's my favourite lipstick of all time. I have also packed a very muted neutral – Clinique Chubby Stick in Heaping Hazelnut as it's incredibly moisturising and looks beautiful on the lips, especially with a tan. Last but not least, my dark horse product: Dior Addict Extreme Lipstick in Riviera – a bold orange-coral that makes me so happy when I wear it – it's the only bright colour I've ever been able to wear with confidence.
And that, as they say, is that. What are your essential holiday make-up items?