Guys. I have a problem. I have 14 eyeshadow palettes in my collection, and that's after doing a massive clearout the other day. That's over 200 different colours, which is ridiculous for someone who wears MAC Groundwork 90% of the time. I am an unstoppable force.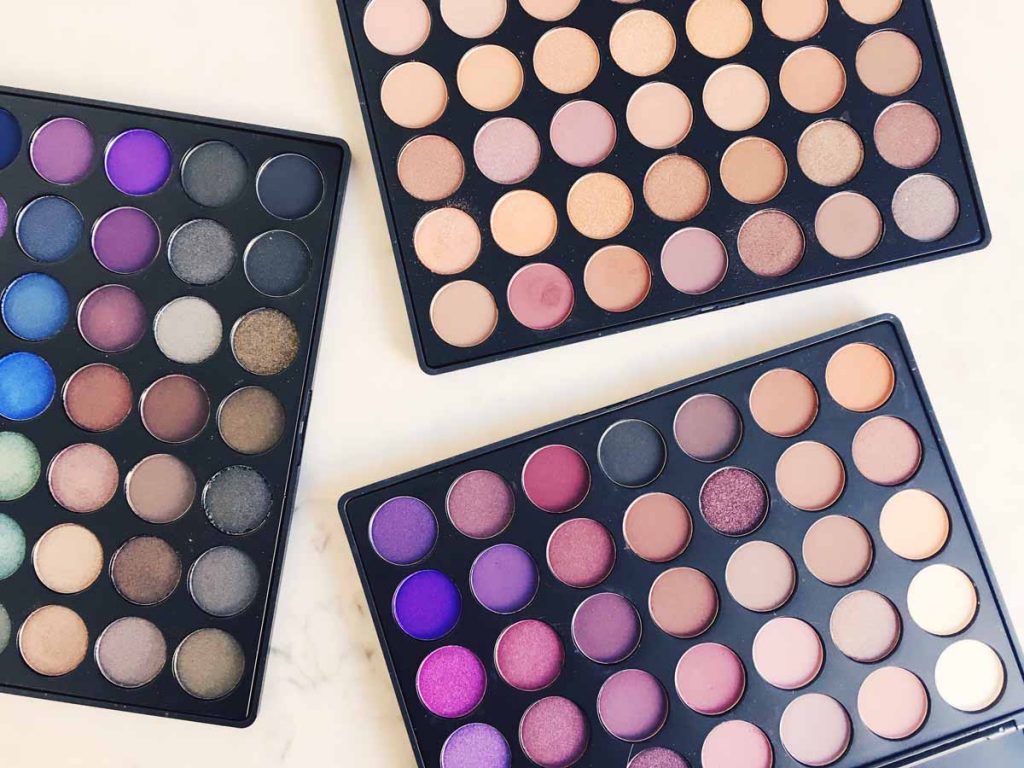 Morphe 35T, 35P and 35D
The Morphe palettes got a lot of hype over the past couple of years for producing great quality eyeshadows at a really affordable price. I ended up buying three and even though I don't use them that often, I have to say that I love them. The big, 35-pan palettes give you lots of options and represent especially good value for the more unusual colours (bright blue, shimmery turquoise, a rich, matte purple, a black with red reflect) that I might want to use every so often but wouldn't have bought separately. Did I need 105 different Morphe eyeshadows? No. Do I regret buying them? Absolutely not.
Pros:
Really good formula – good pigmentation, creamy, blendable, minimal fall-down.
Huge variety of shades across the various palettes.
Can we used wet or dry, and when wet the pigment is off the charts.
Insanely good value – I got them for £20 each from Cult Beauty (they're now more like £24).
Cons:
Not enough contrast between shades in each palette – there are lots of very similar colours.
Packaging is super cheap – plastic and flimsy but then again, I'd rather pay for product than packaging (unlike some brands where you pay through the nose for fancy packaging and an ok product).
The pans are predominantly shimmery – only a couple of mattes in each palette (they do sell 100% matte palettes too though).
Not easily available in SA. You can find Morphe at Muse Beauty but I've never purchased from this store myself.
Be warned – the brushes are rubbish. I have three and all of them shed badly and leak dye when washed.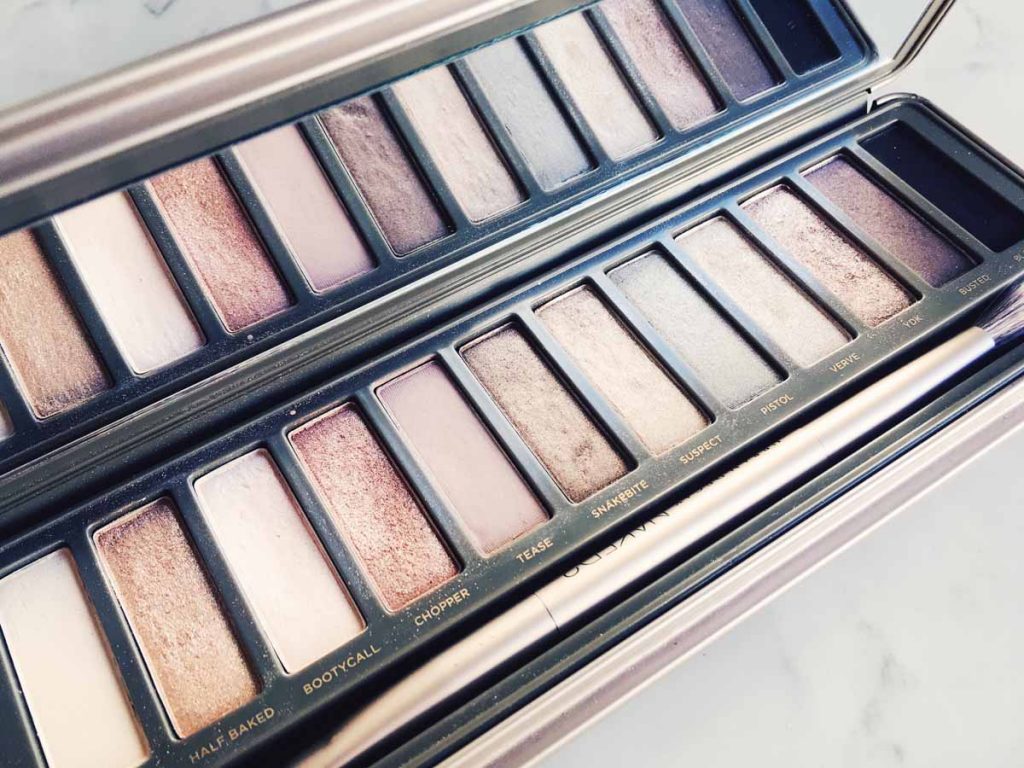 Urban Decay Naked 2
If you watched our Ride or Die Tag video, then you'll know that this is my number one. I simply adore the shade range, the formula is super smooth and buttery, the shimmering shades pack a real punch and they blend like a dream. YDK is my most used shade, followed closely by Chopper (a rich copper with silver micro-glitter) and Bootycall (a sheeny champagne), although I've also made a dent in Half Baked (bright gold) and Verve (shimmery oyster). If you're ever stuck on a generous gift idea for someone, I can't recommend this palette enough. It's too damn beautiful. I also own Naked 1 by the way but Camilla is borrowing it at the moment and I don't use it anywhere near as much as this one.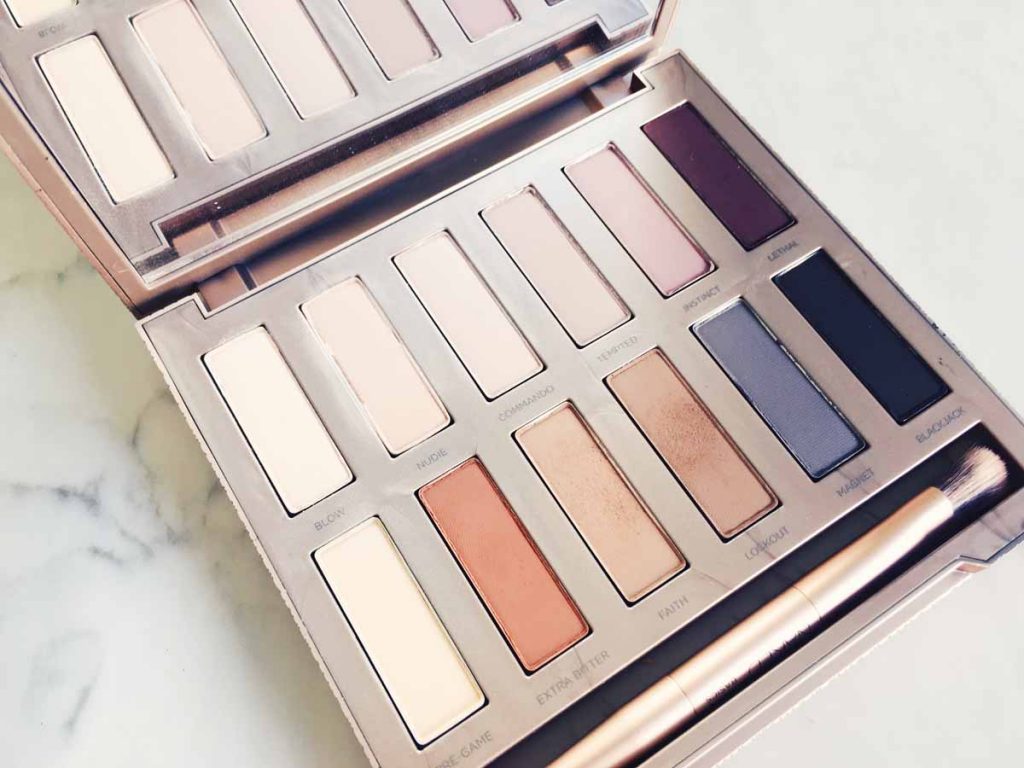 Urban Decay Naked Ultimate Basics*
Even though I was pretty excited about this palette when it launched, it really surprised me just how much I ended up liking it. Even more surprising to me was how much I was drawn to the warmer tones in the palette – usually I go for cool tones like the ones in the top row but I've ended up using Faith (warm, mid-tone brown) and Lockout (slighter richer and darker than Faith) the most. I'm still psyching up to wear Extra Bitter (a rich, rusty brown) because it looks SO orange in the pan but I've seen it on my friend Misha and it looks incredible. Apart from the shade Blow, which is a subtle, satiny bone colour, all the shades are matte and have that signature, super-creamy formula that Urban Decay is known for. Delicious.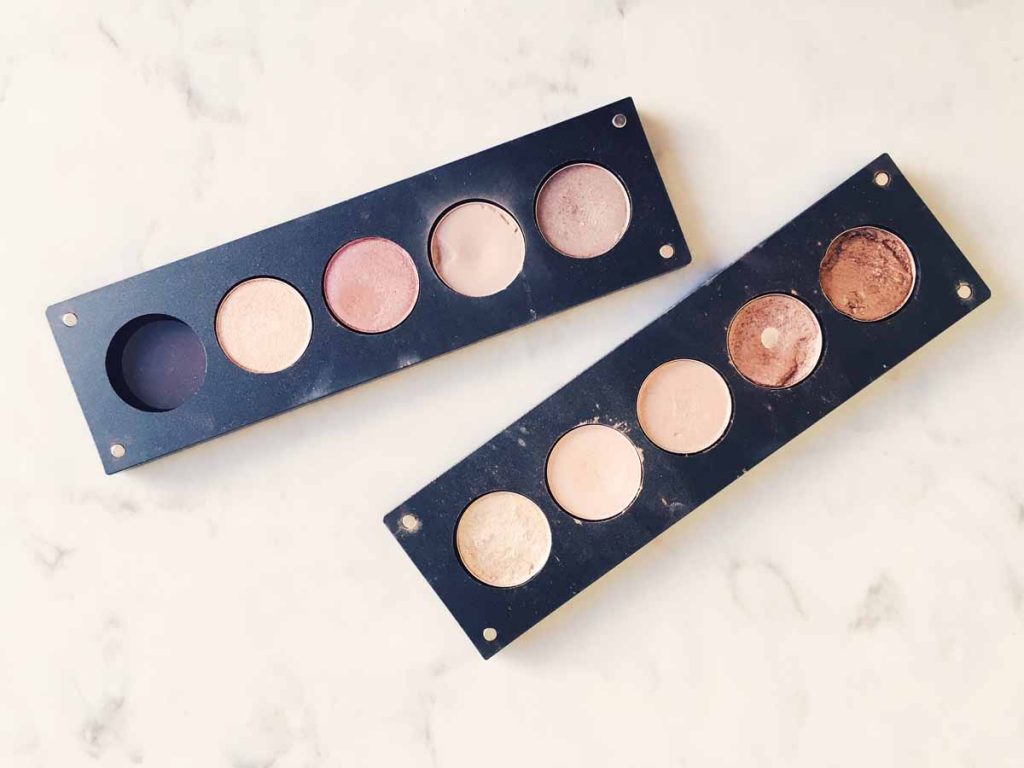 MAC Build-Your-Own
Don't be distracted by the fact that I keep these in old Inglot palettes – they are all MAC eyeshadows, and OGs at that! These are the shades I started my collection with, going into MAC and picking out colours with Camilla and then carefully de-potting them at home (I didn't know at the time that you could buy the pans on their own for much less than the potted version!). There are some absolute classics in this little collection: Naked Lunch, Sable and Satin Taupe to name a few. I literally never use these shadows anymore so I hang onto the palette for nostalgic reasons more than anything, but looking at it now, I'm reminded of how much I used to love them. MAC used to be the only place you could find good eyeshadows in a huge range of shades, but now, as you can see from this blog post, there are so many other brands to choose from. Also, at R220 each (R110 for a refill pan) I just don't see how it makes sense to buy eyeshadows from MAC anymore when you can get a 12-pan palette from Urban Decay for R850, or find a similar single shadow at Nyx for less than half the price.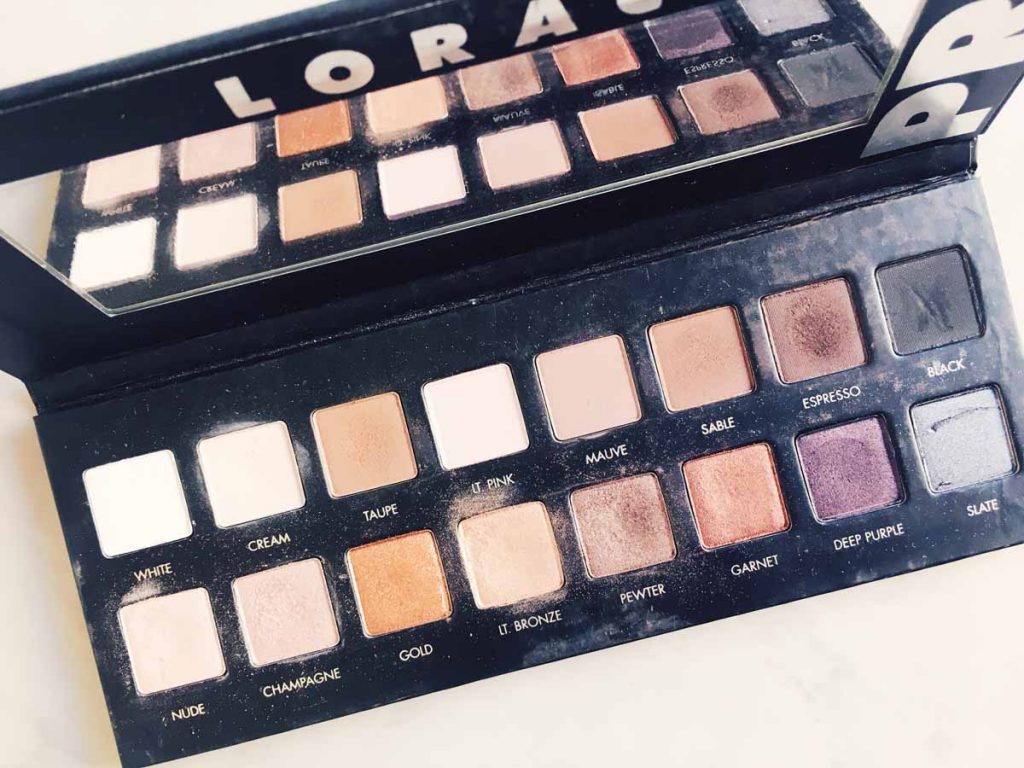 LORAC Pro
I really don't use this palette enough. The formula is insane – smooth! silky! buttery! – and the shade range is so wearable, I really don't know why I don't reach for it more often. Pewter (a rich, taupe-y brown) is definitely my favourite colour in the palette and makes for a great all-over, one-and-done shadow or a good base for a smoky eye. Light Bronze (pale, sandy shimmer) has also seen a fair amount of action and before I got the Urban Decay Ultimate Basics palette, Sable (warm, mid-tone brown) and Espresso (dark, neutral brown) were my mattes of choice for a chocolate-y eye look. The palette itself is an absolute classic, and is another one that would make an excellent beauty gift or starter palette for someone just getting into eyeshadow as the colour range offers so many possibilities. I also really like how slim and compact it is, although because the shadows are so creamy they tend to be a little fragile so I wouldn't personally travel with it.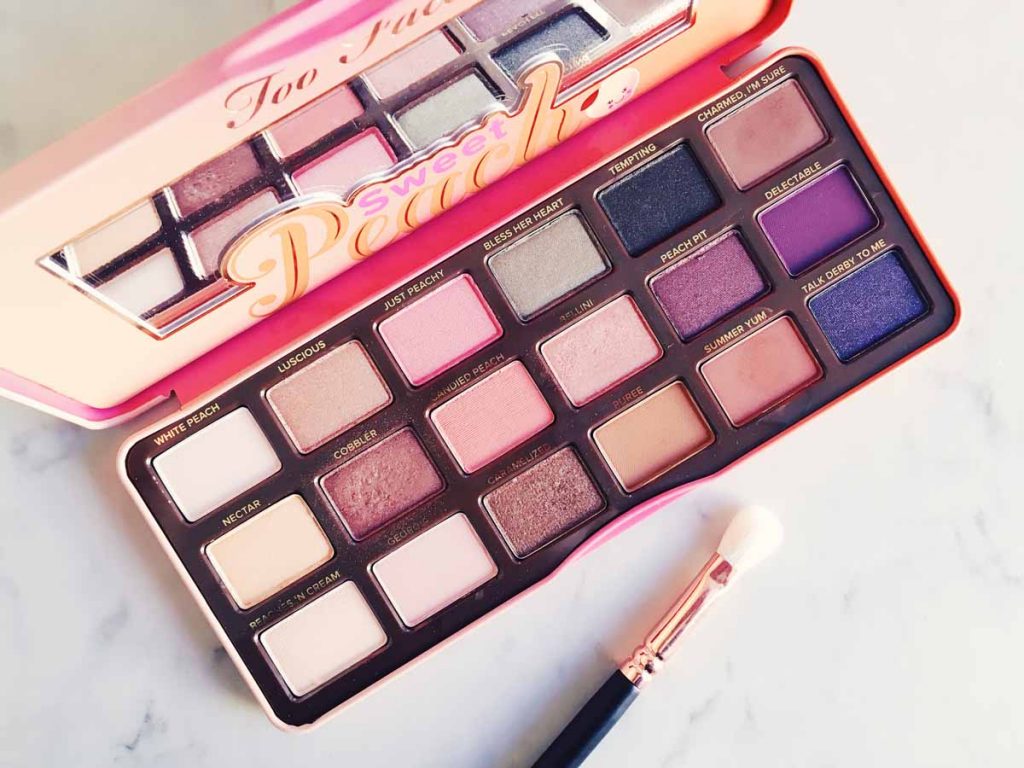 Too Faced Sweet Peach
The newest addition to my stash and the one with which I'm having a massive love affair at the moment. My current obsession is the shade Cobbler, which looks like any old bronze eyeshadow but because everything pulls extra warm on me, it seriously makes my blue eyes pop! I've been wearing it all over the lid and blended up into the crease (I'm wearing it in our March New In Beauty video) and getting loads of compliments on the look. I've used about half the shades in the palette but have yet to venture towards the peaches, purples and greens although I've promised myself that I will (otherwise what's the point of buying it?). I am very impressed with the formula because it's as pigmented and blendable as Urban Decay shadows but with zero fallout (which is one of the hazards of the UD formula). I am majorly in love and even though it might be one of the most hyped-up beauty products of all time, I really enjoy using it and think it's worth every penny.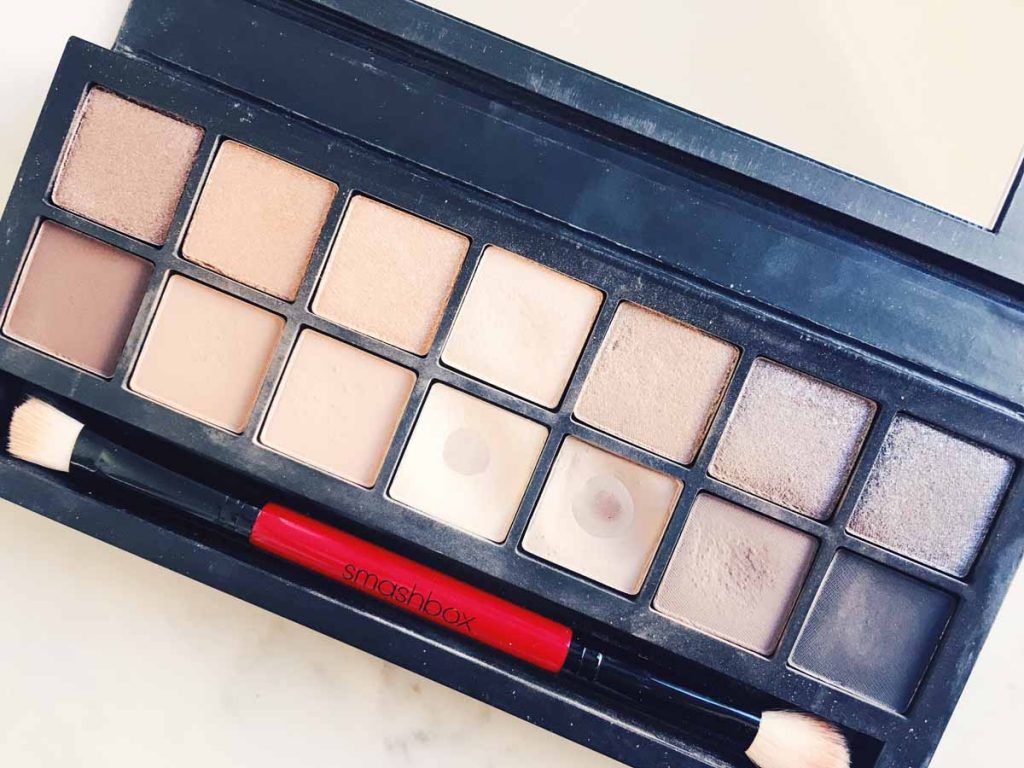 Smashbox Full Exposure
I use this palette for two shades, and two shades only – can you guess which ones?! I'll be honest and say that I don't think the shimmers are up to scratch; they're too dry, have poor pigmentation and generally don't hold a candle to the formula of any of the other shimmer shadows in my collection. The mattes however are top quality and I use the taupe colour as my transition shade in 90% of my eyeshadow looks as it's such a good neutral base for the crease. The matte cream colour is my most-used browbone "highlight" because it's subtle and I also use it all over the lid as a base for more complex looks too. So, even though I can't recommend this palette based on two eyeshadows, having tested some of Smashbox's more recent palettes at a launch in November, I can tell that they've really upped their game. The shadow quality in the new Cover Shot palettes is awesome and I can't wait to get my hands on the Ablaze version! Come to mama.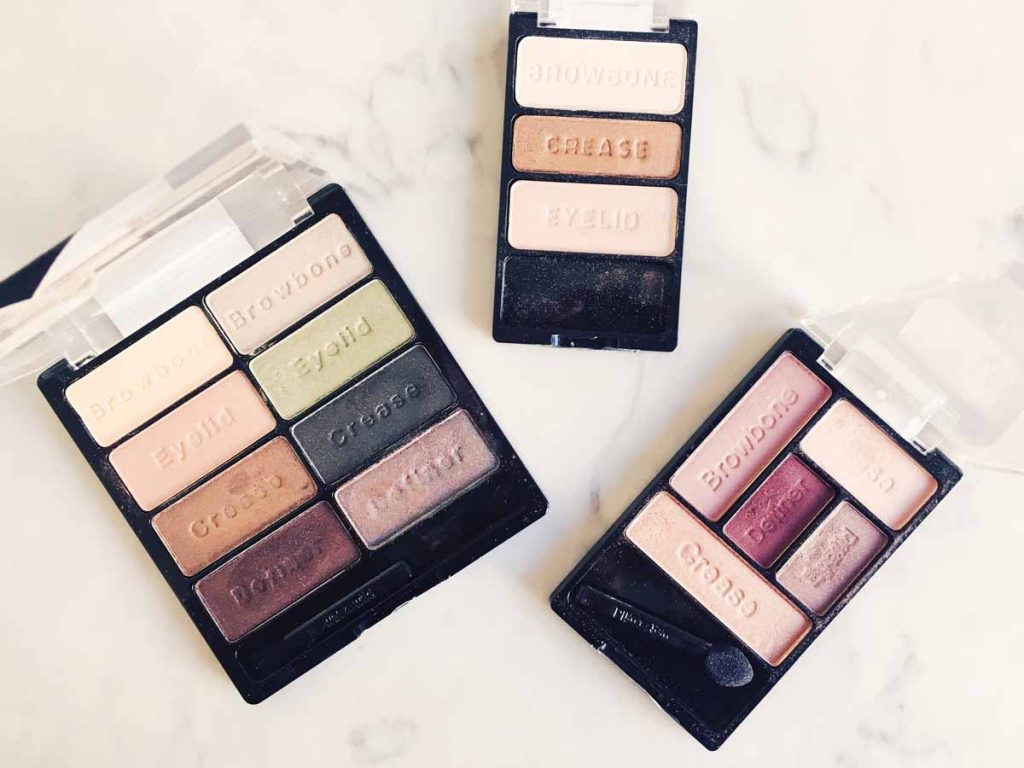 Wet n Wild Walking on Eggshells, Comfort Zone & Smoke and Melrose
If you've never tried a Wet n Wild eyeshadow palette then I really don't know what you're waiting for. They cost next to nothing and the quality is insane for the price – even at twice or three times the price, they'd be good value! I can't fault the eyeshadow formula, it's as good as any of the luxury brands listed here and the variety on offer is very impressive for such a cheap brand. My favourite and most-used of the three is the limited edition Smoke and Melrose one, which is actually the only eyeshadow palette that I took to America for a month at the end of last year. It's versatile because you can do a basic everyday look as well as a smoky eye, and the colours are perfect for winter. I really can't recommend them enough – the best eyeshadows at the drugstore for sure!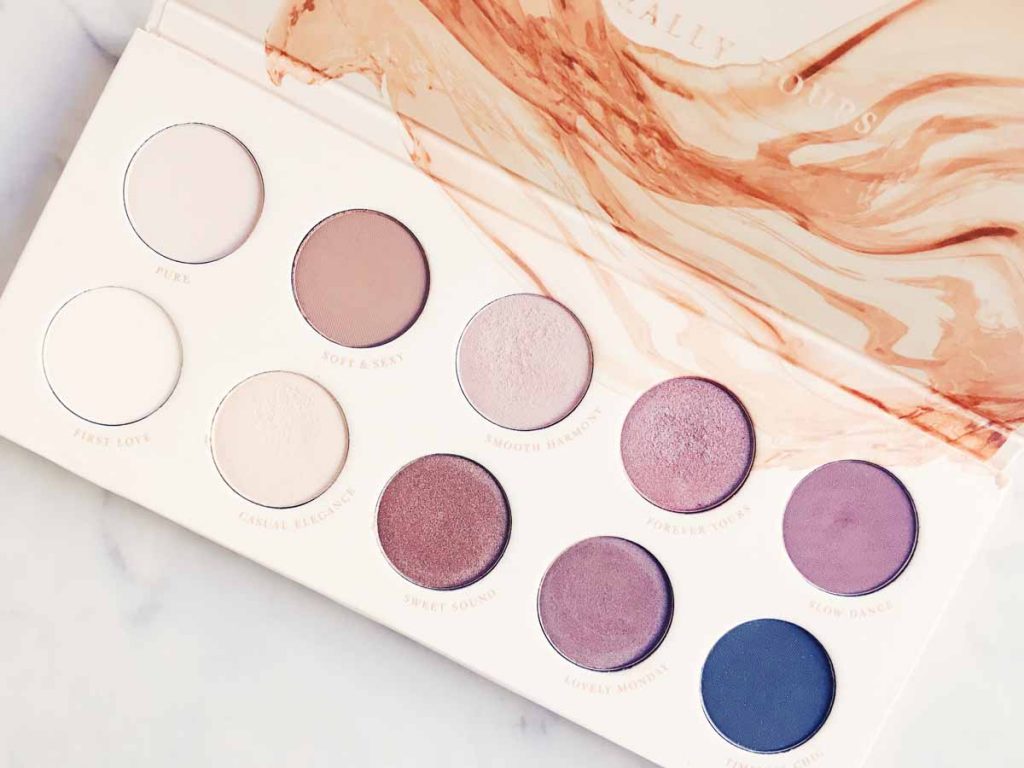 Zoeva Naturally Yours
I never use this palette, I have no idea why I even keep it. There's nothing wrong with it really – the colours are gorgeous and the formula is good (not amazing, but fine), but I just have these colours in so many other palettes that it's really just redundant. Zoeva make some of the best makeup brushes in the business and, until recently, their makeup was a bit of a sideshow; something you can kind of feel with this palette. Over the last year though their range has been overhauled completely and it's now looking VERY interesting. Camilla and I have been eyeing a few items from the new Spectrum Collection as well as some of the new eye palettes (gimme Cocoa Blend and Caramel Melange). And yes, they are COMPLETELY DIFFERENT from all of the palettes listed above!!
What are the favourite eyeshadow palettes in your collection? Any you think I'm missing?!
*PR sample