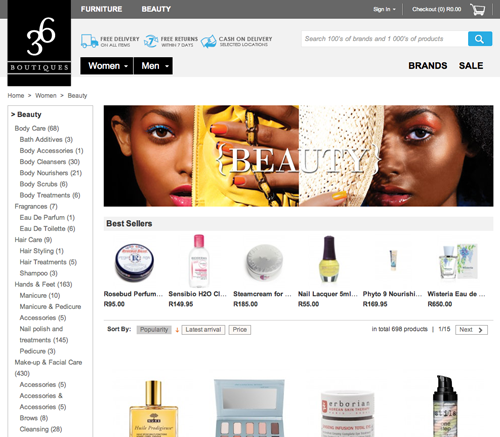 36Boutiques is an online shopping destination for fashion lovers that has been around for a couple of years. They stock a range of local and international labels, and while they specialise in clothing, shoes and accessories, they also have an amazing range of beauty products – many of them French pharmacy brands. The site is packed with cult beauty favourites (see below) and make-up must-haves from the likes of Bourjois, Stila and Essie.
Towards the end of last week, I saw a couple of tweets saying that they had re-launched their site with a new design, so I promptly alerted Camilla and we went for a little browse. In a classic demonstration of our like-mindedness, we both ended up spending a small fortune on almost the exact same products, without having consulted each other. Here are the highlights:
No. 1: NUXE Huile Prodigieuse – This multi-purpose dry oil nourishes, repairs and protects your face, body and hair with a unique blend of plant oils and vitamin E. As a skin treatment, rub a few drops between the palms of your hands and smooth over face or body, concentrating on rough patches. To replenish dry hair, use sparingly and work a few drops through the ends of strands. R359.95 for 100ml, R209.95 for 50ml.
No. 2: Rosebud Perfume Co Rosebud Salve – Another cult classic, this multitasking lip balm soothes dry lips, calms and heals irritation, and soothes the sting of minor burns. You can also use it to soften cuticles, tame unruly eyebrows, fight frizz and highlight cheeks and collarbones. Eight Hour Cream, eat your heart out! R95 for 30ml.
No. 3: Bioderma Sensibio H2O – I can't sing the praises of this product enough. Specially formulated for sensitive, normal to dry skins, this micelle solution gently but thoroughly cleanses face and eyes. It dissolves water-resistant make-up without stinging and will never leave your skin feeling tight. Look out for a review of my five favourite make-up removers coming soon for more info on this fantastic cleansing water. R149.95 for 250ml.
No. 4: Phyto 9 Nourishing Day Cream – Moisturiser for your hair! It's a creamy, non-greasy ultra nourishing leave-in conditioner that adds softness and shine to ultra dry hair. Even though I have oily roots, the lengths and ends of my hair can be left a bit parched from years of having highlights and regular sun exposure so I'm looking forward to seeing how this affects its condition. R169.95 for 50ml.
No. 5: SteamCream – An all-in-one natural moisturiser for face, body & hands. Award winning, vegan and freshly handmade, the production process utilises unrefined steam, forming a rich emulsion infused with oatmeal and lavender essential oils. The cream itself has a light, creamy texture, but when applied actually feels quite rich on the skin, making it perfect to use coming into the winter months. R185.00 for 75g.
You can follow 36Boutiques on Twitter, Facebook and Pinterest.
P.S. They offer free delivery and returns so you have no excuse not to try it!
Images via.