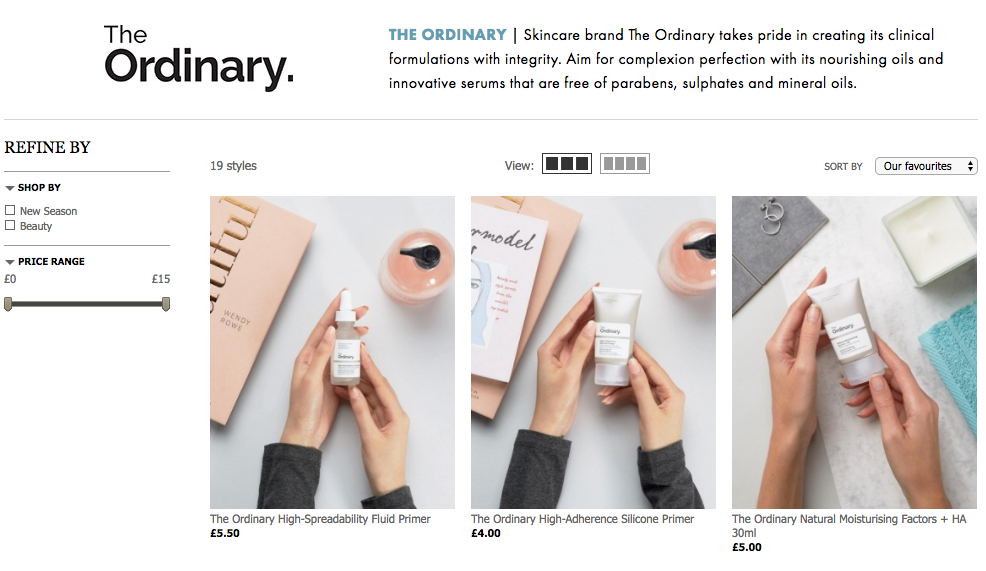 I wrote about The Ordinary skincare brand in this recent post and have really been enjoying the products I've used so far. The truth is that some skincare can be difficult to review because the results are either hard to see (I have pretty good skin to begin with so I'm not looking for a total transformation) or tend to only be visible over time. This is true of the Niacinamide and Retinoid serums – I like them both, had no adverse reactions and will continue to use them but it's not like I stopped having sun spots overnight or saw a drastic change in my skin but I wouldn't expect that anyway. It's easier to tell with the Lactic Acid product, which definitely makes my skin feel very smooth the next day, and the Hyaluronic Acid + B5 serum, which helps plump up my skin. I'd say Hylamide HA Booster (made by the same parent company) is marginally more effective but it's three times the price and I think you'd only notice if you were severely dehydrated like me. The next products on my list to buy from the brand are the Salicylic Acid serum and the new foundations, but these aren't on ASOS yet.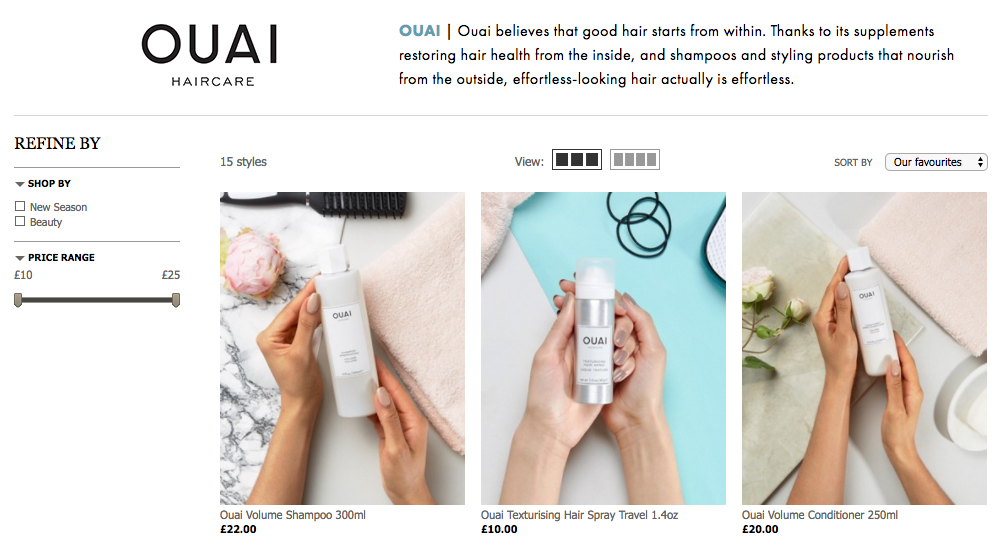 You might remember that I bought the Oaui Style Edit Kit from Sephora a few months ago and it turns out that I loved every single product! The stars of the show are definitely the Texturising Hair Spray and the Wave Spray but the Finishing Crème is also fab and fills a gap in my haircare stash for a product that smooths down fluffiness after I've curled my hair. Camilla and I are both dead keen on the new Dry Shampoo Foam which, according to reviews and demos we've seen online, seems to create a miraculous amount of volume and lift without being sticky or crunchy. Consider it sold.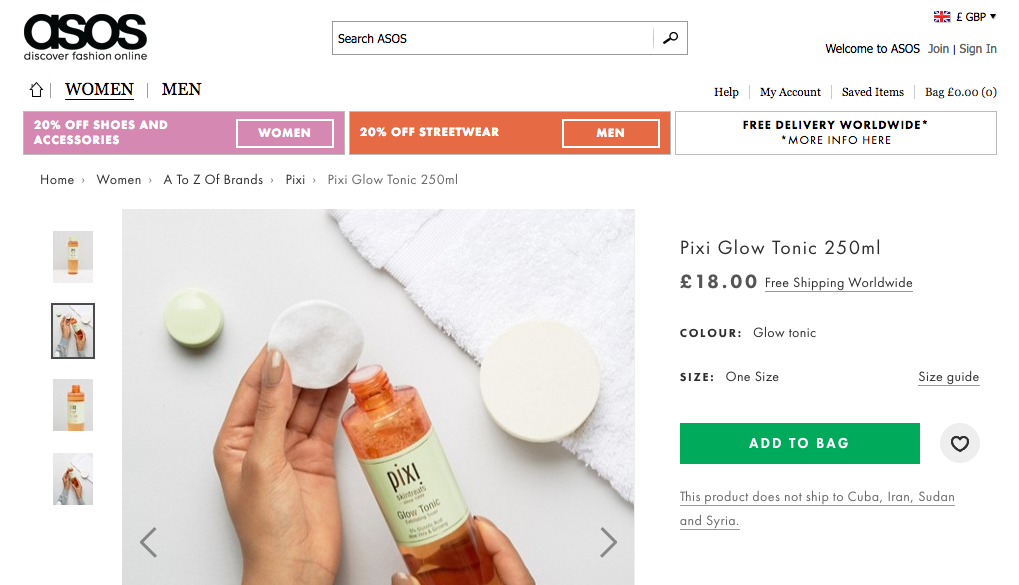 Pixi first became famous for its Glow Tonic; an affordable and effective glycolic acid toner that paved the way for a huge wave of liquid exfoliants over the past few years. They have a fantastic boutique just off Carnaby Street in London which I visit almost every time I'm there but generally leave empty-handed as I get a bit overwhelmed. Although Glow Tonic wasn't really for me (glycolic acid makes my skin freak out a bit) I did buy the Nourishing Sleep Mask which makes my skin insanely soft and bouncy the next day, although I think it's a bit expensive (£18) for the volume of product you get (30ml). I'm obviously planning to try their Caroline Hirons collab, Double Cleanse, as well as the Endless Silky Eyeliner which I've heard good things about and the Glowtion Day Dew, "a lightweight, radiance-boosting moisturiser that soothes while blurring imperfections and giving a lit-from-within glow." Oh ok, if I have to. Girls with dry skin would probably also enjoy the Glow Mist (an oil-infused facial spray) and the refreshing-sounding H2O Skindrink.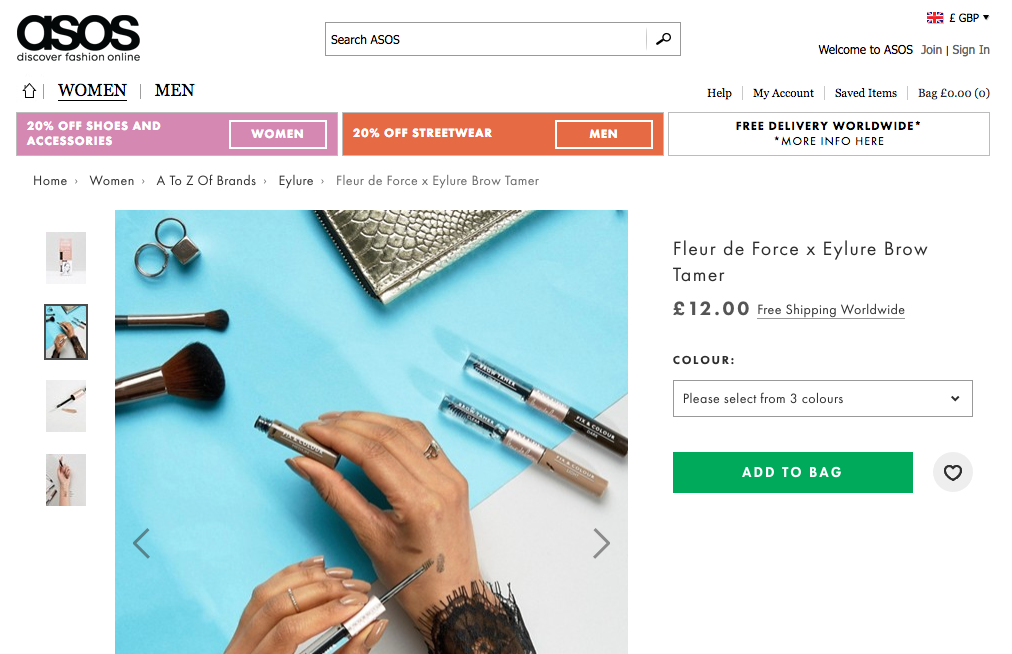 Much gets made of fancy false lashes and expensive eyelash glue in the beauty world but I've never gone wrong with good old Eylure, and while the range is available in SA, some of the best products are not. My absolute favourites (as you'll know from watching our Ride or Die Makeup Tag video) are the Fleur Loves lashes (not currently in stock on ASOS but they do appear to have Fleur's lashes on the site) which are the perfect combination of density, shape and believability. I also have her Fleur & Fabulous style which are a very good "starter lash" because they're a full strip but they've got a skinny band and the lashes aren't too thick or long so they're quite easy to apply and comfortable to wear while still adding drama. ASOS also carries Fleur's new eyebrow range with Eylure although I can only see the Brow Tamer in stock right now. It's a dual-ended brow gel with one side that's clear and one side that's tinted and it comes in three shades. I'm dead keen to try this because the wand looks really small which is ideal for using on my extremely fine, thin and fair eyebrows.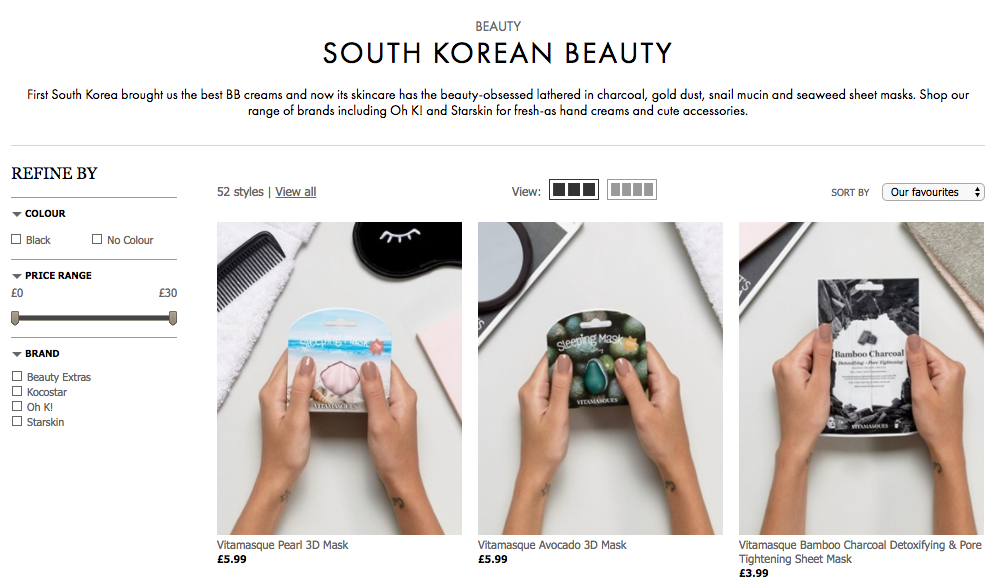 Ok, not strictly a single brand but did you know that ASOS has a whole South Korean Beauty section on their site?! Skincare is obviously a huge thing with our Far Eastern sisters and they have kindly introduced us to such groundbreaking beauty innovations as BB cream, sheet masks and oil cleansing so we have much to be grateful for. Highlights from the K-Beauty selection on ASOS include this Coconut Water Fibre Face Mask, Glowing Skin Gold Leaf Gel Mask, these Cooling Panda Eye Pads (!!) and the famous Fairydrops Scandal Queen Mascara.
A few notes about online shopping:
I get a LOT of questions about shipping online orders to SA so I thought I'd cover it here first:
When I buy from overseas websites, I generally have them shipped to a UK address so I don't have a lot of personal experience with international delivery. I'm lucky enough to have a willing mule who brings these orders home for me on a regular basis.
The times I have tried it, delivery has been fairly speedy, I haven't had any customs issues and nothing has ever been stolen or gone missing.
There is supposedly an order value threshold of R400, under which you aren't supposed to get charged customs, so keep that in mind and place small orders to avoid extra taxes. This is especially practical on sites like ASOS who offer free delivery (over £20) so splitting up purchases doesn't have to cost you extra (depending on the exchange rate!).
If I recommend a site or link to that site from a product name in a blog post, then you can assume I am 100% comfortable that it's legit. In most cases, I've ordered plenty of times from the site in question and many of them offer free international delivery without a minimum value, like Look Fantastic.
Don't forget about Amazon! It's a great way to get hold of overseas beauty brands – just be sure you're buying directly from the brand or a reliable (and well-rated) third party. There are plenty of dodgy salespeople on Amazon but the reviews will quickly tell if you is someone is the real deal or not.
Aramex Global Shopper is also a great way to buy beauty products from foreign countries that otherwise might be tricky to get your hands on. Watch this video to hear about my experience with AGS.
Update: A reader pointed out that you might have trouble shipping aerosol containers (like some of the products from Ouai) overseas so keep that in mind when ordering.